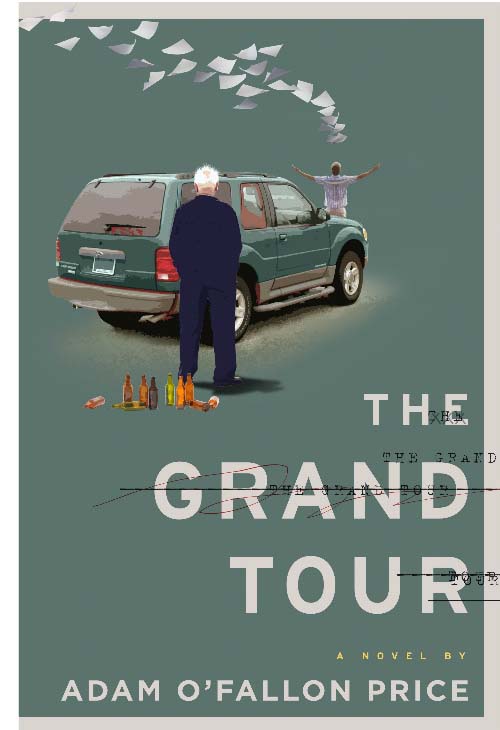 In November, National Book Critics Circle members will begin nominating and voting for the fourth John Leonard award for first book in any genre. In the run-up to the first round of voting, we'll be posting a series of #NBCCLeonard blog essays on promising first books. The fifteenth in our series is NBCC board member Laurie Hertzel on Adam O'Fallon Price's The Grand Tour (Doubleday).
Adam O'Fallon Price's debut novel, "The Grand Tour," is a classic road tale, a surprisingly moving story about a washed-up alcoholic writer and his biggest (and perhaps only) fan, Vance, a mopey college drop-out who lives with his mother.
The writer, Richard Lazar, is divorced (twice), estranged from his daughter, and living in a trailer in the desert somewhere outside of Phoenix. He has no money, no family, no friends, and he hasn't written a word in years. For all intents and purposes, his life is over. But world events catch up with him, and suddenly his memoir about the Vietnam War – which he had long since given up trying to get published — is relevant. The book is not just published, it also becomes a huge hit, and Lazar's publisher sends him out on a cross-country book tour.
Lazar is not gracious about this—he hates to fly—but the promise of money, of which he has none, is enough to persuade him to come back from the dead. "Could he block off three weeks for a tour? He checked his nonexistent calendar, filled with all his nonexistent obligations, and found he could."
First stop, Iowa, and then on to Portland, San Francisco, Los Angeles, the Midwest, and, finally, New York. Lazar is fueled by prodigious amounts of alcohol and Ambien, and the reader knows this is not going to go well. Just how badly, though, and why, becomes something of a surprise.
Meanwhile, young Vance has been looking for a reason to get out of Iowa, but an oppressive life with his depressed mother, coupled with his own low self-esteem, has him stuck. He comes up with the idea of driving the flight-phobic Richard on his book tour, and off they go, a couple of sad sacks, the odd couple of literature.
Their adventures on the road are aggravating, wryly funny, depressing and moving. Price does not indulge in stereotypes; both characters are fully formed and their actions and motivations are sufficiently, credibly complicated. Despite his massive drinking and his equally massive self-loathing, Lazar is a sympathetic character, at times cruel, kind, petty, or generous, always undercut by a deep regret that, as the book goes on, the reader slowly begins to understand. All is not as it seems, and Lazar is hiding an important secret.
As they travel, the faithful Vance grows from shy, adoring fan who rescues Lazar out of scrape after scrape, to a person with self-respect who abruptly (and surprisingly) abandons his charge halfway through the tour.
And at each stop, Lazar reads another excerpt from his memoir, a harrowing, moving account of himself as a young man facing war and fear and death.
"What's the book about?" a bartender asks him early in his tour. "Me fucking up over and over," he responds.
In the end, Lazar finally comes clean in a spectacular and shocking way. And though his life and reputation are now in tatters, he has achieved some kind of peace, learning if not how to stop fucking up over and over, at least how to look those fuck-ups fully in the eye.
Laurie Hertzel is the senior editor for books at the Minneapolis Star Tribune and the author of a memoir, "News to Me: Adventures of an Accidental Journalist," published by the University of Minnesota Press in 2010 and winner of a Minnesota Book Award. Her work has appeared in Tri-Quarterly, the Chicago Tribune, Minnesota Monthly magazine, and many other publications in the United States, Finland, and Australia. She has an MFA from Queens University in Charlotte, N.C.