On the Comic Novel
Tuesday October 18, 2011
7:00 pm
The Center for Fiction / 17 E. 47th Street
FREE / RSVP: http://www.centerforfiction.org/calendar/on-the-comic-novel or (212) 755-6710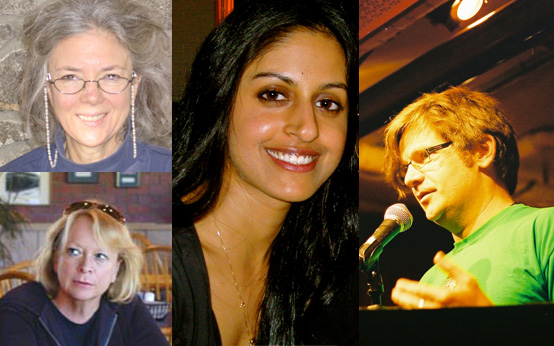 What's your favorite comic novel? The question was inspired by this past year's NBCC awards in fiction– NBCC fiction award winner Jennifer Egan's at-times hilarious A Visit from the Goon Squad (which also won this year's Pulitzer and the Los Angeles Times book award in fiction) and Irish writer Paul Murray's darkly comic Skippy Dies, an NBCC fiction finalist.
Join a panel of those who contributed to this NBCC Reads series—Beth Gutcheon, Parul Sehgal, and Rob Spilman, moderated by Jane Ciabattari—for a discussion of comic novels from Muriel Spark to Evelyn Waugh to "A Hitchhiker's Guide to the Galaxy." And bring your own candidates to discuss in an interactive event. Nabokov? Tom Jones? Catch-22?
This event is presented in partnership with The Center for Fiction.
Beth Gutcheon's novels have been translated into fourteen languages, if you count the pirate Chinese edition of Still Missing, plus large print and audio format. Still Missing was made into a feature film called Without a Trace. Several of her novels have been national bestsellers, including the most recent, Leeway Cottage. Her next novel, Gossip, is due out in February.
Parul Sehgal is a reviews editor at Publishers Weekly. She was the 2011 recipient of the NBCC's Balakian Citation for Excellence in Reviewing.
Rob Spillman is co-founder and editor of Tin House, a thirteen year-old bi-coastal literary magazine, and a fan of Hitchhiker's Guide..
Jane Ciabattari is the author of the short-story collection Stealing the Fire. Her book reviews, interviews, and cultural reporting have appeared in The Daily Beast, NPR.org, Bookforum, The Paris Review, The Guardian, Salon, the Los Angeles Times, and numerous other publications. A former president of the National Book Critics Circle (2008-2011), she is NBCC Vice President/Online and curator of the NBCC Reads series.