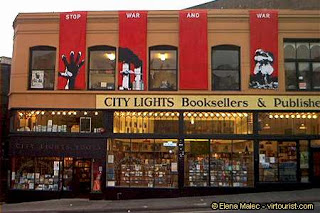 NBCC AWARDS FINALISTS ANNOUNCEMENT
Saturday, January 12, 2008, 6 pm
City Lights, 261 Columbus Avenue at Broadway, San Francisco.
Join the NBCC board, in collaboration with Litquake, book group expo,Lawrence Ferlinghetti and City Lights, Amy Tan, Dave Eggers, Daniel Alarcon, AWP board president Catherine Brady, Maxine Chernoff, W. S. Di Piero, Jane Ganahl, Kathi Goldmark, Paul Hoover, Jim Houston, Jeanne Wakatsuki Houston, Ann Kent, NEA Director of Literature David Kipen, Wendy Lesser, Yiyun Li, Susanne Pari, Greg Sarris, Elizabeth Tallent, Al Young, and friends to celebrate the finalists for the NBCC awards in poetry, fiction, nonfiction, criticism, biography, autobiography, lifetime achievement and book reviewing. Former NBCC finalists and awardees Frederick Crews, Dave Eggers, Troy Jollimore, Maxine Hong Kingston, and others will announce the finalists in each category.
The NBCC also is hosting a series of panels, all free and open to the public, from January 10-12.
NBCC LitPanel #1
BOOK CULTURE: THE FUTURE IS GLOBAL
Thursday, January 10, 6 pm. Book Passage Bookstore,
1 Ferry Building, #42, San Francisco.
NBCC President John Freeman moderates a panel of writers who also edit, teach, and travel across cultures, discussing how the cultural convergences of the Bay Area help shape today's literary culture.
PANELISTS
Daniel Alarcon, fiction writer (LOST CITY RADIO, WAR BY CANDLELIGHT),associate editor of the Lima-based magazine Etiqueta Negra, co-editor of Virginia Quarterly Review's Latin American issue.
Sylvia Brownrigg, critic (The Guardian, Times Literary Supplement, The New Statesman, Salon), fiction writer (TEN WOMEN WHO SHOOK THE WORLD, THE DELIVERY ROOM, forthcoming MORALITY TALE).
Jeanne Wakatsuki Houston, co author, FAREWELL TO MANZANAR, novelist (THE LEGEND OF FIRE HORSE WOMAN).
James D. Houston, co-author, FAREWELL TO MANZANAR, novelist (CONTINENTAL DRIFT, SNOW MOUNTAIN PASSAGE, BIRD OF ANOTHER HEAVEN, THE LAST PARADISE), professor, essayist , co-editor, THE LITERATURE OF CALIFORNIA (Volumes 1 and 2).
Micheline Aharonian Marcom, novelist (THE DAYDREAMING BOY, THREE APPLES FELL FROM HEAVEN), creative writing professor (Mills College).
Al Young, California poet laureate, essayist, novelist, memoirist, (author COASTAL NIGHTS AND INLAND AFTERNOONS, THE SOUND OF DREAMS REMEMBERED, SEDUCTION BY LIGHT, MINGUS, MINGUS: TWO MEMOIRS), professor, co-editor, THE LITERATURE OF CALIFORNIA (Volumes 1 and 2).
NBCC LitPanels at 111 Minna Gallery,
Friday, January 11, 2008
111 Minna Gallery, Zappa Room,111 Minna Street, San Francisco.
NBCC LitPanel #2 5:30 pm
NEW VOICES/UNRECOGNIZED VOICES
NBCC board member Jane Ciabattari moderates a panel discussing who to watch for, what they are working on, and new forms that might appear (including new technology).
PANELISTS
Sandy Dijkstra, literary agent
Eli Horowitz, Publisher, McSweeney's Books
Suzanne Kleid, City Lights Books and KQED blogger
David Kipen, NEA Director of Literature/BIG READ, former NBCC board member.
Michael Ray, editor ZOETROPE:ALL STORY
Michelle Richmond, author (THE GIRL IN THE FALL-AWAY DRESS, THE YEAR OF FOG), blogger (Sans Serif), editor (Fiction Attic)
Greg Sarris, fiction writer (GRAND AVENUE, WATERMELON NIGHTS), screenwriter, college professor, Chairman of the Federated Indians of Graton Rancheria.
NBCC LitPanel #3,111 Minna Gallery, Zappa Room, 6:30 pm
THE VIEW FROM HERE: IS THE WEST COAST DRIVING AMERICAN LITERATURE?
The jumping off point for this discussion is the comment Sam Tanenhaus made to NBCC board member Ellen Heltzel of BookBabes when he became editor of the New York Times Book Review. Oscar Villalon, San Francisco Chronicle Book Editor and NBCC board member moderates.
PANELISTS
Andrew Sean Greer, novelist (THE CONFESSIONS OF MAX TIVOLI, THE STORY OF A MARRIAGE)
Mary Ann Gwinn, Book Editor, Seattle, NBCC board member
Ellen Heltzel, BookBabes, Portland, NBCC board member
Jennifer Reese, Entertainment Weekly, NBCC member
David Ulin, editor, Los Angeles Times Book Review
**