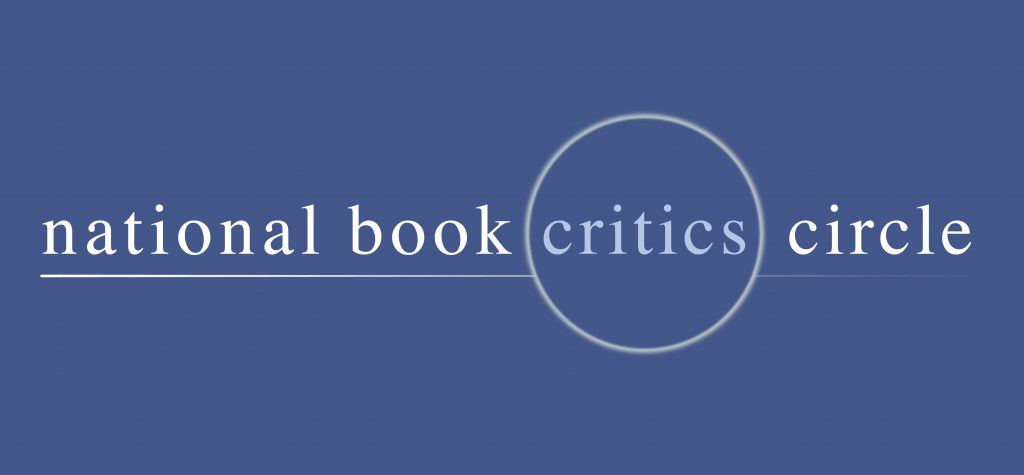 NATIONAL BOOK CRITICS CIRCLE ANNOUNCES ITS FINALISTS FOR PUBLISHING YEAR 2021
Nona Balakian Citation is given to Merve Emre

Hudson, NY (January 20, 2022)—Tonight, in a virtual event produced by Wildbound Live, the National Book Critics Circle announced its 30 finalists in six categories—autobiography, biography, criticism, fiction, general nonfiction, and poetry—for the best books of 2021. Finalists for the Leonard Prize for best first book were also announced, determined by nominations from hundreds of the organization's regular members. Other announcements included the winner of the annual prize for a working book critic, a lifetime achievement award, and the inaugural Toni Morrison Achievement award for an institution.

The announcements, made by special guests Carlos Lozada, Morgan Parker, and Patrick Radden Keefe, followed a 30th anniversary celebration of the Nona Balakian Citation for Excellence in Reviewing. The program featured a discussion about the standards and craft of literary criticism with Balakian laureates Jo Livingstone, Daniel Mendelsohn, Parul Sehgal, and Katy Waldman, moderated by NBCC president David Varno. Nona Balakian (1918–1991) was a founder of the NBCC and an editor at the New York Times Sunday Book Review. Her nephew, poet Peter Balakian, noted in his remarks that his aunt "fought for women writers at a time when women were often marginalized," noting her support for Virginia Woolf, Eudora Welty, Gwendolyn Brooks, Natalie Saurraute, and many others.
The National Book Critics Circle Awards, founded in 1974 at the Algonquin Hotel and considered among the most prestigious in American letters, are the sole prizes bestowed by a jury of working critics and book review editors. The awards for publishing year 2021 will be presented on March 17, 2022 via Wildbound Live, in a virtual ceremony that will be free and open to the public.

The recipient of the 2020 2021 Nona Balakian Citation for Excellence in Reviewing is Merve Emre. "In Emre's elegantly written essay about Leonora Carrington's The Hearing Trumpet," says prize committee chair Colette Bancroft, "she offers rich context about the life and times of the Surrealist author and artist, always weaving the biography into her insightful consideration of Carrington's novel."

The recipient of the Ivan Sandrof Lifetime Achievement Award is Percival Everett. "The Sandrof Life Achievement Award generally honors a literary figure who has either had a transformative impact upon book culture or who has contributed to book culture in ways that deserve more attention and recognition," says prize committee chair Jacob Appel. "Percival Everett is the rare figure who merits the prize for both reasons. Profound and prolific, Everett isn't just brilliant—but he is brilliant over and over and over again, novel after novel, story after story, each successively more original and thought-provoking. There are two kinds of readers in America: those who are reading Percival Everett and those who are missing out."
The Toni Morrison Achievement Award was established by the NBCC in 2021 to honor institutions that have made lasting and meaningful contributions to book culture, and it kicks off by honoring the Cave Canem Foundation. "It is fitting that the award is named after Morrison, herself an NBCC Award winner for fiction, who did so much to inspire and champion writers during her unparalleled career as an editor and Nobel Prize-winning author," says Appel, who also chaired this prize committee. "In naming Cave Canem as the first Morrison honoree, the NBCC has chosen an organization that embodies the deep commitment to literary and social justice, equity in publishing and excellence in writing that distinguished Morrison's career. Since its founding by Cornelius Eady and Toi Derricotte twenty-five years ago, Cave Canem has become both the premier body for cultivating and promoting Black poetic voices and has left a truly indelible mark on the broader literary landscape. No institution has played such a definitive role in shaping the poetry of the 21st century. Cave Canem consistently represents the best that the literary world has to offer."
AUTOBIOGRAPHY
Hanif Abdurraqib, A Little Devil in America: Notes In Praise Of Black Performance (Random House)
Jeremy Atherton Lin, Gay Bar: Why We Went Out (Little, Brown)
Rodrigo Garcia, A Farewell To Gabo And Mercedes: A Son's Memoir (HarperVia)
Doireann Ní Ghríofa, A Ghost In the Throat (Biblioasis)
Albert Samaha, Concepcion: An Immigrant Family's Fortunes (Riverhead)
BIOGRAPHY
Susan Bernofsky, Clairvoyant of the Small: The Life of Robert Walser (Yale University Press)
Keisha N. Blain, Until I Am Free: Fannie Lou Hamer's Enduring Message to America (Beacon Press)
Rebecca Donner, All the Frequent Troubles of Our Days: The True Story of the American Woman at the Heart of the German Resistance to Hitler (Little, Brown)
Mark Harris, Mike Nichols: A Life (Penguin Press)
Alexander Nemerov, Fierce Poise: Helen Frankenthaler and 1950s New York (Penguin Press)
CRITICISM
Melissa Febos, Girlhood (Bloomsbury)
Jenny Diski, Why Didn't You Just Do What You Were Told? (Bloomsbury)
Jesse McCarthy, Who Will Pay Reparations On My Soul? (Liveright)
Mark McGurl, Everything and Less: The Novel in the Age of Amazon (Verso)
Amia Srinivasan, The Right To Sex (FSG)
FICTION
Joshua Cohen, The Netanyahus (NYRB)
Rachel Cusk, Second Place (FSG)
Sarah Hall, Burntcoat (Custom House)
Honorée Fanonne Jeffers, The Love Songs of W.E.B. DuBois (Harper)
Colson Whitehead, Harlem Shuffle (Doubleday)
NONFICTION
Patrick Radden Keefe, Empire of Pain: The Secret History of the Sackler Dynasty (Doubleday)
Joshua Prager, The Family Roe: An American Story (Norton)
Sam Quinones, The Least of Us: True Tales of America and Hope in the Time of Fentanyl and Meth (Bloomsbury)
Clint Smith, How the Word Is Passed (Little, Brown)
Rebecca Solnit, Orwell's Roses (Viking)
POETRY
B.K. Fischer, Ceive (BOA)
Donika Kelly, The Renunciations (Graywolf)
Rajiv Mohabir, Cutlish (Four Way)
Cheswayo Mphanza, The Rinehart Frames (Univ. of Nebraska)
Diane Seuss, frank: sonnets (Graywolf)
JOHN LEONARD PRIZE
Ashley C. Ford, Somebody's Daughter (Flatiron Books)
Jocelyn Nicole Johnson, My Monticello (Henry Holt)
Torrey Peters, Detransition, Baby (One World)
Larissa Pham, Pop Song (Catapult)
Anthony Veasna So, Afterparties (Ecco)
Devon Walker-Figueroa, Philomath (Milkweed Editions)

NONA BALAKIAN CITATION FOR EXCELLENCE IN REVIEWING
Merve Emre

Finalists
Christoph Irmscher
Julian Lucas
Jeremy Lybarger
Jennifer Wilson
TONI MORRISON ACHIEVEMENT AWARD
Cave Canem Foundation

IVAN SANDROF LIFETIME ACHIEVEMENT AWARD
Percival Everett

ABOUT THE NATIONAL BOOK CRITICS CIRCLE
The National Book Critics Circle was founded in 1974 at New York's legendary Algonquin Hotel by a group of the most influential critics of the day, and awarded its first set of honors the following year. Comprising more than 600 working critics and book-review editors throughout the country, the NBCC annually bestows its awards in six categories, honoring the best books published in the past year in the United States. It is considered one of the most prestigious awards in the publishing industry. The finalists for the NBCC awards are nominated, evaluated, and selected by the 24-member board of directors, which consists of critics and editors from some of the country's leading print and online publications, as well as critics whose works appear in these publications. For more information about the history and activities of the National Book Critics Circle and to learn how to become a supporter, visit www.bookcritics.org. You can follow the NBCC on Facebook, Twitter and Instagram.