In the 30 Books in 30 Days series leading up to the March 15, 2018 announcement of the 2017 National Book Critics Circle award winners, NBCC board members review the thirty finalists. Today, NBCC board member Katherine A. Powers offers an appreciation of The Kelloggs: The Battling Brothers of Battle Creek by Howard Markel (Pantheon).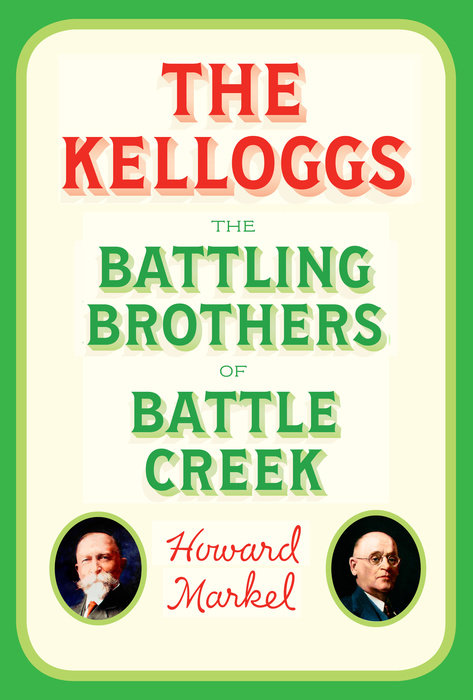 'The Kelloggs,' Howard Markel's magnificent dual biography of the originators of the world's most famous breakfast cereal, is the story of two brothers who, after working in tandem for two decades became bitter enemies, an animosity that endured for four decades until the older one died. The boys grew up as Seventh-day Adventists and the church supported John (1852 – 1943) through his medical training, which Markel, a medical historian and doctor himself, describes with professional facility and gusto. Adventist leaders installed John—a charismatic advocate of a plant-based, high-fiber diet and physical exercise—as medical director of the Adventist Battle Creek Sanitarium. He proceeded to transform that rinky-dink outfit into a huge medical complex complete with an attached, well-appointed resort for wealthy neurasthenics. Under his direction the institution's experimental kitchen developed food products for its patients and visitors, but also, increasingly, for the general market.
Will (1860 – 1951) became John's assistant and much abused, often humiliated lackey. His duties included shining John's shoes, trimming his beard, running alongside him taking notes, "and following John into the bathroom to take . . . dictation while the doctor unloaded one of his four to five daily bowel movements." This was hardly the groundwork for a happy future relationship. As it happens, Will was also a business genius. He oversaw every organizational aspect of the Sanitarium and, in time, wrested control of what became Kellogg's Corn Flakes from John, a complicated, devious coup, admirably described, which resulted in endless litigation.
The lives of these two men are only one aspect of this wide-ranging book. Here too we find, in entertaining detail, the efforts to develop a (reasonably) palatable flaked-grain cereal and the nefarious machinations of C.W. Post, a charity patient who worked in the experimental kitchen and walked off with the details of the Kelloggs' processes and recipes—out of which he made himself a fortune. In the bigger picture, Markel provides a revelatory account of a pivotal era in America, one which saw the introduction of modern business systems and mass production, the growth and acceptance of prepackaged food and self-service markets, the gospel of convenience and the powerful eruption of mass advertisement directed at women and children. This is the best sort of biography, one that reveals the dialectic between, in this case, two individuals and their historical circumstances, between their contribution (for better or worse) and the times that gave rise to them.
Reviews:
Michael Upchurch (Chicago Tribune).
Terry Gross (NPR).
David Walton (Dallas News).
NBCC board member Mary Ann Gwinn (Seattle Times).
NBCC board member Katherine A. Powers (Newsday).