In the 30 Books in 30 Days series leading up to the March 15, 2018 announcement of the 2017 National Book Critics Circle award winners, NBCC board members review the thirty finalists. Today, NBCC board member Marion Winik offers an appreciation of autobiography finalist Xiaolu Guo's Nine Continents (Grove).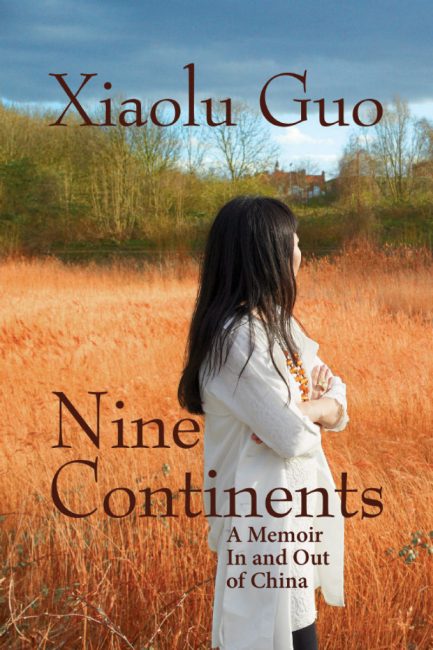 Xiaolu Guo is a Chinese-born, internationally acclaimed filmmaker and the author of several autobiographical novels including 'A Concise Chinese-American Dictionary for Lovers' and 'Twenty Fragments of a Ravenous Childhood.' She has lived in London for many years. At 40, she became both a mother and an orphan and as a result, has addressed her past again — this time in a brilliant, harsh, inspiring and enlightening memoir that should cement her reputation as a writer in this country.
It is not hard to see why she may have resisted telling her story directly. The circumstances of her childhood were so outrageously bad that there was the possible pitfall of writing a victim story, the type of book read mainly for its sensational dysfunction. On the high end of this category is something like 'The Glass Castle,' the bestselling memoir by Jeannette Walls. 'Nine Continents' is the equal of that book in both sheer vicarious horror and also its creation of a deeply appealing child persona through which we observe the operation of resilience in lives that are so twisted by both circumstance and cruelty. It also belongs on the shelf with 'Wild Swans' and 'Red Azalea,' the best-known memoirs of life in Communist China.
Guo was given away by her parents at birth to a couple in the mountains who returned two years later to give her back, since she was sickly and cried all the time. The parents were not around so she was left with her grandparents, who lived in the rocky, windswept, brutally poor fishing village of Shitang. The grandfather was a miserable man whose life as a fisherman had been destroyed by Communism. He expressed his unhappiness by beating his wife every day, then committing suicide. The grandmother was a nearly blind hunchback with bound feet who had been sold to this husband as a child by her family, whom she never saw again. As far as she knew, she had never been given a name. Since the grandfather had no way to make a living, they lived on rice porridge and seaweed. After Guo was abruptly taken away to live with her mother and father, at the age of 12, she was regularly sexually abused by a clerk in her father's office. "Stop crying," he told her. "Every girl has to go through this."
How she got out of this situation and found her way to Beijing and finally out of China is a thrilling, fist-pumping kind of story but the merits of this book are greater than that. In the section at the end of the book where she analyzes the differences between the Chinese and English languages, and the reasons it's so hard for Chinese people to learn English — a funny and entertaining disquisition — one begins to see how her particular writing style, so immediate and vivid, was formed. The ironic sensibility that leavens this section of the book can also be seen in Guo's art-house black and white documentary, "We Went to Wonderland," following her parents around Europe on their one visit abroad.
Two signal events of Guo's childhood fueled the sense of self that she had to have to become the person she is now. One was the prediction of a Taoist monk her grandmother took her to when she was five years old: "She will cross the sea and travel to the Nine Continents," he said. That suggestion, totally unbelievable at the time, became part of her personal mythology. So did another experience that year, when a group of art students showed up to paint on the beach at Shitang. "I watched the young girl in particular as she contemplated the monotonous scene before us, and then started to apply paint to her paper. Her brush made a shimmering blue and a burning sunset appear across the page. I was suddenly captivated the by girl's imaginative act: that one could reshape a drab and colourless reality into a luminous world."
Prepare to be similarly captivated and inspired by 'Nine Continents.'
NBCC board member Kerri Arsenault in the Minneapolis Star-Tribune.
Terry Hong in the Christian Science Monitor.