In the weeks leading up to the March 12 announcement of the 2014 NBCC award winners, Critical Mass highlights the thirty finalists. Today, NBCC board member Elissa Schappell offers an appreciation of criticism finalist Lynne Tillman's "What Would Lynn Tillman Do?" (Red Lemonade).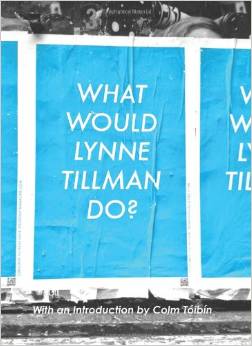 Lynne Tillman is one of the 20th century's finest and most original cultural commentators and is surely it's most underappreciated, a "writers' writer" whose diehard fans include some of the most astute writers of our time such as Hilton Als, Colm Toibin and Fran Lebowitz.
It seems fitting that the title of Lynne Tillman's essay collection is What Would Lynn Tillman Do? Over her long career, Tillman has written five novels, four story collections, two non-fiction books and now two books of criticism, plus decades devoted to teaching, Tillman has developed a cult-like following that includes such esteemed fans such as Hilton Als, Colm Toibin and Fran Lebowitz. So while as far as I know none of her fans have made bracelets saying WWLTD? many of us have indeed asked ourselves, What Would Lynne Tillman Do?
I can think of no better title for a collection of essays, or a structure—alphabetical– that better reflects Tillman's encyclopedic passion and cultural knowledge. From A to Z, from Andy Warhol, to Spike Jonze–with essays on Wharton, Marx, and Waters in the mix, along with conversations with Paula Fox, Harry Matthew and strangers Tillman encountered in the MoMa's movie theater, and as a young woman, by way of correspondence, Paul Bowles.
Lynne Tillman is the sort of writer who, even the most arrogant and narcissistic gasbags will shut up and pay attention to, because she's got authority. She's wise. She's got brains, and a deadpan humor cut with a rebellious, Don't-give-a-damn, New York attitude, an intellectually streetwise intelligence. Tillman's essays suggest she has read all the books, seen all the art, listened to the music, she knows all the angles. The opinions she has formed are born out of examining and reexamining her feelings, sharpening and honing her observations, working them over from every possible angle until every facet is revealed.
Tillman turns the same focus on her language. Tillman's devotion to the fidelity of the line is remarkable. The writing is never show-offy, there is no showboating, there are no grandstanding paragraphs, no prosey loop de loops, nothing extraneous, nothing obnoxious that betrays ego or a desire to seduce the reader. She is just clearly a master. It takes Tillman one paragraph in "Downtown's Room in Hotel History" to capture the allure that drew writers, artists and beautiful misfits to New York in the 70s.
"Downtown's shows and parties, held inside a small perimeter, allowed for quick comings and goings. You never had to stay; you could usually walk home. This cosmopolitan life, rootless, maybe, sometimes unheimlich, uncanny, ordained that home wasn't necessarily homey. The city grew fields of the unfamiliar and unexpected, which trumped the humdrum. The city's virtues and Modernist values—such as strangers and strangeness—were the small town's vices and fears."
Here is the gospel of Lynne Tillman, listen up.
More:
Colm Toibin's introduction excerpted in The New Yorker.
Bookforum review.
Bomb Editor's Choice.
Paris Review interview.
Flavorwire's Jason Diamond interview.
Scott Esposito review in Music & Art.
Interview on "All Things Considered."