In the weeks leading up to the March 12 announcement of the 2014 NBCC award winners, Critical Mass highlights the thirty finalists. Today, NBCC board member Carmela Ciuraru offers an appreciation of fiction finalist Rabih Alameddine's "An Unnecessary Woman'" (Grove Press).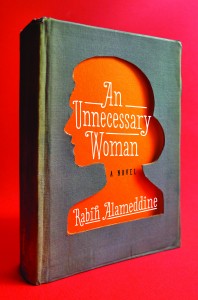 Rabih Alameddine's exquisitely written novel is a remarkable feat. Not only does he convincingly inhabit the voice of a misanthropic 72-year-old woman in Beirut, but he makes us care for her from the first page.
Childless, divorced, and lonely, Aaliya Saleh is an indelible protagonist. Every year for the past 50 years, she has translated a novel into classical Arabic and stored the manuscript in a box, with no aim toward publication. This labor of love is her secret alone. "Books into boxes—boxes of paper, loose translated sheets. That's my life," she says. (Her most recent project is W. G. Sebald's Austerlitz, and she hopes to tackle Roberto Bolaño's 2666 next.) Once the translation is completed, she loses interest and moves onto the next one.
Aaliya lives alone and talks to almost no one, including her busybody neighbors. In the absence of friends or family, books are her faithful companions: she leans on Pessoa, Rilke, Proust, Cavafy and others as she meditates on the past. "I long ago abandoned myself to a blind lust for the written word," she says. "Literature is my sandbox. In it I play, build my forts and castles, spend glorious time. It is the world outside that box that gives me trouble." Although her loneliness causes terrible anguish, she finds herself unable to interact easily with others—"the presence of other people derails my mind," she admits. "I can't seem to think clearly, or behave naturally, or just be. These days I avoid people, and they avoid me."
There isn't much in the way of plot in "The Unnecessary Woman," which is one of its great virtues. The reader is immersed in Aaliya's reflections for nearly 300 pages, as she shares her (rather dark and often funny) thoughts on love, aging, politics, literature, and grief, among other things.
More:
Interview with Rabih Alameddine
Review of An Unnecessary Woman