In the weeks leading up to the March 13 announcement of the 2013 NBCC award winners, Critical Mass highlights the thirty finalists. Today, NBCC board member Michael Miller offers an appreciation of John Eliot Gardiner's biography finalist, "Bach." (Knopf)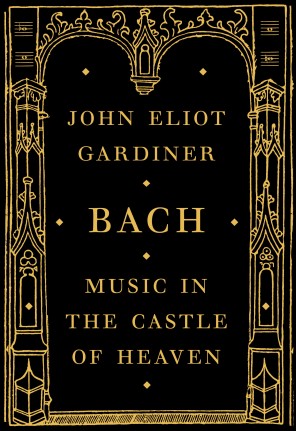 In the opening chapter of this multifaceted biography, John Eliot Gardiner, one of the world's most renowned conductors, reveals an awareness of challenges that face any biographer of Johann Sebastian Bach. As a musician, Bach is well-established as a genius. Bach the man, on the other hand, remains something of a mystery: Because he left behind no family correspondence and declined to write about his career, records of his life are anecdotal and spotty, suggesting a composer who did little interesting beyond making music. "It is not surprising some have concluded that Bach the man is something of a bore," Gardiner writes.
As it turns out, Gardiner is merely gearing up for an eloquent and persuasive argument to the contrary. In Bach: Music in the Castle of Heaven, he sorts through and assembles the shards of Bach's life story to create a complex portrait of his subject: Here we find an orphan, a proto-rebel, and an uncompromising composer who worked within the constrictions of the Lutheran church while also seeking—by straining "every imaginative muscle to engage with his listeners"—to stake out new musical ground. This alone would be laudable, as would Gardiner's detailed and metaphorically juiced analysis of Bach's compositions, particularly his motets and cantatas, the choral church music that is the primary focus here. But to reduce Bach, more than 20 years in the making and Gardiner's first book, to simple or singular threads would be to miss its impressive and unique approach, which is to treat Bach's experiences, art, and cultural context not as discrete topics but as narrative elements engaged in lively dialogue. Meanwhile, Gardiner's spirited interaction with his material allows him to deliver a persuasive message about Bach's compositions: though weighted with historical significance, they continue to evolve and thrive in the present, particularly in the participatory acts of listening and performance. "In order to grasp and 'realize' Bach's harmonic movement," he writes, "both player and listener are drawn in and required to complete the creative act."
Gardiner presents his extensive research in a tone that's at once authoritative and deeply engaged. He evokes the dark forests surrounding Bach's childhood home in Eisenach—a town "sealed in a provincial time warp"—where Johann Sebastian lost both of his parents by age nine (death continued to surround him and to influence his work in adulthood, when he and his wife, Maria, lost 12 of their 20 children). We follow the young student to Ohrdruf, where Gardiner presents not the "goody two-shoes of legend" but an often-truant student who flouted authority, a characteristic that emerges throughout his career. The book situates Bach in the era's trends in secular music, particularly at the Weimar Court, where he was employed from 1708 until his dismissal in 1717 (after he was jailed for a month for lashing out at his employers), and at the fashionable coffee houses of the day. But Gardiner finds his richest subject material in Bach's church music, which reached its creative zenith in the years following 1723, when, after being named the Thomascantor Leipzig, he began a frenzied weekly output of church cantatas. Gardiner's fluency with the mores of early-18th-century German churches sheds light on the system that Bach both worked within (he composed music that adhered to the liturgical calendar) and furiously attempted to shake up. As many as 3,000 people attended services; many of them talked or walked out or talked during the musical performance; dogs sometimes roamed the isles. Gardiner's reading of the music, the lyrics, and how the two played off of one another persuasively argues that Bach sought nothing less than to shock these audiences into attention, with work "geared toward their spiritual edification but unprecedented in its dramatic intensity." As the author points out—playing up the tension between Bach's traditionalism and his challenging artistry—church officials probably considered him both an asset and a threat.
Gardiner describes the performance of Bach's music from the perspective of an insider. Starting on Christmas 1999, he led the Monteverdi Orchestra and the English Baroque Soloists on a yearlong tour, called the Bach Cantata Pilgrimage, on which they performed all of Bach's surviving cantatas in more than 60 churches in Europe, the UK, and the US. This immersive quality is on display in Bach. Gardiner doesn't, beyond the opening pages of his book, bother to differentiate between "the man" and "the artist"; rather, he combines the two to present a Bach as multilayered as an orchestral work. Gardiner is serious about understanding what the composer intended to achieve while he was alive, but his book is too wise and joyful to argue that the cantatas, once pregnant with religious significance that is somewhat lost on the modern listener, are frozen in the past. In this sense, the book is both a fascinating historical analysis of Bach's work and an impassioned example of how his music still generates new meaning today.
James R. Oestreich's review at the New York Times
Michael O'Donnell's review in the Wall Street Journal
Sudip Bose's review in the Washington Post