In the weeks leading up to the March 13 announcement of the 2013 NBCC award winners, Critical Mass highlights the thirty finalists. Today, NBCC board member Elizabeth Taylor offers an appreciation of Sheri Fink's nonfiction finalist, "Five Days at Memorial" (Crown).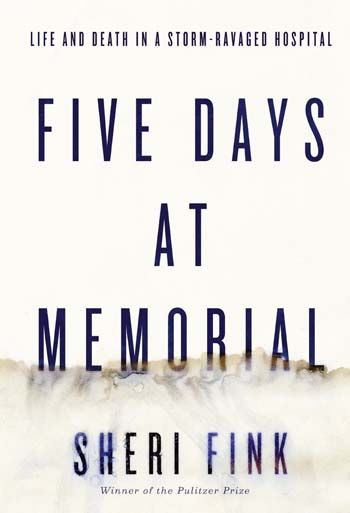 Who lives, who dies, and who decides?
These are the questions that animate Sheri Fink's extraordinary NBCC nonfiction finalist, "Five Days at Memorial."
Those who didn't experience Hurricane Katrina directly felt like we knew about it through CNN, so fortunately there are books like "Five Days at Memorial" that shake us back to reality. New Orleans was a disaster area, a national shame. The world saw America's inequality, how poor people suffered while others went unscathed. Thousands of people lost their homes, their livelihoods – and many lost their lives.
After the storm, New Orleans became what Fink calls "an irrational and uncivil environment." She focuses, as the title indicates, on the five days at the city's Memorial Medical Center, after the flood waters rose, power failed and the hospital was no longer able to provide care for its patients.
No supplies, medicine, water, food or blood products. But email worked. And the pleas for help went out:
"WE NEED PATIENTS OUT OF HERE NOW!
Please can you take patients.
Is anyone out there?"
Nope. Try the National Guard. Good Luck.
From Memorial, the incredulous email response: "Are you telling us we are on our own and you cannot help?"
True.
The Dallas-based company that owned the Memorial failed to help. The hospital which took up two city blocks and had once had as its motto, "Healing Humanity's Hurt" was on its own.
More than six years, and 500 interviews later, Sheri Fink reconstructs the choices made during those days of crisis. She brings readers into that high-stress unreality as doctors and nurses made ethical decisions to save babies first, then intensive care unit patients who really needed electricity to survive.
A small group of doctors made an important, and fateful, determination: Patients with DNRs – Do Not Resuscitate Orders – would go last. As the hours passed, and the situation grew more dire, it seemed like hastening death was their best option. This meant, injecting them with a fast-acting sedative until they died.
Sheri Fink's "Five Days at Memorial" reveals important new details about so many failures: the New Orleans government, the corporations that owned the hospital, the organizations intended to heal and protect the vulnerable. She calls for disaster protocols: "Withdrawing care from those who have not given their consent is troubling enough," she writes. "Doing so by following a protocol that is unlikely event to save more lives would be indefensible."
With 23 corpses with elevated levels of morphine and other drugs, this is clearly the stuff for a great disaster story. And ample opportunity for moral outrage.
What Sheri Fink has delivered is a big book, not a rant, but one that is a page-turner, a book bursting with stories that defy a single narrative. This is a book about big questions. It's about what happens when exhausted and stressed doctors and nurses are forced to practice triage, when medical resources don't exist, and when surviving may not be living.
In our darkest moments, we think about these questions about when it is our turn to decide who lives and who dies and what it means to live.