Each day leading up to the March 8 announcement of the 2011 NBCC award winners, Critical Mass is highlighting our thirty finalists. In a first, the NBCC is partnering with other websites to promote our finalists as well in the categories of Criticism and Poetry. Click here to read NBCC board members on our Poetry finalists on the website of Oprah.com. Appreciations of several of our Criticism finalists can be found at The Rumpus.
Here is #25 in our series, poetry finalist Aracelis Girmay's Kingdom Animalia (BOA Editions, Ltd.), reviewed by NBCC board member Gregg Barrios.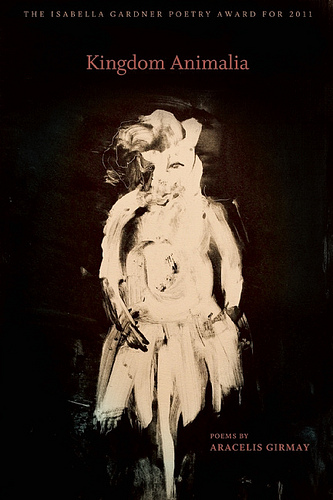 Now I am ready to tell how bodies are changed into different bodies.
– Ovid, Metamorphoses, trans. Ted Hughes.
Where does one begin to share the wonders contained in Aracelis Girmay's Kingdom Animalia? The cover art of a eerie half-creature, half human in ghostly black and white only hints at the mysteries and discoveries in this amazing collection.
In this book of elegiac poems, odes, a fable, and praise-songs, Girmay connects with siblings, parents, and ancestors, often bringing them back to life or discovering them in another. Early on, she asks, "What to do with this knowledge/that our living is not guaranteed?"
Kingdom is also about loss and changing. In "Dear Minnie, Dear Ms." dedicated to the songbird Minnie Riperton and to the poet Lucille Clifton, Girmay imagines both women after death: "Trust the mud is you, / & the soft, silver afro of the dandelion. / Trust the grass-whistle might be / your speech, high as the whistle / of the whale. Trust / we'll know your shape, whatever species / in your answers when we put our faces / to the dirt & call you by / your old & human name."
In "For Patrick Rosal Who Wore a Dress and Said," there is fun, androgyny, and living transformation: "A dude rocks a slick green dress once, for kicks, / & the whole gender paradigm has to shift? Come on."
A poem about March, san apologies to Chaucer's personified April. "Brown March whose branches itch with coming spring / & the yellow hands of dogwood in the yard." In "Noche de Lluvia, San Salvador" raindrops fall off the page singing, "sí sí sí sí sí sí." In "La boda del Mar y Arena," the poet writes: "the sea & beach move into each other's mouths / particle by particle; each one wanders / the big rooms of the other. / O, god, let us love / like they love."
In Girmay's universe, all of life and nature talks and sings. The living and the dead and the resurrected morph, shape-shift, mate, and take on new skins.
Make no mistake, Girmay is an American original. As in her first collection Teeth, one can sense her Eritrean, Puerto Rican and African American roots in her use of language, and syntax, her stories, and her way of seeing the world.
In the delightful and inventive "Ode to the Little 'r'" – Girmay breathes life into the letter "r". "Little propeller/working between / the two fields of my a's, / making my name / a small boat/the leaves the port / of old San Juan or Ponce, / With my grandfather, / Miguel, on a boat, / or in an airplane, with a hundred or so / others, leaving the island / for work, cities…"
Often an image, a name or body part will appear in one poem and emerge or segue in the next. Girmay quotes Charles Darwin, Origin of Species in the book's epigram: "…from so simple a beginning endless forms most beautiful and most wonderful have been, and are being, evolved."
A few poems echo Girmay's earlier "Arroz Poetica" that some might classify as protest or political; however, the poet prefers to call them common sense poems. "They are only made political because they are a direct response to political violations & systems that are against people."
"Explaining the Land Mine to the Small Child" is a common sense poem. "What words, anyway, can / be used to warn the children / when no word is as terrible / as the hand & the mine?"
Ditto "Praise Song for a Donkey," a recounting of an actual incident where a missile killed two girls and a donkey making it impossible to identify the body parts of either victims. (It evokes for this reader Robert Bresson's film Au hazard Balthazar). "Donkey" however moves beyond the horrific toward transcendence: "black luggage of the donkey's eye/in a field, flung far, filling the ants & birds with what it saw."
The poem "Night" for the poet Henry Dumas chronicles his senseless death "in the subway station singing & thinking of a poem" is riveting as it is tragic. The destiny of the young black males in "Break," a hip-hop ode that freeze-frames each break-dancer in the midst of a swirling dervish like moment. "Again, again. / This is how they fall & get back up."
There is a saying in Spanish, "Cada cabeza es un mundo" that translates "every mind is a universe unto itself." And Girmay's world, universe opens new ways of seeing the simplest things and giving them voice. Everything contains some clue of another self, body or kindred spirit. Like an archeologist, she digs deeply finding herself in every living thing, even in the inanimate. Her magic is poetry at its best.
In the poem "Kindness," Girmay contemplates the fragile truths of her search. "Perhaps this thing I am calling kindness / is more simple than kindness, rather, recognition / of the neighbor & the blue, shared earth / & the common circumstance of being here: / what remains living of the last / two million, impossible years."
In the final "Ars Poetica, " she takes on the skin of the poet as snail: "May the poems be the little snail's trail. / Everywhere I go, every inch: quiet record /of the foot's silver prayer. I lived once. / Thank you. / I was here."