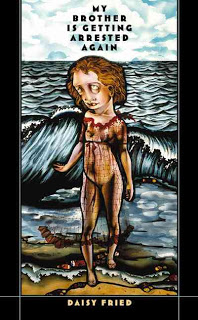 Today's posts will focus on "My Brother is Getting Arrested Again" by Daisy Fried (University of Pittsburgh Press), which is a finalist for the 2006 National Book Critics Circle Award for poetry.
Daisy Fried's collection had me laughing from the first poem, "Cordless," when Fried imitated (with small typeset) the squeaky, self-doubting voice of an NGO telemarketer:
I'd like to tell you? about how thousands
of people? suffer torture and prison? around the world?
just for speaking out against their governments?
So can you send an emergency contribution?
That this call is received by a feverish woman with no health insurance who's longing for a beer neatly summarizes the two big subjects of Fried's collection: politics and women on the verge. Topics that could've easily turned leaden if it weren't for the range and freshness of Fried's wise-cracking voice.
Fried's got a gift for capturing the lives of girls and women. She gives us a hilarious, unsentimental vision of two teenagers catcalling a mailman ("hey Legs! I yell I love your hairy legs!"); a cheeky, admiring poem about a pregnant middle-schooler ("For at 14 I am not too young to be sexy & not too old to fight with the nine-year-olds on the block"); a poem about the fractures in a well-worn friendship ("Ti-Anne, you're leaving me behind."), and many well-wrought others.
But that's not all Fried's good at. One of my favorite poems in the collection, "Three Times Only," describes the three things that have made a certain man cry. "Death, a poem in two parts" gives a clever, ultimately poignant, analysis of "the problem of / putting dead animals in poems":
[…] "Too obvious,
invisible, symbolic," I say. My husband agrees,
or might not be listening. "Maybe," he says,
"It disappears into facts." […]
Fried worked as a reporter for the Philadelphia Weekly and the City Paper before she published her first collection of poems in 2000; disappearing into facts is a magic she works like a natural. There are poems in this collection that I think are about Fried's own life, but many more leave me guessing. Is that woman behind the counter in "Sugar" a young Fried? or a girl that Fried saw? or imagined? Not knowing is a good sign, I think, a marker that shows just how deeply Fried sinks into her characters' concerns. And if you look closely you can always find her hand in a sharp line, a vivid turn of phrase.
— Marcela Valdes, NBCC Board member