Well, that's a wrap! After three years of virtual awards ceremonies, we were so delighted to reunite in the glittering New School auditorium to honor the work of our award winners and finalists and the work of book critics. The mood was particularly festive, not only because we've been biding our time in the virtual space, but because there was so much to celebrate. As our president Megan Labrise said, "you could feel the love in the room."

Among the evening's magical moments:
John Leonard Prize winner Morgan Talty, for the collection Night of the Living Rez, accepting the award by phone while holding his three-week-old child on the couch. There to make the magic happen was Tin House publicity directory Becky Kraemer.

On our website, we've gathered remarks given for the evening's special awards, including inaugural NBCC Service Award honoree Barbara Hoffert. As former NBCC president Eric Banks noted in his introduction, Hoffert is numbered among the "special few individuals who, through their great commitment, have had a truly transformational effect on the aspirations and achievements of the organization."
Nona Balakian Prize for Criticism winner Jennifer Wilson, who often writes about Russian literature, acknowledged the work of translators in her acceptance speech: "Their work has been a constant reminder to me that language is not just a barrier to be broken down, but the rather the most central element of our art, the quality that makes writing a living, breathing thing, worth fighting for."
Wilson's acceptance followed the inaugural presentation of the Gregg Barrios Book in Translation Prize by deputy committee chair Mandana Chaffa for Grey Bees by Andrey Kurkov, translated from the Russian by Boris Dralyuk (Deep Vellum).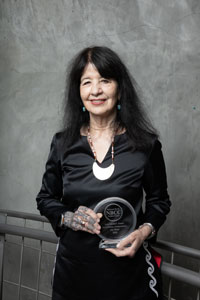 Former U.S. poet laureate Joy Harjo graced the stage to accept the Ivan Sandrof Lifetime Achievement Award. In her speech, she credited the American canonization of Laguna Pueblo writer Leslie Marmon Silko's novel Ceremony for providing a path for her to write poetry.

Accepting the Toni Morrison Achievement award for City Lights, president Elaine Katzenberger noted the long history of book banning in the U.S., something the bookseller and publisher has consistently fought: "while the libraries and librarians themselves are under direct attack, we in the bookselling and publishing world must do our part to keep access open. Dissent must turn to defiance in as many ways as possible."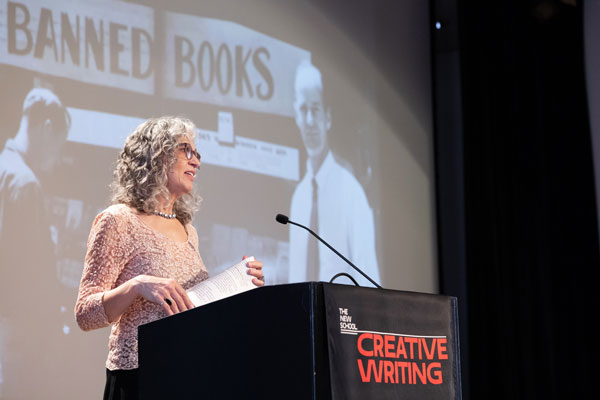 Also on the NBCC website: Halima Elmajdoubi interviews Barbara Hoffert, Ricardo Jaramillo talked with Joy Harjo, and Kathy Chow is in conversation with Jennifer Wilson. 
The NBCC has so many people to thank that their names would overfill this newsletter, but we must give another special thanks to our longtime sponsor The New School for hosting our ceremony and reception, International Literary Properties for sponsoring our reception, and Wildbound Live for producing our virtual readings from the finalists and adding an extra pop to our awards ceremony. And while we have you, please join us in giving a huge thanks to NBCC president Megan Labrise and awards vp Maris Kreizman for making the event happen.
If you haven't already, please catch up with the work of the 2022 award winners.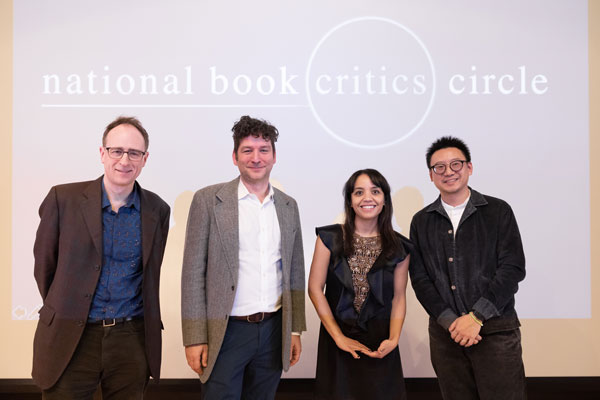 Reviews

For Kirkus, Eric Liebetrau wrote up two March books that address the broken concept of the American dream: Alissa Quart's Bootstrapped: Liberating Ourselves from the American Dream and Matthew Desmond's Poverty, By America.

Fran Hawthorne reviewed Zoe Fishman's The Fun Widow's Book Tour and Eoghan Walls' The Gospel of Orla for the New York Journal of Books.

For the Forward, Julia M. Klein reviewed Larry Loftis' The Watchmaker's Daughter.

Maud Newton reviewed Rachel Jamison Webster's Benjamin Banneker and Us for the Washington Post.

For Tor.com, Tobias Carroll reviewed two books: Han Song's Hospital and Owen King's The Curator.

For the Letras Latinas Blog 2, Alfredo Aguilar and Laura Villareal reviewed Cynthia Guardado's Cenizas.

Nell Beram reviewed four books for Shelf Awareness: Eleanor Catton's Birnam Wood; John Kruth's Lunacy: The Curious Phenomenon of Pink Floyd's 'Dark Side of the Moon,' 50 Years On; Jane Roper's The Society of Shame; and Susanna Hoff's This Bird Has Flown.

For ZYZZYVA, Paul Wilner reviewed Quentin Tarantino's Cinema Speculation.

Paul Gleason reviewed Matthew Desmond's Poverty, by America for the Los Angeles Review of Books.

For the Portland Press Herald, Tobias Carroll reviewed Catherynne M. Valente's Osmo Unknown and the Eightpenny Woods.

Victoria Chang and Dean Rader review two books for their "Two Roads" column in the Los Angeles Review of Books: Jennie Xie's Rupture Tense and Monica Youn's From From.

For J Weekly, Joan Gelfand reviewed Barbara Quick's What Disappears.

For Palette Poetry, Summer Farah reviewed two poetry collections: Lip Manegio's We've all Seen Helena and Chase Berggrun's R E D.

Jim Scott reviewed three books for Wellington Square Books: Carter G. Woodson's The Mis-Education of the Negro, Howard W. French's Born in Blackness, and Gary B. Nash's The Forgotten Fifth: African Americans in the age of the Revolution.

For Project Muse, Allan Graubard reviewed Muhyiddin Ibn 'Arabi's The Translator of Desires: Poems.

Charlie Tyson reviewed Paul Lafargue's The Right to be Lazy for Jewish Currents.

For Good River Review, Lynnell Edwards reviewed Claudia Putnam's debut poetry collection The Land of Stone and River.

Bridget Quinn reviewed Patrick Bringley's debut memoir All the Beauty in the World for Hyperallergic.

Interviews

For Literary Hub, Jane Ciabattari spoke with Mona Simpson about the role of research in novel writing and talked to Idra Novey about the creation of a mother and daughter who hear and mishear each other.

For their Book Cougars podcast, Chris Wolak and Emily Fine spoke with Amy Tector about her new novel Speak for the Dead.

Tobias Carroll talked to Michelle Dowd about her new memoir Forager: Field Notes For Surviving a Family Cult for InsideHook.

For the Write-Minded podcast, Grant Faulkner spoke with Peggy Orenstein about her newest memoir Unraveling.

Costas Pappas talked to YA author April Henry about her new novel Girl Forgotten for Publishers Weekly.

For BookTrib, Linda Hitchcock spoke with Jacqueline Winspear about her novel The White Lady.

Anne Charles talked to Linda Villarosa about her book Under the Skin: Racism, Inequality, and the Health of a Nation for All Things LGBTQ.

SEND US YOUR STUFF: To have your work featured in the weekly Critical Notes, please join the NBCC.
Thanks!!