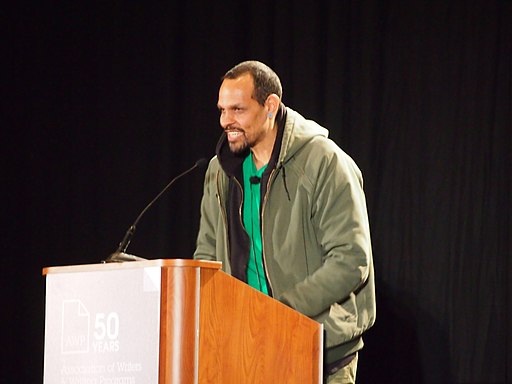 NBCC board president Laurie Hertzel reviewed Mary Miller's novel Biloxi for the Minneapolis Star Tribune, where she is senior editor for books. (It's about a dog. And redemption. And middle age. How could she not review it?) She also wrote a recap of the inaugural Wordplay book festival for her weekly column.
Former NBCC president Tom Beer interviewed John Glynn about Out East: Memoir of a Montauk Summer for Newsday, where he is books editor.
Former NBCC president Jane Ciabattari shares her latest Lit Hub/Book Marks column, in which she discusses five books about trees with Max Porter, including Calvino's The Baron in the Trees and Laura Beatty's Pollard.
And here's Jane's report from the Bay Area Book Festival in Berkeley, which includes a panel with two John Leonard award finalists (Jamel Brinkley and R.O. Kwon), a courage in publishing panel with newly minted Pulitzer winner Carlos Lozada (also winner of the NBCC's Balakian award), former NBCC president John Freeman, Paris Review editor Emily Nemens and New York Times ethics columnist Kwame Anthony Appiah.
NBCC board member Madeleine Schwartz wrote about the criminally neglected novelist Lore Segal for Harper's.
Katherine Hill reviewed Amy Hempel's short story collection Sing to It for the New Republic, making note of the author's brevity, which is to say, the fact that she doesn't use too many words to make a point, which is a special talent, and an enviable one, because reading something where the author just keeps going on and on can be quite tedious, which is to say, tiresome, monotonous, wearying and soporific, and we strongly encourage all writers to take special care not to do this, because, honestly, just get to the point already.
NBCC board member Michael Schaub reviewed Karen Russell's new Orange World for NPR, and interviewed Where We Come From author Oscar Cásares for the Los Angeles Times.
At NPR, Martha Anne Toll reviewed Lorene Cary's "thoroughly engaging" Ladysitting: My Year With Nana At The End Of Her Century.
Kamil Ahsan reviewed Chia-Chia Lin's "brutal, but marvelous" The Unpassing for the A.V. Club.
Michelle Newby Lancaster reviewed Spying on the South by Tony Horwitz for Lone Star Literary Life, as did Mary Ann Gwinn for Newsday.
In Newsday, Gerald Bartell wrote about three novels that take place in the Hamptons (hey, just in time for summer!).
Heller McAlpin wrote a tribute to baking maven Maida Heatter and to her late, lamented Christian Science Monitor editor and fellow baking aficionado, Marjorie Kehe, on the occasion of the publication of Heatter's greatest hits, Happiness is Baking, for the Monitor. She also reviewed Max Porter's Lanny for NPR, and Jayson Greene's Once More We Saw Stars for Washington Post.
Robert Allen Papinchak's essay review of Sarah Weinman's The Real Lolita: The Kidnapping of Sally Horner and the Novel That Scandalized the World appeared in The Millions.
Oline Cogdill reviewed Michael Koryta's If She Wakes for the Associated Press.
Mike Lindgren contributed a one-two punch to the Washington Post: a review of David Rowell's Wherever the Sound Takes You, and a consideration of shock jock Howard Stern's latest book.
Paul Wilner reviewed Joel Mowdy's "indelible" short story collection Floyd Harbor for Zyzzyva.
NBCC Emerging Critic Letitia Montgomery-Rodgers reviewed Ross Gay's The Book of Delights and Rebecca Solnit's Cinderella Liberator for the spring issue of Orion Magazine.
Lanie Tankard reviewed Duanwad Pimwana's novel Bright for The Woven Tale Press.
Barbara Spindel has been busy diving into nonfiction, reviewing George Packer's Our Man: Richard Holbrooke and the End of the American Century for the Christian Science Monitor and the anthology What My Mother and I Don't Talk About (edited by former NBCC board member Michele Filgate) for the Barnes & Noble Review.
Tobias Carroll wrote about Hwang Jungeun's I'll Go On for Review31, and discussed Oakley Hall's fiction at CrimeReads.
Jessica Smith reviewed Cynthia Arrieu-King's Futureless Languages for Fence Digital.
Kathleen Rooney wrote about Lara Prior-Palmer's new memoir, Rough Magic: Riding the World's Loneliest Horse Race, for the Star Tribune.
Ellen Wayland-Smith reviewed Briallen Hopper's Hard to Love for the Los Angeles Review of Books.
When did you first see yourself in a book? That's the question Anita Felicelli asked 13 Asian American and Pacific Islander authors for this fascinating piece in Bustle. Anita also reviewed Fernando A. Flores' Tears of the Trufflepig for On the Seawall; NBCC board member Michael Schaub wrote about the novel as well, for the Texas Observer.
Dana Wilde has had a busy month, reviewing Balancing Act 2: A Book of Poems by Fifty Maine Women for The Cafe Review, Adam Tavel's Richard Wilbur Award-winning collection of poems Catafalque for Rain Taxi, and Ghosts, poems by Mark Melnicove and paintings by Abby Shahn, in his Central Maine Newspapers Off Radar column.
Over at On the Seawall, Rochelle Spencer wrote about the return of The Langston Hughes Review.
Some cool member news: Meg Waite Clayton's forthcoming The Last Train to London, a novel based on the true story of the Kindertransport rescue of ten thousand children from Nazi-occupied Europe and one brave woman who helped them escape, sold at auction here and in Israel, and is now also going to be translated into a dozen languages.
Jessica Smith's new book of poetry, How to Know the Flowers, is now available from Veliz Books.
NBCC members: Send us your stuff! Your work may be highlighted in this roundup; please send links to new reviews, features and other literary pieces, or tell us about awards, honors or new and forthcoming books, by dropping a line to NBCCcritics@gmail.com.
Photo of Ross Gay by Slowking, used under Creative Commons license.
Send us your stuff! Your work may be highlighted in this roundup; please send links to new reviews, features and other literary pieces, or tell us about awards, honors or new and forthcoming books, by dropping a line to NBCCcritics@gmail.com.