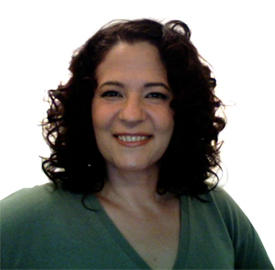 In this Q&A series, The Craft of Criticism, NBCC members Tara Cheesman and Fran Bigman ask book critics and review editors for their thoughts about contemporary criticism. If you're interested in being interviewed for the series,please get in touch at franbigman@gmail.com and tara.cheesman@gmail.com.
Laura Miller is currently books and culture columnist at Slate. In 1995, she co-founded Salon.com and worked there as an editor and staff writer for 20 years. Her work has appeared in the New Yorker, Harper's, the New York Times Book Review, the Guardian, the Los Angeles Times, the Wall Street Journal and many other publications.
What's one recent piece you've really enjoyed writing, and why?
Two of my recent favorites came out at around the same time. One, from April, was a piece in the New Yorker about a novel called Tangerine. It was a sort of adequate novel, trying to be a Daphne du Maurier novel, and it wasn't really—the press talked a lot it being a Patricia Highsmith-style novel, but I didn't think it was that. It had this weird old-fashioned quality, and it was enjoyable because it reminded me and a bunch of folks about other books. My editor was really great about letting me write about how a novel could be not that good but still be enjoyable. That was a really fun piece to write. Then I wrote a piece for Slate about two memoirs by two younger women. One was this memoir of sex addiction, and one was a memoir of a lot of incredible sexual adventures by a sex columnist. I compared these two memoirs to each other and looked at the very different ways the two different authors interpreted the same types of experiences depending on what narrative they were applying to them.
In a past interview, you mentioned that you try to read outside your comfort zone. Why do you feel that's important?
I really like most ghost stores, so if I like a particular ghost story, it may be just that I am willing to meet it halfway. I don't really like reading about cowboys, and so if I really like a particular novel about cowboys, it's probably a pretty good novel. So you do have to bear your own tastes in mind. This novel Tangerine, it does what I think it's intended to do, and some people have no interest in that. So you have to communicate to the reader what you're bringing to the judgement that you're making—what preferences or resistance.
Re personal writing, in past interviews you've talked about how writers might use first person to indicate their general stance on something, or just make it more subjective, like saying "this author doesn't usually do it for me," instead of going for a blanket condemnation.
I think that when I started writing reviews, reviewers tried much harder to be categorical and authoritative. There is a declamatory style that you still get from some established critics, but that's less and less common now, and it's more common for reviewers to disclose those personal preferences or introduce enough first-person elements into the review that you have a sense of where they're coming from. It helps orient readers about the judgements you're making. The internet makes people aware of how many different perspectives there are out there, so it becomes important to clarify where you're coming from as opposed to thinking that culture has a unified conversation or unified voice.
How have your reviewing style and interests changed over the years?
When I was at Salon, especially towards the end of my time there, I would run story ideas past an editor, but mostly I could do what I wanted, especially when it came to fiction. Now at Slate I have a couple of editors, and they have definite ideas of what they'd like me to do, what to focus on, pieces they want me to write, so every month or so I come up with a list of forthcoming books but also other cultural ideas, because I don't just write about books for them. I'd send them that list and they'd pick what they'd like.
Do you still find yourself writing more about nonfiction?
No, not so much now. It really depends. At Salon, I wound up writing about nonfiction as a way to run coverage of all kinds of things. But at Slate they have a person on the editorial staff who's a professional historian, and people who are familiar with philosophy or science or whatever who can also write about books. Slate would tend to want someone with more expertise than I have to write about those subjects. I like to write about and read fiction, but moving to Slate means that my reading diet is a little bit less varied than it used to be. One of the most popular pieces I wrote for Salon was about a book that explained probability to the average reader—I learned a lot. It was a challenge to write about. With a lot of nonfiction, it's like there's this point at which it's all interesting because you're relatively new to it. Or it might be interesting because you're really conversant with the material and so you understand what it means when someone focuses on this aspect or that aspect—take a work of history, like why are they focusing on this cause or that trial instead of this one—that's interesting. but if you're in the middle and you already know the basics and you're just reading another book that goes over the basics, it's not as interesting as when you first started.
Is there a specific author or publisher you're paying particularly attention to because you feel they're doing something new and/or innovative?
I like the taste of the editors at Small Beer Press, and then I like specific editors who work at specific houses, including Joshua Kendall at Mulholland Books and Jennifer Hershey at Random House. Some of the authors I'm paying attention to are Marlon James, Susan Choi, Tana French, Francis Spufford, and David Grann.