In November, National Book Critics Circle members will begin nominating and voting for the John Leonard award for the first book in any genre that has been published in the US in 2017. In the run-up to the first round of voting, we'll be posting a series of #NBCCLeonard reviews on promising first books.
The John Leonard Prize is our annual award based on member nominations and chosen by a panel of member volunteers. Named for the longtime critic and NBCC co-founder, John Leonard, the prize is awarded for the best first book in any genre. Previous winners include: Anthony Marra's A Constellation of Vital Phenomena (2013), Phil Klay's Redeployment (2014), Kristin Valdez Quade's Night at the Fiestas (2015), and Yaa Gyasi's Homegoing (2016).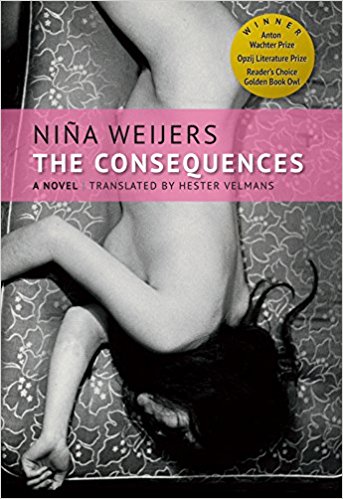 The Consequences by Niña Weijers (translated by Hester Velmans). DoppelHouse Press. Reviewed by Olga Zilberbourg.
Minnie Panis is a Dutch artist of growing international reputation. One day, she opens Vogue and finds nearly nude photographs of herself featured in a fashion spread. She did not agree to pose for these pictures, and yet she instantly knows where they came from: a photographer she'd been sleeping with had betrayed her and photographed her asleep; had probably drugged her to capture these images.
Thus begins one of the central storylines in Niña Weijers's remarkable first novel. Unlike many books set in the art world, The Consequences isn't limited to the art world, and, though it offers insights about contemporary art and the personalities of the artists, these insights are almost incidental to the larger novel structure.
Minnie is livid; yet what can she do? To speak out the truth publically would likely do nothing but to solidify his reputation and ruin hers. Minnie refuses to do what's expected of her. In many ways, her early life has been a lesson in ways of distancing herself from her own emotions. A premature baby with some developmental difficulties, she'd been treated by an eccentric doctor who—in the way of therapy—placed her in front of television, for hours at a time. Minnie grew up to embody that rare quality that makes performance artists such as Marina Abramović (who makes a cameo appearance in this novel) push themselves to the limits: Minnie fully identifies with her art. In her most significant show to date, Nothing Personal, she marked a bad break-up by getting rid of all of her possessions and filming the process, connecting the events of her personal life to the global disasters such as the vanishing coastline in Louisiana and the effects of Hurricane Katrina (the book is set in 2012).
As a reviewer observes, Minnie's art "appears to be personal, verging on exhibitionism, but in the end, you have to conclude you have not learned anything truly real about her." This strange detachment is precisely the quality that allows Minnie to come up with an unorthodox defense to the invasion of her privacy, a way of turning the tables against the photographer. The central issue at stake is Minnie's very personality, the complexity of the pieces that make it possible for her to resist becoming a victim.
This literary debut was published in Dutch in the Netherlands in 2014, where it won several important literary prizes. The 2017 English-language edition is being brought out by an independent DoppelHouse Press in translation by Hester Velmans, an author and translator from French and Dutch and a recipient of NEA Literature Translation Fellowship.
Olga Zilberbourg a bilingual author who grew up in Russia and lives in the United States. Her English-language writing is forthcoming from Alaska Quarterly, Confrontation, and Feminist Studies; her stories have appeared in Tin House's Open Bar, World Literature Today, Narrative Magazine, and others. She reviews books for The Common and co-hosts the weekly San Francisco Writers Workshop.