In November, National Book Critics Circle members will begin nominating and voting for the John Leonard award for the first book in any genre that has been published in the US in 2017. In the run-up to the first round of voting, we'll be posting a series of #NBCCLeonard reviews on promising first books.
The John Leonard Prize is our annual award based on member nominations and chosen by a panel of member volunteers. Named for the longtime critic and NBCC co-founder, John Leonard, the prize is awarded for the best first book in any genre. Previous winners include: Anthony Marra's A Constellation of Vital Phenomena (2013), Phil Klay's Redeployment (2014), Kristin Valdez Quade's Night at the Fiestas (2015), and Yaa Gyasi's Homegoing (2016).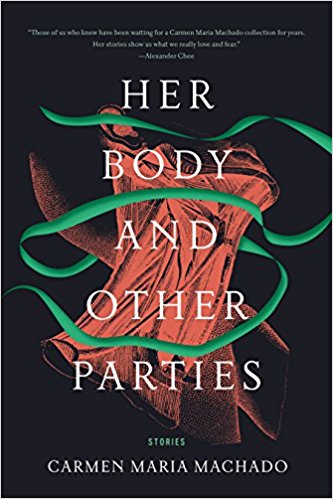 Her Body and Other Parties: Stories by Carmen Maria Machado. (Graywolf). Review by Hamilton Cain.
A long time ago, in a galaxy far, far away—call it the United States in the late Twentieth Century—boys wore eyeliner to prom; Paris was burning in Harlem; and Madonna celebrated S&M in a bestselling coffee-table book titled, Sex.
Transgressive women's fiction was all the rage, from Kathy Acker's pioneering work to Kim Wozencraft's Rush, from Darcey Steinke's Suicide Blonde to A. M. Homes's The End of Alice. Although not without flashes of humor, these novels took themselves seriously, their in-your-face-ness a necessary antidote to a resurging American Puritanism. But their provocations soon felt arch and dated.
Enter Carmen Maria Machado, a writer who draws on that earlier generation but gives transgressive fiction her own wily spin.
In Machado's debut, Her Body And Other Parties—inventive, gorgeously crafted, come-hither stories, and a finalist for a National Book Award—quite a few bodices rip. She builds moving dramas out of fluid sexuality, but always with an eye on other arousals and disappointments: money, marriage, food, friendship and serves them up with savory wit.
Her paradise, though, seems more like an inferno, with her characters, mostly women, caught in whirlwinds of attraction and deceit, plagued by unseen forces as they struggle toward redemption. Machado's tonal range is impressive: she can do stand-up comedy; she can do scathing satire; she can do Poe-esque horror; she can do gentle lyricism. And her sense of pacing is superb, as she writes along an arc to a climax that's a shock if not a surprise.
Her opening piece, "The Husband Stitch," plumbs one woman's yearning for both her spouse and a female model from her drawing class. "Especially Heinous," the collection's novella, rehashes twelve seasons of Law & Order: Special Victims Unit to explore the twinned nature of death and desire, a police procedural transformed into supernatural suspense: "Her apartment is so crowded with ghosts that, for the first time since she can remember, Benson stays at someone else's place for the night. Her date is an investment banker, a boring and stupid man with a fat, piss-mean tabby who tries to suffocate Benson with her bulk. When she returns to her apartment the next morning, sore and angry and smelling like cat pee, the girls-with-bells-for-eyes are waiting for her, draped over every surface like Dalí's clocks."
And in the collection's most affecting story, "Real Women Have Bodies," a volatile sapphic couple who work at a clothing boutique discover sequined dresses and gowns stitched together by the shades of missing women: "I let her rage through the empty store. I stand near the closest rack, a collection ranging from pale, silky seafoam to dense moss, smoothing the skirts and watching the front door. The dresses look even sadder than normal tonight, even more like stringless marionettes."
Gender politics roil beneath Machado's pitch-perfect prose; how could they not? But she avoids platitudes and clichés. The weirder the premise, the more resonant her themes. Her female characters face threats on all fronts, internal as well as external, but find resilience in themselves. And Machado doesn't hesitate to deadpan: "'PENETRATION': 'No.' 'Yes.' 'No.' 'No?' 'No.' 'Oh.'"
In a dispiriting political era, Carmen Maria Machado illuminates the maladies that ail our country as well as those moments of transcendence that may yet save us. Her Body and Other Parties announces the arrival of an awesome talent.
A former book editor, Hamilton Cain is the author of This Boy's Faith: Notes from a Southern Baptist Upbringing (Crown, 2011).