Post-conventions, mid-Olympics, pre-Labor Day, and plenty of time for summer reading. Board member Carmela Ciuraru has been surveying a set of smart readers, so check out the marvelous series— or take your chances at at the beach.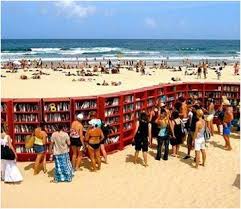 Julia M. Klein reviews Gerri Hirshey's Not Pretty Enough for the Forward and she reviews Nathan Stoltzfus's Hitler's Compromises, also for the Forward.
For the Minneapolis Star-Tribune, Lauren LeBlanc reviews Marrow Island by Alexis Smith, Here Comes the Sun by Nicole Dennis-Benn and Swallowed by the Cold by Jensen Beach.
For the BBC, NBCC VP/Online Jane Ciabattari writes about 10 books to read in August and for LitHub, she writes about the 5 books making news this week and includes a shout out to Squaw Valley Community of Writers.
VP/Awards Michele Filgate reviews Riverine by Angela Palm for the Washington Post and for Lit Hub, she writes about book emergencies.
Joe Peschel writes about Odie Lindsey's We Come to Our Senses for the News & Observer.
Elizabeth Rosner reviews Known and Strange Things by Teju Cole for the San Francisco Chronicle.
Natalie Bakopoulos reviewed Jessica Winter's Break in Case of Emergency for the San Francisco Chronicle. In the Summer 2016 issue of the Michigan Quarterly Review, she has a long essay on Elena Ferrante's Neapolitan quartet, entitled: "We Are Always Us: The Boundaries of Elena Ferrante" which should be online shortly.
Steve Kellman reviewed Living with a Dead Language: My Romance with Latin by Ann Patty for the San Francisco Chronicle.
Michelle Lancaster reviewed The Hopefuls by Jennifer Close for Lone Star Literary Life.
Anne Morris reviews Monterey Bay by Lindsay Hatton for the Dallas Morning News.
Bill Williams reviews Incarceration Nations by Baz Dreisinger for the Palm Beach Artspaper.
In Lambda Literary, Julie R. Enszer wrote about the lives and legacies of writers Michelle Cliff, Beth Brant, and Stephania Byrd.
Karl Wolff reviews In the Café of Lost Youth by Nobel Laureate Patrick Modiano for the New York Journal of Books:
Gregory Wilkin reviews Julian Barnes' The Noise of Time for the New York Journal of Books.
Chuck Twardy reviews Love Wins: The Lovers and Lawyers Who Fought the Landmark Case for Marriage Equality by Debbie Cenziper and Jim Obergefell for Las Vegas Weekly.
Michelle Newby reviews The Season by Jonah Lisa Dyer and Stephen Dyer for Lone Star Literary Life.
For the Forward, Erika Dreifus explains the friendship between authors Antoine de Saint-Exupéry and Léon Werth embedded into the new film version of The Little Prince.
For the Washington Free Beacon, Frank Freeman reviewed Elaine Showalter's The Civil Wars of Julia Ward Howe:
David Cooper reviews Leaving Lucy Pear by Anna Solomon in the New York Journal of Books.
Carla Main reviews The New Trail of Tears: How Washington is Destroying American Indians by Naomi Schaefer Riley for City Journal.
Ellen Akins reviewed Catherine Banner's The House at the Edge of Night for the Dallas Morning News.
For the Minneapolis Star Tribune, Michael Magras wrote a review of Ben Lerner's The Hatred of Poetry.
And speaking of poetry, congratulations to Connie Post, 2016 winner of the Crab Creek Review Poetry Prize, and to Helene Cardona, who has just published a new poetry collection, Life in Suspension (Salmon Poetry), and also the Hemingway Grant winner Beyond Elsewhere, her translation from the French of Ce que nous portons by Gabriel Arnou-Laujeac (White Pine Press).
Your reviews seed this roundup. Please send items, including news about recent publications and honors, to NBCCCritics@gmail.com. (Current members only.) Please only send links that do not require a subscription or a username and password.