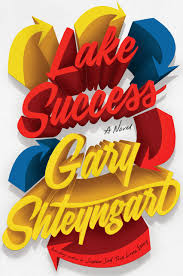 Rachel Cantor's novel Good On Paper has received much critical attention from reviewers, Michael Magras reviews it for BookPage and Jeffrey Ann Goudie reviews for the Minneapolis Star Tribune.
Julia M. Klein reviews Ian Buruma's Their Promised Land for the Boston Globe.
Past Board member and Balakian winner Steve Kellman reviews David Denby's Lit Up for the San Francisco Chronicle.
For the Boston Globe, Kellman reviews Yann Martel's The High Mountains of Portugal.
Eileen Weiner reviews When Breath Becomes Air by Paul Kalanithii, for the Pittsburgh Post-Gazette.
Parul Kapur Hinzen reviews Darryl Pinckney's Black Deutschland for The Rumpus.
John Domini reviews The Unfinished World by Amber Sparks for Bookforum and Bats of the Republic by Zachary Thomas Dodson and War Is Beautiful, by David Shields for the VQR and The Vegetarian by Han Kang for the Chicago Tribune.
Lori Feathers discusses her favorite "foreign Victorian" novels – translated, Victorian-era novels by non-British writers — for World Literature Today. Her essay was also included in LitHub Daily's selected links to best of the literary internet.
Karl Wolff reviews The Iliad: A New Translation by Caroline Alexander for the New York Journal of Books.
Ron Slate reviews David Thomson's How to Watch a Movie on his site On the Seawall.
Megan Labrise interviews Maria Konnikova, author of The Confidence Game: Why We Fall for It … Every Time, for Kirkus.
Terry Hong reviews Janice Y.K. Lee's The Expatriates in Christian Science Monitor and Jung Yun's Shelter in Library Journal.
Last, but not least, past President and currently NBCC VP/Online Jane Ciabattari's weekly Lit Hub column, which includes reviews by Laura Miller, Annalisa Quinn, Meganne Fabrega–and squirrels!
Please remember to send future reviews and essays to NBCCCritics@gmail.com, and please make sure subscriptions, user names or passwordsare not required.
—