In the weeks leading up to the March 13 announcement of the 2013 NBCC award winners, Critical Mass highlights the thirty finalists. Today, in the third of our series, NBCC board member Mark Athitakis offers an appreciation of fiction finalist A Tale for the Time Being (Viking) by Ruth Ozeki.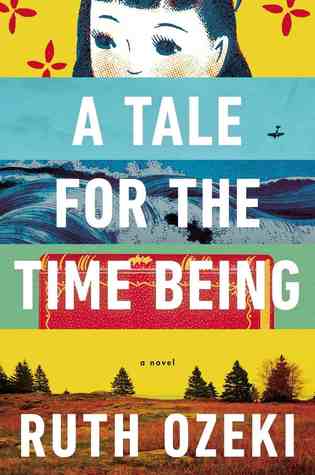 Coincidence is the drivetrain of many, if not most, novels: To show how humanity is connected across place and time, fiction writers will braid two or three seemingly distinct narratives together until you wonder how they were ever separate. It's a useful device, but it can also be a cliched one—read enough novels with such a setup and you can see that Meaningful Connection coming a mile away. Ruth Ozeki's third novel, A Tale for the Time Being, uses this familiar strategy too, but she complicates every aspect of it. What do time, place, and connection mean, anyhow? Ozeki's novel is a remarkable interrogation of concepts we don't often interrogate.
The book turns on a diary discovered in a Hello Kitty lunchbox that has washed up on the beach of a Pacific Northwest island. The author of the diary is Nao, a teenage girl who in sprightly prose relates some serious challenges: Her father's professional failures, her bouncing between Japan and the United States, the bullying she suffered from her Japanese schoolmates, and more. That the diary has washed up puts a grim period—or perhaps a question mark—on the story. The woman who finds the book, Ruth, imagines the lunchbox has arrived because of the 2011 Japanese tsunami. If so, what happened to Nao? And what responsibility does Ruth bear to Nao's story, which is literally in her hands?
This lack of resolution allows Ozeki to explore some more complicated questions. Nao's diary alternates from everyday concerns to more spiritual ones, particularly relating to the life of her elderly great-grandmother, a Buddhist nun. Ruth, for her part, becomes increasingly fascinated with current patterns and quantum physics as she reads deeper into Nao's book. Ozeki's greatest accomplishment in this novel is her ability to shift from these headier concerns to more quotidian ones without sacrificing respect or attention for either. And in Nao and Ruth, Ozeki establishes two distinct and remarkable voices. Nao is chirpy, pushy, sorrowful, and contemplative in the way teenagers often are; Ruth is older, more jaded, more concerned with practical issues (such as her mother's decline from Alzheimer's) but willing to chase down the sense of wonder that Nao's diary inspires.
A Tale for the Time Being is about connection, but also about the fluidity of our selves—the way that we shift and transform from moment to moment. "Life is fleeting!" Ruth says at one point, summarizing one Zen master's philosophy. "Don't waste a single moment of your precious life! Wake up now! And now! And now!" This magical yet earthbound novel reveals and exemplifies the freedom you gain when you're willing to rethink what "connection" means, and consider that it's a different thing in every living moment.
Los Angeles Times review:
http://articles.latimes.com/2013/mar/21/entertainment/la-ca-jc-ruth-ozeki-20130324
New York Times interview:
http://www.nytimes.com/2013/03/13/books/ruth-ozekis-new-novel-is-a-tale-for-the-time-being.html?_r=0
NPR interview:
http://www.npr.org/2013/03/17/174215667/tsunami-delivers-a-young-diarists-tale-of-bullying-and-depression
New York Times review:
http://www.nytimes.com/2013/04/02/books/a-tale-for-the-time-being-by-ruth-ozeki.html