(From left) Jane Ciabattari, Oscar Villalon, Tess Taylor, Shane Book
The NBCC's third annual summer cocktail party at Zyzzyva's offices in San Francisco hit a hot spell, no fog, lots of late-day sunshine pouring in the windows, and lots to celebrate.
Zyzzyva editor Laura Cogan and managing editor Oscar Villalon, cohosts with NBCC VP/Online Jane Ciabattari, were excited about a Best American Short Story and Pushcart Prize for work Zyzzyva published in 2012. They were working on their 100th issue (Spring 2014). The Fall issue, due out on September 5, will feature fiction from Eric Puchner and J. Malcolm Garcia, and poetry from Zubair Ahmed and Rebecca Foust.
D.A. Powell, Ethan Nosowsky, Susan Steinberg
Toasts were raised to D.A. Powell, this year's NBCC poetry award winner (for "Useless Landscape"), who missed the March awards ceremony in New York. Powell is headed back to teach at Iowa Writers Workshop again soon. He was cheered on by two other Gray Wolf folks based San Francisco–Ethan Nosowsky and author Susan Steinberg.
Another toast went out to Sandrof lifetime achievement winner Lawrence Ferlinghetti, founder of City Lights, on the occasion of the 60th anniversary of City Lights (represented at the party by Stacey Lewis),
Ethan Nosowsky, Rebecca Solnit
And yet another toast went to Rebecca Solnit, who won the NBCC award in criticism for "River of Shadows," and was a finalist for "As Eve Said to the Serpent." She was just back from Iceland and celebrating her new book, "The Faraway Nearby."
And to Balakian winner Molly Giles, whose most recent collection of stories, "Bothered," was published late last year by Split Oak Press.
Janis Cooke Newman, Jane Ganahl
Litquake cofounder Jane Ganahl and a group of board members, preparing for the first ever Litquake Dig.lit Conference on June 29, came by, as did novelist Janis Cooke Newman, who directs Litcamp, the juried writers conference cosponsored by Litquake and the San Francisco Writers Grotto (the second season comes up in May 2014). Also there from the Grotto: Natalie Baszile, who had just gone over proofs of her first novel, "Queen Sugar," coming from Viking.
Maren Fox, Rolph Blythe, Laura Cogan
Rolph Blythe, new publisher of Counterpoint Press, was on hand, with Maren Fox, Counterpoint publicist. Counterpoint is bringing out two posthumous Jane Frame works this year, the story collection "Between My Father and the King," and this fall, a novel, "In the Memorial Room."
Luke Sykora, Kristin Hatch
Luke Sykora, senior editor of Wine & Spirits magazine (and curator of the donated wine for the evening), was there with Kristin Hatch, author of the chapbook "Through the Hour Glass" (CutBank) and National Poetry Society award winning "The Meatgirl Whatever" coming in the fall from Fence. Luke studied with former NBCC board member and poet Steve Burt at Macalester, then got his MFA in Poetry at Iowa Writers Workshop.
David Margolick, author of the new biography "Dreadful: The Short Life and Gay Tiems of John Horne Burns," dropped by after his reading at Book Passage in the Ferry Building. Margolick discovered that William Zinsser, one of his sources, was the uncle of Laura Fraser. Fraser, a writing mentor and memoirist, ("The Italian Affair," " All Over the Map") was just back from Italy.
Tom Barbash was just back from BEA in his hometown, New York, where he signed copies of his new short story collection, "Stay Up with Me," due out from Ecco in September.
Bridget Kinsella, who had also been at BEA, chatted about fall and winter books with San Francisco Chronicle book editor John McMurtrie, who has just launched a blog in his book section and a new column featuring first-time authors.
Doug Bond, Meg Pokrass, Michael David Lukas, Frances Lefkowitz
Flash fictionistas Meg Pokrass (with husband, writer Doug Bond), Thaisa Frank, and Frances Lefkowitz chatted with Michael David Lukas, whose essay in The Millions on the polyphonic novel got lots of buzz earlier this year. Also circulating: Lydia Kiesling, whose takedown of Tao Lin's "Taipei" was just up on The Millions, and Amy Rose, associate editor of BuzzFeed's music section and a staff writer at Rookie.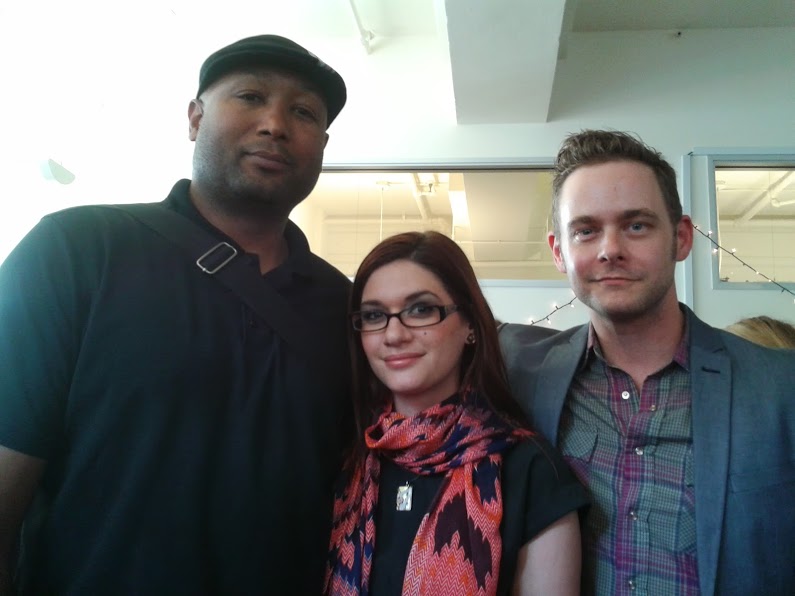 T. Geronimo Johnson, Elizabeth Cowan, Ryan Sloan
Tess Taylor, whose first poetry collection, "The Forage House," is due out in late August from Red Hen Press, brought along a contingent from UC Berkeley's Summer Creative Writing program, including program coordinator Ryan Sloan, students Anca Roncea and Raj Chakrapani, and director T. Geronimo Johnson, who was a 2013 PEN/Faulkner award finalist for his novel "Hold It 'Til It Hurts" (Coffee House Press). His second novel, "Welcome to Braggsville," is due out from Little, Brown in January 2015. Also along, faculty member,novelist Benjamin Hale, in Berkeley from Brooklyn.
Benjamin Hale, Janis Cooke Newman