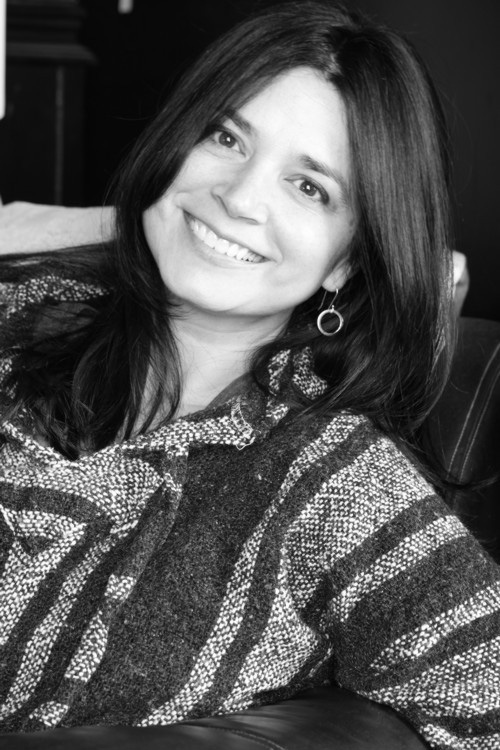 Author Photo: Nicky Martínez
Island of Bones, University of Nebraska Press, 2012.
Joy Castro is an associate professor at the University of Nebraska-Lincoln, where she is the associate director of the Institute for Ethnic Studies. Her first book, The Truth Book: A Memoir, was named a Book Sense Notable Book by the American Booksellers Association, and her novel, Hell or High Water, was named a National Latino Book Club selection.
Island of Bones opens with that evocative essay on Cuban American history, memory and identity–how the "public narrative" resists change, even with the discovery or pronouncement of more accurate facts that enrich the complexity of the subject. You proceed to explore your own Latina identity, how even you had trouble reconciling with the truth of your ancestry, which challenged what you believed about yourself. "I don't fit," you declare, "I don't fit, and that's okay, that's where I write from." Both examples show how rigorous notions about identity–those litmus tests (from language to political leanings) that prove or exclude our membership to certain groups–are no longer viable models. What are better ways to navigate two seemingly disparate interests: to honor (preserve?) a shared cultural legacy and to ensure that it remains somehow inclusive? What is the role of literature in this process?
Thank you for calling the title essay 'evocative.' Storytelling—whether in literature, film, song, or some other mode—is one crucial way to navigate these tensions, because it has the flexibility and capacity to include many disparate and resistant micro-stories while still acknowledging larger cultural threads of connection. Stories can enact or dramatize hybridity. They can show us what acceptance and freedom look like.
Written literature has an unusually powerful rhetorical opportunity in this regard, due to its intimacy: one person's story, one person's voice entering the mind of the solitary reader. We want to connect to the speaker of the poem or the narrator of the story. We want to care, to see things through his or her eyes. We respect the private story of the individual, and we give it credence. (As writers and literary critics, we may problematize personae or issues of reliability, but most readers typically do not.)
Because of this power, literature has tremendous potential to both honor and complicate inherited cultural narratives. In the Latino studies courses I teach, students respond more honestly and vulnerably to literature than to the political, historical, and sociological material we also study. What they remember are the poems.
Throughout the collection of essays you reference your previous memoir The Truth Book, which examines with greater detail your journey from living in an impoverished household of Jehovah's Witnesses, to defining your own salvation through education. How difficult was it not to repeat content that was part of that memoir in this project? What was it like revisiting these memories in Island of Bones years after The Truth Book was released?
This issue of structure and memory is so rich and challenging. Three of the twenty essays in Island of Bones were initially published as stand-alone pieces and then broken apart and woven into the text of The Truth Book, which came out seven years ago. In the new collection Island of Bones, the editor and I wanted these essays to be available as stand-alone pieces again. Yet they also provide context for the other material in the collection.
The book was actually composed in little bits and scraps over an even longer span of time—two decades—while I worked on other projects and raised my son. "Edging," for example, was first published in 1991, whereas some of the essays are quite new and have never been published before. Designing the book's structure was sort of like piecing together a mosaic or a quilt—making a new whole out of many small pieces accumulated over time.
I arranged the essays not in order of publication—or chronologically, in terms of the events they explore—but rather in the pattern that would seem to invite the greatest engagement from the reader and provide the greatest flow. I always like it when one piece shimmers against another. The goal was beauty.
You don't shy away from being critical of the less flattering side of being an academic, of loathing "the academy's blind spots." Though you also acknowledge the benefits of becoming a tenured college professor. Indeed, claiming a space in the academy as a Latina is as essential as claiming a space on the book shelf, no matter the heartaches. At the same time, these are two long-standing struggles. Do you see things more positively than I in terms of the Latino presence in these two institutions, the academy and publishing?
I do think we need to be here—in publishing, in the academy. We need to claim space. To articulate our own vision, to push the parameters of what can be said and done.
As a professor, I love helping students enter these fields and succeed, but I feel more ethical doing so when I'm honest and clear with them, when I don't refrain from critiquing the very institutions I inhabit. We need to keep pointing out the problems and difficulties and heartbreaking losses, and we need to persist in making change from within—as well as, for those of us who are gifted and capable of doing so, envisioning and building new structures outside of these institutions/industries.
I'm really interested in the ways that these two institutions are broken, because I think those broken places are opportunities. For example, eco-awareness in both institutions is still typically low. Try getting your book printed on recycled paper at most presses. And most universities and colleges may have recycling bins on campus, but these are just small token gestures when compared to the complete overhauls—green roofs, self-sustaining buildings, wind and solar power, organic agriculture on campus, etc.—that need to happen. In current polls, Latinos show very high support for environmental initiatives. This is an opportunity for us to lead.
At many educational institutions, too, there's a disconnect between the fine-sounding mission statements on brochures and the reality of the bottom line—bodies in chairs, as they say, and the dollars that come with them. To think in fresh, honest ways about education means examining that economic paradigm in ways that might unsettle many administrators. And they should be unsettled. There's a very thick bureaucratic layer in higher education right now, and it has coincided with the imposition of a business model that may or may not have very much at all to do with helping people learn.
These are just two quick examples. Anyone who can come at these issues from a fresh perspective is important, whether we're poor and Latino or come from some other background that traditionally had no voice at the table. Because of our experiences, we see differently, so we can offer different solutions.
You give high praise to the Macondo Writing Workshop, the Latino writing community founded by Sandra Cisneros, which unfortunately is no longer in operation. And yet the experience left a lasting impression on you (and many other writers who have attended in the thirteen years or so that it was running). It's interesting that in that same essay, "¿Quién es ese Jimmy Choo?: A Latina Mother Comes of Age," you also introduce a different paradigm to think about female identity and its role in mentoring: Latina "sistering" instead of Latina mothering. I'm reminded of a Chicana film I just saw, Mosquita y Mari, written and directed by Aurora Guerrero. Like you, Guerrero also acknowledges Gloria Anzaldúa. Is building community part of that "sistering" process? How does it shape the what you write or even how you write it? Could you speak to that in relation to your other project, Hell or High Water?
I loved Macondo! Even though the workshop is no longer running, the members of the Macondo community continue to be unfailingly generous with and supportive of each other, and I'm grateful to remain connected. I also really loved Bread Loaf, as well as the residencies of low-residency MFA programs I've visited. I think I just love writers' communities. Like any human community, they include conflicts and flaws, but the gift is that we get to come together to challenge, witness, and support each other's work. That's rare, so I'm very appreciative.
The idea of sistering still feels beautiful and revelatory for me, and I explored it in Island of Bones as an alternative to the very rich but terribly demanding model of mothering, which had been my experience for most of my life.
In exploring sistering, I wanted to think about a model that privileges lateral ties of support in which nourishment can move in both directions simultaneously. I wanted to think about a way of moving in the world that would allow me to work vigorously while declining personal roles or professional assignments that were too consuming. As Latinas, some of us have become all too used to giving ourselves away. That's what we saw modeled, and that's what we were urged, implicitly and explicitly, to do. I wanted solidarity without being subsumed.
For many people, such a model—one that preserves the self: time for the self, the self's quests, pleasures, ambitions, and desires—is automatic, a birthright. For me, it wasn't. With sistering, I wanted to think my way through to a model that would honor the self as much as it nurtured the other, a mode that privileged reciprocity.
Thank you for asking about how sistering plays out in Hell or High Water, a literary thriller set in post-Katrina New Orleans. Nola, the protagonist, is an extended twenty-first-century riff on classic hard-boiled detectives like Sam Spade or Philip Marlowe, and she's investigating the 800+ sex offenders who went off the grid during the hurricane evacuation, so it's a gritty story. Yet while Nola is cynical and tough, she's not a loner. She takes care of her aging mother, mentors a teen girl, and meets every week with her three friends to talk and eat together. Nola cares; she's reliable; she's part of a community. She's sistering.
Hell or High Water seems to be resonating with readers and critics, and what's exciting is that the book has also just been optioned for film by a team of five women that includes Latina producers Aida Bernal and Cisely and Zoe Saldana, so its vision of sistering may reach a wider audience. I hope so.