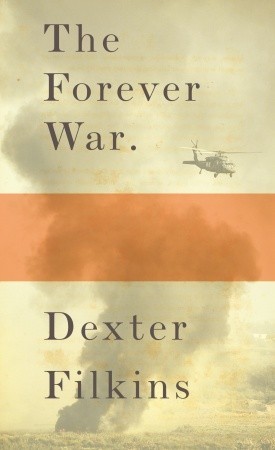 War reporting has been at the heart of plenty of contemporary literary journalism: A scan through the list of of NBCC finalists and winners in the nonfiction categories reveals some excellent examples, from Michael Herr's Dispatches to Philip Gourevitch's We Wish to Inform You That Tomorrow We Will Be Killed With Our Families. Roxana Robinson selected a book that won the 2008 NBCC award in nonfiction:
One of my favorite recent works of literary journalism is Dexter Filkins' "The Forever War," which is about Iraq. Filkins is a beautiful writer, clear and thoughtful, and this book is full of vivid moments in the war that reveal, like match-flares, the overwhelming darkness of our presence in that country. Filkins writes about our troops, about the landscape of Baghdad, about the people he meets there, about the meals and the journeys and the children and the awful sights of physical destruction. Never insisting on his own view, but delivering it with quiet clarity, Filkins shows us the violent and devastating storm that we created in Iraq.
Though it's not about combat, the 1997 nonfiction winner, Richard Rhodes' The Making of the Atomic Bomb, is an essential book on the Cold War. Daniela Gioseffi writes:
A comprehensive story of the building of the bomb and also a fine work of literature, it's a stirring intellectual adventure, clear, fast-paced and vividly revealing in rich human, political and scientific detail. It's a complete report of the building of the A-bomb from the turn of the century to the dropping of the first bombs on Japan.
On a similar note, Kate Vogl chose a 2010 nonfiction finalist, Barbara Demick's Nothing to Envy: Ordinary Lives in North Korea, as "one of my favorite reads of all time. As you read it, you trust you are getting well researched facts and marvel at the powerful and disturbing story she unfolds with them." And Mary McWay Seaman recommends three recent books informed by spycraft and statecraft:
Voices From the Grave: Two Men's War in Ireland, by Ed Moloney (2010): This political tell-all discloses testimony (withheld until their deaths) of two former paramilitary enemies involved in The Troubles (1960s through the 1990s) in Northern Ireland. The accounts of former Irish Republican Army leader Brendan Hughes, and former Ulster Volunteer Force operative David Ervine, were recorded for the Boston College Oral History Archive from 2001 through 2004. Unforgettable revelations, lush with little-known details and clandestine deal-making, alternately stun and shimmer throughout Ed Moloney's heartbreaking literary treasure.
Wild Bill Donovan: The Spymaster Who Created the OSS and Modern American Espionage, by Douglas Waller (2011): This exceedingly entertaining biography of William J. Donovan (1883-1959) is also a work of history and journalism with superb chronicles of both World Wars. Waller's narrative is rich with scoops of political jousting and jealousies, and compelling vignettes of wartime mobilizations and hidden operations. The book also reveals superlative examples of human nobility in the face of unimaginable savagery.
Time and Eternity: Uncollected Writings 1933-1983, by Malcolm Muggeridge, edited with an introduction by Nicholas Flynn (2011). Malcolm Muggeridge, one of the greatest English scribes of the twentieth century, served as a British soldier and spy during World War II, worked with the League of Nations, wrote for several newspapers, and authored novels and plays. Nicholas Flynn introduces a fearless man who traveled by rail through the North Caucasus and the Ukraine in 1933 (the first Western journalist to do so) to report on the Marxist-engineered famine. His reports enraged Stalin, and Flynn discusses the anti-Soviet articles that cost Muggeridge his job at a time when many chest-thumping intellectuals were attempting to put a shine on Marxism. Flynn includes other Muggeridge literary jewels, especially some dazzling character profiles (particularly Churchill and Solzhenitsyn). Readers will find his resplendent writings as fresh today as when they were written.