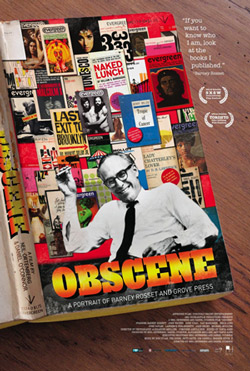 The appreciations for Barney Rosset, who died last week, rolled in over the weekend from the Los Angeles Times, the Guardian, the New York Times, and the Wall Street Journal. Publisher Richard Nash intends to tweet links to Rosset-related articles (such as a 2001 Tin House interview) throughout Lent; follow his Twitter handle or the hashtag #BarneyRosset.
Laura Collins-Hughes reviews NBCC finalist Geoff Dyer's study of Andrei Tarkovsky's film Stalker, Zona, for the Boston Globe.
Jane Ciabattari interviews Nathan Englander about his new story collection, What We Talk About When We Talk About Anne Frank, for the Daily Beast; Steven G. Kellman reviews the book for the Dallas Morning News.
Art Taylor reviews Elizabeth Hand's novel Available Dark for the Washington Post.
Carolyn Kellogg reviews Ellen Ullman's novel By Blood for the Los Angeles Times; Parul Sehgal reviews it for the New York Times Book Review.
Wendy Smith reviews three books about Broadway for American Theatre.
David Biespiel discusses Phillis Levin and the "Poetry of Poise" in the Oregonian.
George de Stefano reviews Tom Santopietro's The Godfather Effect for the New York Journal of Books.
Maureen Corrigan reviews Deborah Crombie's mystery No Mark Upon Her for NPR.org.
Your reviews and recommendations help seed these roundups: If you're an NBCC member with a review you'd like considered for inclusion, please email nbcccritics@gmail.com. You can also get our attention by using the Twitter hashtag #nbcc, posting on the wall of our Facebook page, or joining our members-only LinkedIn group.