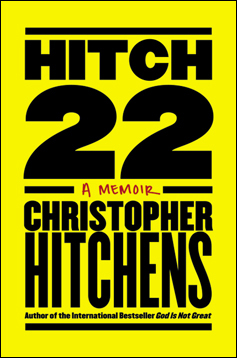 Essayist, pundit, critic, and journalist Christopher Hitchens died last Thursday at 62. His 2010 memoir, Hitch-22, was a finalist for the NBCC award for autobiography.
Arts & Letters Daily has aggregated many of the obituaries and appreciations that have run since Hitchens' death. A sampling of the commentary: Thomas Mallon recalls an email exchange with Hitchens about the title for his new essay collection, Arguably; June Thomas describes editing Hitchens' work; David L. Ulin recalls Hitchens opining about his idea of book-review ethics in 2007; the New York Review of Books gathers reviews Hitchens wrote for its pages, including considerations of Tom Clancy, Anthony Powell, Che Guevara, Gore Vidal, and many more; Julian Barnes remembers anxiously asking Hitchens for his opinion of his first novel, and Ian McEwan recalls the time he spent in Hitchens' company in his final weeks.
Jon Wiener rounds up the five best political books of the year at the Nation (including Hitchens' essay omnibus, Arguably).
Jim Carmin offered some end-of-the-year book recommendations for Oregon Public Radio.
Edward Nawotka rounds up the year in books for the Dallas Morning News.
John Freeman, Meredith Maran, and Jane Ciabattari list their favorite works of 2011 fiction for the Boston Globe.
Maureen Corrigan offers her selections of the best novels of 2011 at NPR.org.
Parul Sehgal praises The Journals of John Cheever as part of the Millions' "A Year in Reading" series.
Katherine A. Powers reviews Adam Sisman's biography An Honourable Englishman: The Life of Hugh Trevor-Roper, at the Barnes & Noble Review.
Carlin Romano considers whether the Occupy movement signals a revival for the work of Herbert Marcuse at the Chronicle of Higher Education.
Adam Kirsch considers texts from the Middle Ages held at Harvard's Dumbarton Oaks Medieval Library at Harvard Magazine.
Jenny Shank provides a literary guide to Denver in Poets & Writers, from John Fante to Annie Proulx to Neal Cassady and a host of bookstores and events.
Your reviews and recommendations help seed these roundups: If you're an NBCC member with a review you'd like considered for inclusion, please email nbcccritics@gmail.com. You can also get our attention by using the Twitter hashtag #nbcc, posting on the wall of our Facebook page, or joining our members-only LinkedIn group.