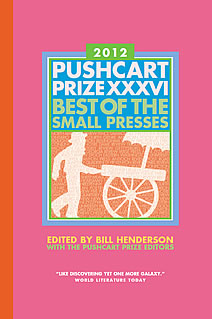 Just got my copy of Volume XXXVI of the Pushcart Prize, founded and edited by 2006 Sandrof Awardee Bill Henderson. (I'm a contributing editor.)
It's a grand selection from the small presses, as always. A mini doorstopper at 570 pages (heavier than the new Eugenides novel, about half the heft of Péter Nádas's Parallel Stories).
This year, notes Hendo, there are 67 stories, essays, poems, and memoirs from 52 presses (including 15 presses new to the series).
Among those selected:
NBCC board member and criticism finalist Stephen Burt's "Ocean State Job Lot," from New Ohio Review.
NBCC poetry finalist Kathleen Graber's "The Telephone," and NBCC member, Alan Michael Parker's "Family Math," both published in The Kenyon Review.
NBCC member Anis Shivani's essay "The MFA/Creative Writing System Is a Closed, Undemocratic, Medieval Guild System that Represses Good Writing," from Boulevard.
Did I miss anyone?!