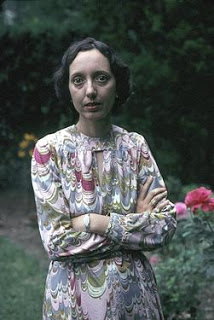 This week marks the 34th annual National Book Critics Circle Awards. A reading from the 2007 finalist will happen this Wednesday at the New School Tishman Auditorium, located at 66 West 12th Street, at 6PM, while the awards are held the following night, Thursday, at 6PM. Both are free and open to the public.
I originally thought this was the first time we've had an author (Joyce Carol Oates) to be named a finalist in two categories in the same year. But that actually happened back in 1988, when John Hollander was nominated in poetry (for Harp Lake) and criticism (for Melodious Guile: Fictive Pattern in Poetic Language).
This made me wonder about how many authors have been nominated in two categories (at any point in their lives). So here are the list of the double-hitters, who have straddled two (or more categories) at the NBCC awards. Joan Didion is the only writer to have been nominated in three categories.
Julia Alvarez, Once Upon a Quniceanera (Criticism, 2007) and In The Time of the Butterflies (Fiction, 2004)
Joseph Brodsky, for Part of Speech (Poetry, 1980) and Less Than One (Criticism, 1986)
Edwidge Danticat, for Brother, I'm Dying (Auobiography, 2007) and The Dew Breaker (Fiction, 2004)
Joan Didion, for A Book of Common Prayer (Fiction, 1977), The White Album (Nonfiction, 1979) and The Year of Magical Thinking (Autobiography, 2005)
Susan Faludi, for The Terror Dream (Criticism, 2007) and Backlash: The Undeclared War on Women (Nonfiction, 1991)
Frances Fitzgerald, for America Revised (Criticism, 1979) and Way Out There in the Blue (Nonfiction, 2000)
Robert Hass, for Twentieth Century Pleasures (Criticism, 1984) and Sun Under Wood (Poetry, 1996).
Paul Hendrickson, for Looking for the Light (Biography, 1992) and Sons of Mississippi (Nonfiction, 2003)
John Hollander, for Spectral Emanations (Poetry, 1978) (and two other poetry volumes) and Melodious Gile (Criticism, 1988)
Alice Kaplan, for French Lessons (Biography, 1993) and The Collaborator (Nonfiction, 2000)
Alfred Kazin for New York Jew (Nonfiction, 1978) and God and the American Writer (Criticism, 1997) *Kazin also won the Lifetime Achievement Award
Robert Lowell, for Day by Day (Poetry, 1977) and Collected Prose (Criticism, 1987)
James Merrill, for Scripts for the Pageant (Poetry 1988)—and several other volumes over the years—and A Different Person (Biography, 1993)
Vladmir Nabakov, for Details of a Sunset (Fiction, 1976) and Lectures on Literature (Criticism, 1980)
Cynthia Ozick, for Bloodsheed and Three Novellas (Fiction, 1976) and one other fiction, and Art and Ardor (Criticism, 1983), along with several other volumes of criticism
Katha Pollitt, for Antarctic Traveler, (Poetry, 1982) and Reasonable Creatures (Criticism, 1994)
David Remnick, for Lenin's Tomb: The Last Days of the Soviet Empire (Nonfiction, 1993) and King of the World: Muhammad Ali and the Rise of an American Hero (Biography, 1998)
Philip Roth, for The Professor of Desire (Fiction, 1977) (and five other fiction titles) and Patrimony (Biography, 1991)
Alan Shapiro, for Happy Hour (Poetry, 1987) and The Last Happy Occasion (Biogrpahy, 1996)
W.D. Snodgrass, for The Fuhrer Bunker (Poetry, 1977) and De/Compositions: 101 Poems Gone Wrong (Criticism, 2001)
John Updike, for The Coup (Fiction, 1978), and three other fiction titles, and Hugging the Shore (Criticism, 1983) and two other criticism titles
William Vollmann, for Rising Up & Rising Down (Nonfiction, 2003) and Europe Central (Fiction, 2005)
Lawrence Weschler, for Everything that Rises (Criticism, 2006) and Mr Wilson's Cabinet of Wonders (Nonfiction, 1995)
Edward O. Wilson, for The Diversity of Life (Nonfiction, 1992) and Naturalist (Biography, 1994)
Tom Wolfe, for The Right Stuff (Nonfiction, 1979) and Bonfire of the Vanities (Fiction, 1987)
Tobias Wolff, for This Boy's Life (Biography, 1989) and Old School (Fiction, 2003)