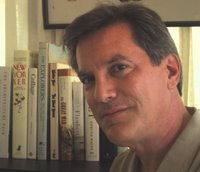 AS PART of an ongoing series, the NBCC is talking to book editors and critics around the country. We recently caught up with Jerome Weeks, book critic for The Dallas Morning News. We turned to him to gauge the state of critics and criticism, and he blasted back with some doosies.
Q. What got you into this field in the first place?
A. I've always been inclined to read a lot, get drunk and argue about books. So academia seemed the perfect career choice. But the University of Texas English department — and the academic market in the '80s — managed to extinguish my burning desire to teach remedial grammar to bored freshmen for the rest of my life. I had never even taken a journalism class until I was on a fellowship at Columbia University five years ago. But concurrently and quite unknowingly, I had fitfully pursued a career in arts journalism. To pay for my undergrad studies at the University of Detroit, I worked nights in the research library at the Detroit Free Press and got my first book review published there in 1975. Jerzy Kosinski's "Cockpit." It was a mixed review. And while at the University of Connecticut getting my master's, I wrote film reviews for a friend at a weekly suburban paper.
Q. How long have you been book critic for The Dallas Morning News?
A. I've been book critic for the DaMN for 10 years; I was the theater critic for 10 years before that. Seeing as my dissertation would have been on Samuel Beckett, the jump between literature and theater wasn't a long one. I'd pushed for it, actually, feeling that the DaMN wasn't doing enough with books and that I was running out of interesting things to say about the 15th local revival of "The Fantasticks." Besides, being a newspaper book critic is one of the last great gigs in print journalism.
"Last," of course, is the operative word. I may be wrong, but I seem to be the only full-time, on-staff book critic in Texas. All others are either freelancers or book editors like Fritz Lanham at the Houston Chronicle, who write reviews and interviews as part of their staggering slush pile of duties. I'm the only one in Texas, and I think, the only one even near Louisiana, Nebraska, Arkansas, New Mexico, Oklahoma — you get the picture.
Q. How substanial is your newspaper's coverage?
A. Charles Ealy is the book editor here, and with two full-time people handling books, we actually have one of the larger literary departments in daily journalism. But the Morning News is now dumping a painful number of its staff through buyouts and layoffs. If the book critic's and editor's posts aren't killed outright, they will be seriously mangled or "re-defined." And this from the newspaper that created the first book page in the region in 1947, expressly to counter the neglect Texas-Southwest books received in the national — i.e., New York — press.
Typically, we run six full-length reviews on Sunday, although one may be my column, plus a slew of paragraph-long "shorts." We run feature profiles and occasional reviews during the week, too. A terrific advantage to the DaMN's cultural coverage is our daily, freestanding arts section, which is "live" (meaning it's not printed in advance and can handle overnight news). This permits me to do fast turnarounds on books as breaking news. Golly, just like the big boys covering high school football in Sports! Oddly, a very few big-city papers in this country have such a section, and yes, it, too, may be killed in the coming changes.
Q. What are the best books you've read in the past year?
A. Ironically, the coming setback for our books coverage comes at a time when Texas authors are producing some outstanding works. People who know me will tell you I'm the last thing from a local booster. I'm not from Texas; I'm not invested in the mythology.
But Austin writer Lawrence Wright's "The Looming Tower: Al-Qaeda and the Road to 9/11" is a flat-out tremendous piece of journalism. As with most book critics, I've read more than a dozen books in the past 3 years about Iraq, the war on terror, 9/11, etc. And I'm fairly sick of the entire field. No matter what new angle or source these books find, the arc of the story is pretty much the same, and regardless of their politics, the cast of characters — Bush, Cheney, Rumsfield — is one I'd be happy to consign to the Dantesque hell of a tape-looped Jay Leno sketch. They are maddeningly rocklike, belligerently un-introspective people.
I would put "The Looming Tower" up with George Packer's "The Assassin's Gate" and Stephen Coll's "Ghost Wars" as one of the best books on the entire topic. All three are as gripping as thrillers, richly researched, profoundly disturbing in their different ways.
On the fiction side of things, Dallas author Ben Foutain has debuted with a marvelous short story collection, "Brief Encounters with Che Guevara" — stories that display his mastery of troublesome, Graham Greene-ish moral dilemmas in the Third World. And then there's Antonya Nelson, who spends part of the year in Houston. She's one of our finest short-story writers, along with Alice Munro and Ann Beattie, and "Some Fun" is one of her best collections.
Escaping the Lone Star State, James Meek's "The People's Act of Love" is the most amazing Russian-based thriller since "Gorky Park." Dana Spiotta's "Eat the Document" is one of the best post-Delillo novels about domestic terrorism. Eddie Campbell's "The Fate of the Artist" is a bravura display of Shandy-ian, multi-media whimsy, and I wish it were getting the kind of press adoration lavished on Alison Bechdel's "Fun Home," which admittedly deserves the attention.
Q. You'e expressed disillusionment with the literary establishment and its tendency to speak to the converted. What can or should critics do to foster the love of reading beyond that circle?
A. I'm currently talking to an agent about developing a favorite project of mine. It''ll probably come to nothing, but I think it's a terrific idea: a cable TV program like "The Daily Show" — but about books (or perhaps the arts in general). Think about it: The majority of the guests Jon Stewart interviews are authors of some kind, anyway. We'd just cut back on the politics. It wouldn't be the usual respectful, Charlie Rose sit-down schmoozefest, but a news program/spoof — with real items from the field. I want a TV show that can handle Peter York's "Dictator Style: Lifestyles of the World's Most Colorful Despots" seriously and John Updike bemusedly.
I doubt it could be a daily program, but weekly? Why not? There's this tremendous mass literary-cultural material that is always mysteriously ignored by the celebrity obsessives on "ET," the happy chatterers on the mornings shows, Oprah (blinded by her tearful uplift) and all the dusty, heavyweight policy wonks on Book TV.
What's left is most everything in literature — everything funny or maddening or stupid or wonderful. All we have to lose is our hushed, reverential treatment of authors and books.