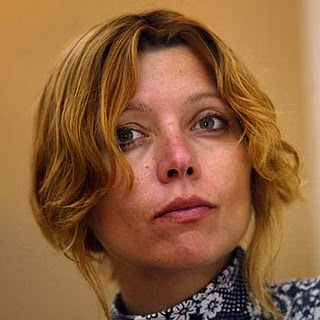 Last month, Viking published Turkish writer Elif Shafak's latest novel, "The Bastard of Istanbul," the story of an Armenian family and a Turkish Muslim family who discover, over the course of a novel that is paced by food ingredients and set to the rhythms of Istanbul's streets, that they have a shared history together. Last year, Shafak was tried and then acquitted under Turkish criminal code 301 for "offending Turkishness" for passages taken from this book, which has become a runaway bestseller in Turkey. This is from an interview conducted with her on an abbreviated visit to New York several weeks ago.
Q: Is this your first book written in English?
A: No, it's my second book written in English — it's my sixth novel, but my seventh book because I have a collection of nonfiction essays.
Q: So is this the most recent thing you've written?
A: Yes, that's true.
Q: What was it like to completely switch languages?
A: It's very difficult to explain this — it's more difficult to explain it in Turkey. It caused a lot of reaction and bitter criticism in Turkey when people heard I had started writing fiction in English — people took it as a cultural betrayal, because language is such a politicized issue in Turkey. Even the words you chose to use can have political implications. In such a heavily politicized environment, the sheer fact that I had chosen English to write my fiction was a blasphemy in the eyes of some people. But the thing is language has always been a passion for me, and before this criticism I was bitterly criticized for using Ottoman words in my writing.
Q: You could never please anyone!
A: You're right. Turkish as we speak today is a very centralized, Turkified language: we took out words coming from Arabic origin, Persian origin, and Sufi heritage. And I think in doing so we lost the nuances of the language. Our vocabulary shrunk visibly. So I think I am one of the very few writers who insist on using the old side-by-side with the new words. In that regard my Turkish is very rich, but it is also a source of controversy. But what I want to say, for me, my passion for old words, for Ottoman words, and my interest in writing in English connect to one another – although they might seem to be unrelated. At the roots of everything lies my passion for language and my interest in letters. It's almost like a mystical passion for letters of the alphabet. It's a miracle for me that simply by reshuffling, by repositioning the letters, you can acquire these endless meanings. It's not only a linguistic game, it's an existential language: every language gives you a new zone of existence. I think that is both a challenge, but also a freedom as a writer.
Q: Did you begin writing in English when you were living in the U.S.?
A: There were times in my youth and childhood when I wrote in English, but I had never written in English professionally. Interestingly I somehow experienced the journey from Istanbul to Boston, or from Turkey to America, as a journey from the Turkish language into the English language. It frightened me very much — when I started writing in English, I had nothing translated into English yet. If you are a documentary maker, you bring your films with you — if you're a painter you can bring your work with you — but when you are a writer and you have nothing translated into that other language yet, you really become nobody and you leave that mother tongue behind, you start from zero. You start from scratch. And that's a very frightening yet at the same time stimulating experience.
Q: That must have been incredible in a way, because you could reinvent your style all over again.
A: Absolutely, absolutely.
Q: Do you feel any sympathy with writers like Nabakov?
A: Yeah, yeah. But in the case of Nabakov and several other writers, you can still explain the notion of exile. If it's imposed on you, okay this person is now in exile and he had to do that. But what if there is no exile? Or exile is a self-imposed thing? That's much more difficult to explain.
Q: One of the things America literary culture tells itself is that our writers reinvent the language. I think Cynthia Ozick said Bellow put Broadway into our fiction; and I think that Faulkner put the south's dusty motes into our sentences. Pynchon put technology into it, systems. Morrison and Ellison put jazz there. Maybe what appealed to you was the chance to move from a language that was more fixed to one that was in flux.
A: Yes, yes, I think that's true, but I still have a lot of love for the Turkish language and there are still some things I'd rather write in Turkish. There is a certain past tense that doesn't exist in English, it only exists in Turkish. It's interesting, if you are writing in Turkish you have more options when you are talking about the past. Every language has its own rhythms, its own labyrinths. That's the fundamental thing the elite in my country fail to recognize, because they acted as if they were the owners of the language. And that's how they in a way centralized the language and made it more homogeneous. But we are not the owners of our language. I think language shapes us, our imagination, our thoughts. So first and foremost I think we need to understand that.