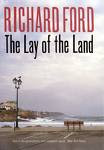 Today's posts will focus on Richard Ford's "The Lay of the Land," a finalist for the 2006 National Book Critics Circle Award for fiction.
IT IS TWENTY YEARS NOW since the relatively puzzled persona of Frank Bascombe appeared on the literary horizon, still smarting from a divorce two years behind him and the death of a young son two years before that. We met him, in fact, as he met "X," his ex, at the dead child's grave on Good Friday of an Easter weekend. "The Sportswriter" (1986) was the first in a trilogy of books that Bascombe was to narrate, under the guiding hand of novelist Richard Ford. (You can find some background on Ford, who has been claimed by others as both a Southerner and a Westerner at times, here
Bascombe in the early days was a sportswriter — he had given up the true literary life — and he observed, "If sportswriting teaches you anything [ellipsis] it is that for your life to be worth anything you must sooner or later face the possibility of terrible, searing regret."
Ford's character faced it sooner but he was to face it later as well, right up to the present, in "The Lay of the Land," a National Book Critics Circle finalist in fiction. Now Bascombe is cancer-stricken, and even as he finally exhausts the residual sadness of his first marriage, he is suddenly abandoned by his second wife, a confoundment seemingly without end: "I've had two go on the fritz and still I don't get it," he says of marriage. (In between "The Sportswriter" and "The Lay of the Land" was Ford's Pulitzer Prize-winning "Independence Day," the period of his second bachelorhood, which may simply be preface to a third, but there will be no plot revelations here. An interview he did with Salon after publication of "Independence Day" can be found here.
What we have witnessed is two decades of self-administered talk therapy by Bascombe, who is effusive and generally upbeat despite outrageous occurrences around him, which he relates with a fine irony as he turns to real estate for a living and adopts a series of perspectives for dealing with life's travails. The unforeseen continues to destroy the superstructure of each new theory of his adaptation, but he's "always interested in what's new, what's abandoned, what's in the offing." Mike, his Tibetan partner in real estate, "believes I have a 'knack for people,' a matter in dispute among the actual people who've loved me," he admits.
"It's shocking to note how close we play to unwelcome realizations, and yet how our ongoing ignorance makes most of life possible," Frank says at one point in "The Lay of the Land." His sickness has left him more interested in life, though, which he finds "fuller, dearer, more worthy of living — just the way you always hoped would happen when you thought you were well."
Bascombe professes to "hate men my age. We all emanate a sense of youth lost and tragedy on the horizon," but he is a walking — driving actually, as he is behind the wheel in much of "The Lay of the Land" — disclaimer of that. As Gail Caldwell put it in the Boston Globe when "The Lay of the Land" came out in the fall, "So he's back, thank heavens, that essential dreamer and cheerful melancholic who's provided a tour of the American landscape over the past two decades."