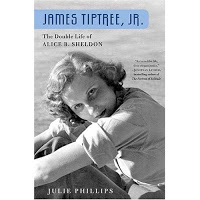 Julie Phillip's "James Tiptree, Jr.: The Double Life of Alice B. Sheldon" is a finalist for the 2006 NBCC Award in Biography.
SHE IS REMEMBERED, when she is remembered at all, as the eccentric woman who published marvelous, edgy science fiction stories in the 1960s and '70s under the name James Tiptree, Jr. — a name she took off of a jam jar. And for this short, dazzling run alone, Alice B. Sheldon would merit a biography. But she was much more than just a fleeting sci-fi world sensation, as Julie Phillips makes clear in her splendid reconstruction of this brilliant and multifaceted woman's troubled life. Sheldon played many roles in her seven decades: the dutiful daugher of a glamorous, globe-trotting mother; flirtatious socialite; army officer; CIA agent; journalist; painter; devoted wife. But it was only in middle age, after she began writing in the guise of reclusive avuncular James Tiptree, Jr., that she found, all too briefly, an outlet for her prodigious talents and energies. The sexual, artisitc and intellectual contradictions Sheldon mostly failed to accommodate in her own stormy life, Phillips captures and contains — in all their complexity — in this deeply intelligent and generous biography.
Selected reviews: The New York Times Book Review, Los Angeles Times, January magazine,Salon (where NBCC Board Member Laura Miller finds "a rich exploration of the attractions and perils of writerly personas) and the Austin Chronicle.
— Jennifer Reese, NBCC Board Member