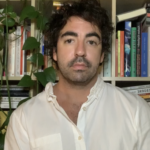 On Thursday, November 18th at 8 PM EST, Adam Dalva will moderate a conversation with the team of a new forthcoming magazine, Astra Magazine. Editor-in-Chief Nadja Spiegelman (former web editor of the Paris Review), Deputy Editor Sam Rutter, and Poetry Editor Aria Aber will give a behind the scenes look at the work that goes into starting a magazine. They will discuss global literature, the state of literary criticism, and discuss what they hope to achieve with Astra Magazine. This is an NBCC members event that will also be open to the public on Zoom.
Register for the free Zoom webinar here: https://us02web.zoom.us/webinar/register/WN_eAFZOlwnTv2sKD2Y3Kd9Eg
Nadja Spiegelman is the author of I'm Supposed to Protect You From All This and several award-winning comics for children. Her writing has appeared in The New York Times, NewYorker.com, The Cut and more. The former online editor of The Paris Review, she is now the editor in chief of Astra Magazine, a new international literary magazine forthcoming in 2022.
Samuel Rutter is a writer and translator from Melbourne, Australia. His work has appeared in Harper's, The New York Times, The White Review and The Paris Review, and he is a regular contributor to ARTNews and T Magazine. He is the Deputy Editor of Astra Magazine
Aria Aber is based in Berkeley, CA. Her poems have appeared in The New Yorker, Poetry Magazine, Kenyon Review, The Poetry Review and elsewhere. She is the author of Hard Damage, which won the Prairie Schooner Book Prize in Poetry and a Whiting Award. She is currently a Stegner Fellow in Poetry at Stanford University.
Adam Dalva's writing has appeared in The New Yorker, The New York Review of Books, and The Paris Review. Adam serves on the board of the National Book Critics Circle and is the Books Editor for Words Without Borders. He teaches Creative Writing at Rutgers University.
Photo credit for Nadja Spiegelman: Bek Andersen