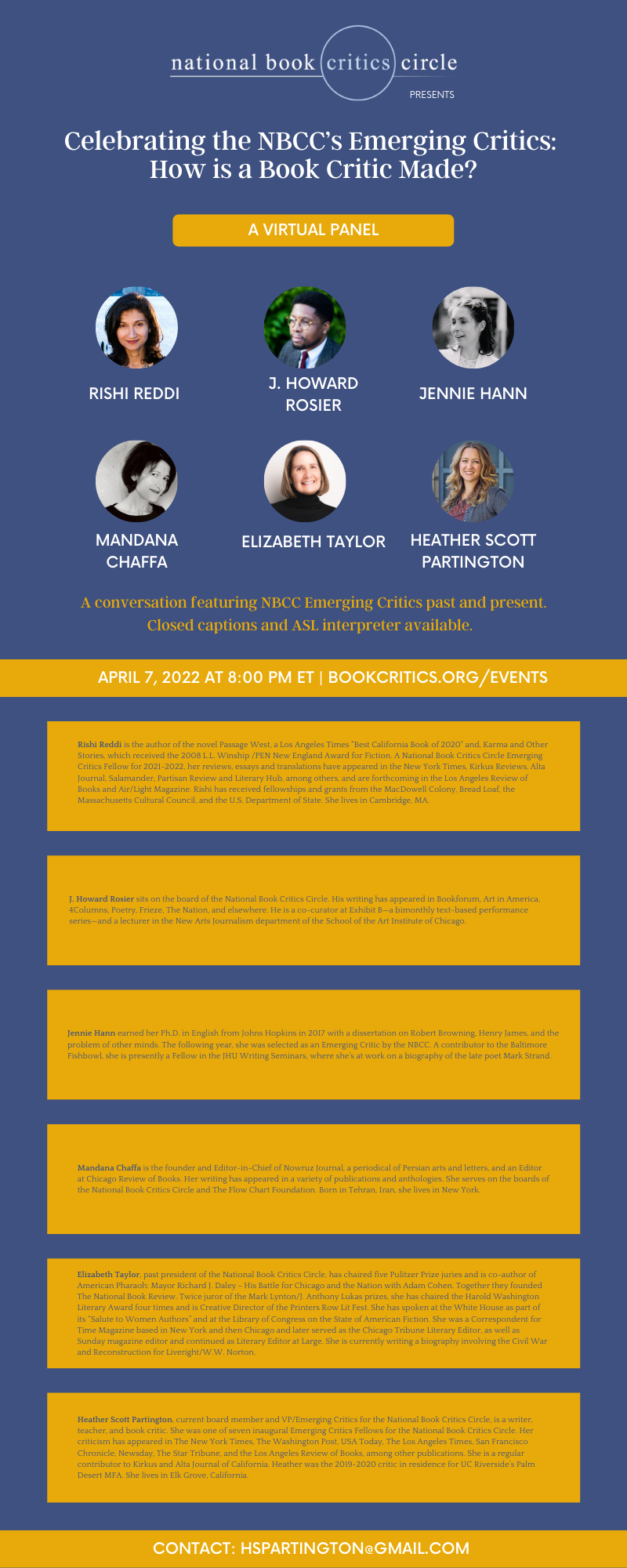 Celebrating the NBCC's Emerging Critics: How is a Book Critic Made?
A conversation featuring the NBCC's Emerging Critics Past and Present.
Thursday, April 7th at 8:00 PM ET/5:00 PM PT. Online.
With Emerging Critics Fellowship program founder, past NBCC president, and current board member Elizabeth Taylor and Emerging Critics from each cohort, describing how the Emerging Critics program works, and how it has influenced them. We'll hear from Emerging Critics including NBCC board member and criticism chair Justin Rosier, incoming board members Mandana Chaffa and Jennie Hann, and Rishi Reddi, author of Passage West. Moderated by former Emerging Critic and current VP/Emerging Critics Heather Scott Partington. ASL interpreter: Mailyn Hill. Closed captions available. Organized by VP/Events Jane Ciabattari. 
Free event. Zoom registration link: https://us02web.zoom.us/webinar/register/WN_sdtihL9VSXCoQD9ON7Cwxg 
We strive to host inclusive, accessible events that enable all individuals, including individuals with disabilities, to engage fully. To request an accommodation, or for inquiries about accessibility, please contact us.
Panelists:
Mandana Chaffa is the founder and Editor-in-Chief of Nowruz Journal, a periodical of Persian arts and letters, and an Editor at Chicago Review of Books. Her writing has appeared in a variety of publications and anthologies. She serves on the boards of the National Book Critics Circle and The Flow Chart Foundation. Born in Tehran, Iran, she lives in New York. 
Jennie Hann earned her Ph.D. in English from Johns Hopkins in 2017 with a dissertation on Robert Browning, Henry James, and the problem of other minds. The following year, she was selected as an Emerging Critic by the NBCC. A contributor to the Baltimore Fishbowl, she is presently a Fellow in the JHU Writing Seminars, where she's at work on a biography of the late poet Mark Strand.
Rishi Reddi is the author of the novel Passage West, a Los Angeles Times "Best California Book of 2020″ and, Karma and Other Stories, which received the 2008 L.L. Winship /PEN New England Award for Fiction. A National Book Critics Circle Emerging Critics Fellow for 2021-2022, her reviews, essays and translations have appeared in the New York Times, Kirkus Reviews, Alta Journal, Salamander, Partisan Review and Literary Hub, among others, and are forthcoming in the Los Angeles Review of Books and Air/Light Magazine. Rishi has received fellowships and grants from the MacDowell Colony, Bread Loaf, the Massachusetts Cultural Council, and the U.S. Department of State. She lives in Cambridge, MA.
J. Howard Rosier sits on the board of the National Book Critics Circle. His writing has appeared in Bookforum, Art in America, 4Columns, Poetry, Frieze, The Nation, and elsewhere.  He is a co-curator at Exhibit B—a bimonthly text-based performance series—and a lecturer in the New Arts Journalism department of the School of the Art Institute of Chicago.
Elizabeth Taylor, past president of the National Book Critics Circle, has chaired five Pulitzer Prize juries and is co-author of American Pharaoh: Mayor Richard J. Daley – His Battle for Chicago and the Nation with Adam Cohen. Together they founded The National Book Review. Twice juror of the Mark Lynton/J. Anthony Lukas prizes, she has chaired the Harold Washington Literary Award four times and is Creative Director of the Printers Row Lit Fest. She has spoken at the White House as part of its "Salute to Women Authors" and at the Library of Congress on the State of American Fiction. She was a Correspondent for Time Magazine based in New York and then Chicago and later served as the Chicago Tribune Literary Editor, as well as Sunday magazine editor and continued as Literary Editor at Large. She is currently writing a biography involving the Civil War and Reconstruction for Liveright/W.W. Norton.
Moderator:
Heather Scott Partington, current board member and VP/Emerging Critics for the National Book Critics Circle, is a writer, teacher, and book critic. She was one of seven inaugural Emerging Critics Fellows for the National Book Critics Circle. Her criticism has appeared in The New York Times, The Washington Post, USA Today, The Los Angeles Times, San Francisco Chronicle, Newsday, The Star Tribune, and the Los Angeles Review of Books, among other publications. She is a regular contributor to Kirkus and Alta Journal of California. Heather was the 2019-2020 critic in residence for UC Riverside's Palm Desert MFA. She lives in Elk Grove, California.