Greetings, NBCC Friends,
Of late we've been telling you to stay cool. This week we'd like to issue a friendly reminder that it's important to stay hydrated as well. The news and reviews below offer literary refreshment to satisfy every taste, from novels like Properties of Thirst by Marianne Wiggins, on which we've shined our spotlight this week, to nonfiction like Nineteen Reservoirs: On Their Creation and the Promise of Water for New York City by Lucy Sante. Sit back, read on, drink up. Cheers!!!
In the Spotlight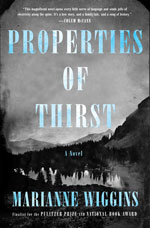 Properties of Thirst by Marianne Wiggins
After suffering a massive stroke back in 2016, veteran novelist Wiggins was able to complete the manuscript of this much-anticipated work of historical fiction only with significant help from her daughter. "Given that painstaking process," writes the anonymous reviewer for Kirkus, "it would be ungrateful to gripe that the end doesn't quite live up to the standard set by previous chapters"; nevertheless, "this majestic novel will satisfy those thirsting for an epic saga of love, family, and the complexities of the American way."
In the New York Journal of Books, NBCC lifetime member Fran Hawthorne characterized the novel as "sprawling, rich, deep, passionate, [and] beautiful," like the mountains beloved by one of its aptly-named protagonists, rancher Rocky Rhodes. Meanwhile, in the same vein, over at Lit Hub, NBCC VP/Events Jane Ciabattari spoke with Wiggins about how she paradoxically drew inspiration from drought-plagued California. "I was trying to match the emotional territory . . . to the elements of the landscape," Wiggins remarked. Read the full interview here.
Member Reviews and Essays
NBCC board member Mandana Chaffa reviewed K-Ming Chang's Gods of Want for the Chicago Review of Books, deeming it "thrilling, singularly voiced, and always memorable."
Former NBCC board member Mary Ann Gwinn reviewed Path Lit by Lightning: The Life of Jim Thorpe by David Maranis for the Los Angeles Times.
In The Sewanee Review, Christopher Spaide reviewed three new poetry collections: Solmaz Sharif's Customs; Paul Tran's All the Flowers Kneeling; and Rachel Mannheimer's Earth Room.
Marc Weingarten reviewed Nineteen Reservoirs: On Their Creation and the Promise of Water for New York City by Lucy Sante for The Wall Street Journal.
Barbara J. King reviewed David Hone's How Fast Did T. rex Run: Unsolved Questions from the Frontiers of Dinosaur Science? for NPR and Jules Howard's Wonderdog: How the Science of Dogs Changed the Science of Life for The TLS.
Anthony Domestico reviewed Dwyer Murphy's An Honest Living for The Boston Globe and Ada Calhoun's Also a Poetfor Commonweal.
Kristen Martin reviewed Emi Nietfeld's memoir Acceptance for NPR.
For the Cascadia Daily News, Daneet Steffans rounded up "summer sizzlers that go beyond the beach read," including novels by Gillian McAllister, Jennifer Hillier, and Benjamin Myers.
For Kirkus Reviews, Eric Liebetrau celebrated two important Southern writers, Randall Kenan (1963-2020) and Julia Reed (1960-2020), both of whom have new collections out this month.
Hamilton Cain reviewed Mohsin Hamid's The Last White Man for Oprah Daily.
Jeffrey Mannix reviewed Silver Pebbles by Hansjörg Schneider, translated from the German by Mike Mitchell, for his "Murder Ink" column in the Durango Telegraph of southwest Colorado.
Anne Peters reviewed Kirsten Miller's most recent YA novel, The Change, for the Manhattan Book Review and Kimberly Kralowec's new chapbook, We retreat into the stillness of our own bones, for The Inflectionist Review.
For the South Florida Sun Sentinel, Oline Cogdill reviewed We Lie Here by Rachel Howzell Hall and Late for His Own Funeral by Elaine Viets; Look Closer by David Ellis and The Wedding Plot by Paula Munier; and Stay Awake by Megan Goldin and Hotel California: An Anthology of New Mystery Short Stories, edited by Don Bruns. She also reviewed Things We Do in the Dark by Jennifer Hillier; The It Girl by Ruth Ware; and Under a Broken Sky by Kris Calvin, all for Shelf Awareness.
For Frames Magazine, W. Scott Olsen reviewed How I Make Photographs by David Yarrow and Paysages & Transfiguration by Philippe Ciaparra.
Linda Hitchcock reviewed The Many Daughters of Afong Moy by Jamie Ford for BookTrib.
For The Boston Globe, Betsy Groban did a roundup of gardening books for adults and children.
Judith Reveal reviewed Things We Do in the Dark by Jennifer Hillier; Donut Disturb by Ellie Alexander; Death of an Ice Cream Scooper by Lee Hollis; and Murder at the Blueberry Festival by Darci Hannah, all for the New York Journal of Books.
Dan Kubis reviewed Alexandra Lange's Meet Me by the Fountain: An Inside History of the Mall for the Pittsburgh Post-Gazette.
Member Interviews
For her Lit Hub column, NBCC VP/Events Jane Ciabattari talked with Teddy Wayne about his enduring affection for outcasts like the narrator of his latest novel, The Great Man Theory.
On their "Across the Pond" podcast, NBCC board member Lori Feathers and her co-host, Sam Jordison, talked to Katie Whittemore about her translation of the novel Wolfskin byLara Moreno, which was nominated by Open Letter Books for the 2022 Republic of Consciousness Prize.
For their "Book Cougars" podcast, Chris Wolak and co-host, Emily Fine, interviewed Rachel Barenbaum about her new novel, Atomic Anna.
For the Frames Magazine podcast series, W. Scott Olsen interviewed Jim Grover, the social-documentary photographer based in Clapham, South London; Ernst-Ulrich Schafer, the owner of Ernst Portraits in downtown Port Angeles, Washington; and Anne Helene Gjelstad, the Norwegian photographer and fashion designer.
Member News
Ellen Pall's novel Must Read Well will be published by Bancroft Press on September 13.
What Can I Tell You? Selected Poems of Roberto Carlos Garcia will be published by Flower Song Press in December 2022.
Joan Gelfand had two new poems published in the summer issue of The Courtship of the Winds. On August 28, she will read from her Silicon Valley novel, Extreme, at Bird & Beckett Books in San Francisco, along with ABA winner Judy Juanita and award-winning poet Andrena Zawinski.
"The Reading List in Morning" photo by NBCC member W. Scott Olsen. Used with permission.
SEND US YOUR STUFF: To have your work featured in the weekly Critical Notes, please join the NBCC (or renew your membership). Thanks so much!!