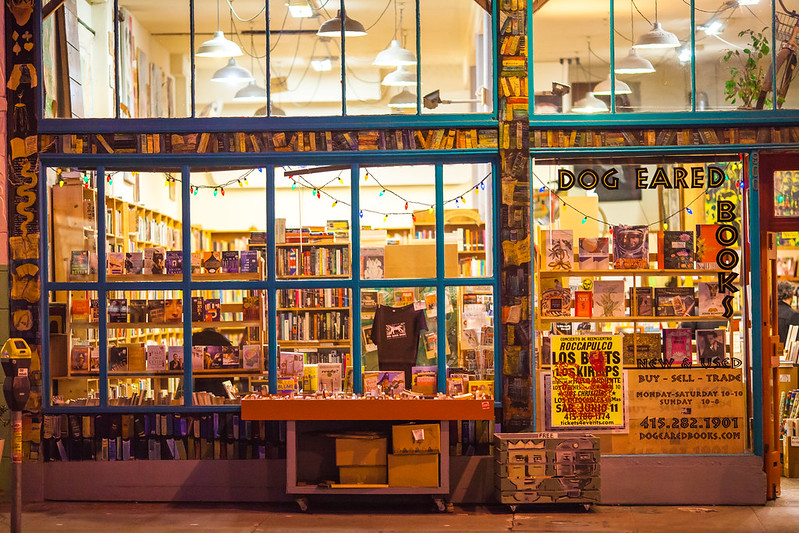 Calling all Bay Area NBCC members and friends: the NBCC and the Yerba Buena Community Benefit District are sponsoring an in-person event on Oct. 12 at 7:00 pm Pacific as part of Litquake, San Francisco's literary festival. Join Ricco Villanueva Siasoco (The Foley Artist) in conversation with NBCC Emerging Critics Fellow Rishi Reddi (Passage West), Patty Enrado (A Village in the Fields), and Tom Lin (The Thousand Crimes of Ming Tsu) at the American Bookbinders Museum as they discuss the process of building alternative histories of the American West. This program is indoors. Mask and proof of vaccination are required at the door. Please read the requirements at litquake.org/covid. We hope to see you there!
Member Reviews/Essays
NBCC Emerging Critics Fellow Mandana Chaffa reviewed Victoria Chang's Dear Memory: Letters on Writing, Silence, and Grieffor the Colorado Review.
NBCC Vice President/Treasurer Marion Winik wrote about Kate Nason's audiobook Everything Is Perfect and its connection to the American Crime Story: Impeachment series for the Baltimore Fishbowl in a column titled "The Writing Teacher, The Drama Teacher, His Wife, and Their Babysitter."
For Kirkus Reviews, former NBCC President Tom Beer wrote about authors over the age of 80 who have produced significant work this year.
Jesus Francisco Sierra reviewed Dariel Suarez's The Playwright's House for the Los Angeles Review of Books.
Claude Peck reviewed Jonathan Franzen's Crossroadsfor the Minneapolis Star Tribune.
Cory Oldweiler reviewed Jo Lloyd's Something Wonderfulfor the Los Angeles Review of Books.
Alexander Pyles reviewed Michael J. Seidlinger's Runaways: A Writer's Dilemmafor LitReactor.
Marianne Szegedy-Maszak reviewed Helena Merriman's Tunnel 29for The Washington Post.
Former NBCC board member Steven G. Kellman, a winner of the Nona Balakian Citation for Excellence in Reviewing, reviewed Jacques Berlinerblau's The Philip Roth We Don't Knowfor the Forward.
Christoph Irmscher reviewed two excellent new books on Thoreau for The Wall Street Journal, David Gessner's Quiet Desperation, Savage Delight and Andrew Blauner's anthology Now Comes Good Sailing. He also wrote about the work of photographer Elizabeth Claffey for the Od Review.
Grant Faulkner wrote a piece for The Rumpus related to his collection of short stories, All the Comfort Sin Can Provide.
Jim Schley reviewed Brett Ann Stanciu's Unstitchedfor Seven Days.
Kali Lightfoot reviewed The Taste of the Earth by Hedy Habra for the Summer issue of Lily Poetry Review.
Kitty Kelley reviewed Anita Hill's Believingfor the Washington Independent Review of Books.
Patricia Schultheis reviewed Deborah Levy's Real Estatefor the Washington Independent Review of Books.
Michael Schaub reviewed Joshua Ferris' A Calling for Charlie Barnesfor NPR.
Member Interviews
NBCC board member Lori Feathers and co-host Sam Jordison talked to Jon McGregor about his intriguing new novel, Lean, Fall, Stand, on the Across the Pond podcast.
Susan Henderson interviewed Marcia Butler for The National Book Review. In March of 2022, Susan will be in dialogue with Ron Block, Caroline Leavitt, and Jennifer Haupt about the writing process, creativity, and Jennifer's upcoming novel, Come As You Are. This will be a virtual event with Ohio's Cuyahoga Library.
Anne Charles interviewed writer/performer/legislator John Killacky about his newly published collection, because art: commentary, critique & conversation. The hour-long conversation was featured on the cable access news/interview show All Things LGBTQ.
Grant Faulkner interviewed Matthew Salesses on the Write-minded podcast.
Member News
NBCC Emerging Critics Fellow Mandana Chaffa has joined the board of The Flow Chart Foundation, which "explores poetry and the interrelationships of various art forms as guided by the legacy of John Ashbery and promotes engagement with his work." Mandana is also the founder and editor in chief of Nowruz Journal, which is now accepting submissions through Oct. 24.
Grant Faulkner was interviewed about his short story collection All the Comfort Sin Can Provideon Literary Hub's First Draft podcast.
Cynthia L. Haven's new book, Czesław Miłosz: A California Life, will be published by Heyday Books on Oct. 19. Haven's book, the first to consider the Nobel Prize-winning poet from a California perspective, was selected as an editor's pick in California Magazine. Earlier this year, Haven's book The Man Who Brought Brodsky Into English: Conversations with George L. Kline was published by Academic Studies Press. It was reviewed in the TLS, and the introduction was published by Literary Hub.
Susan Henderson's story "Dead Eddie" will be published in the 150th anniversary anthology of the Elm Leaves Journal out of Buffalo State College. Susan's The Flicker of Old Dreams was included in The Cake Library's 15 Great Books about Funerals and Mortuaries, and was selected as the October title for One Book Billings, which chooses five books a year for city-wide discussions. Susan will give a virtual talk with a Q&A in early November. In July of 2022, Susan will be teaching in-person fiction workshops and offering manuscript consultations for The Community of Writers in Olympic Valley, Calif.
Partner News
Our friends and partners at Rain Taxi have some more exciting virtual events coming up as part of their Twin Cities Book Festival:
Photo of Dog Eared Books in San Francisco by Thomas Hawk via Flickr / CC BY-NC 2.0.
SEND US YOUR STUFF: NBCC members: Send us your stuff! Your work may be highlighted in this roundup; please send links to new reviews, features and other literary pieces, or tell us about awards, honors or new and forthcoming books, by dropping a line to NBCCcritics@gmail.com. Be sure to include the link to your work.