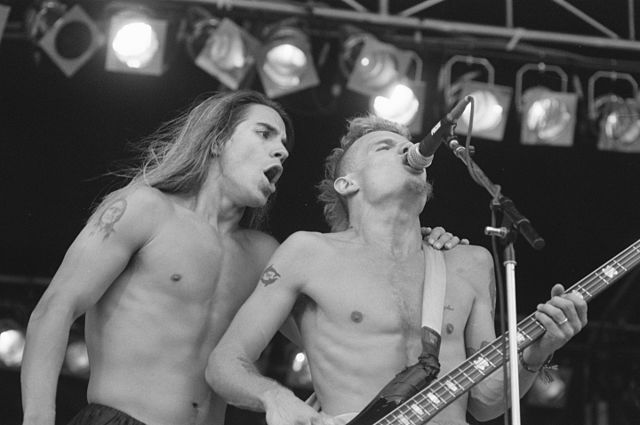 Elaine Szewczyk interviewed Flea of the Red Hot Chili Peppers about his forthcoming memoir, Acid for the Children, for Publisher's Weekly.
Martha Anne Toll reviewed The Yellow House by Sarah M. Broom for NPR Books.
Also at NPR Books, board member Michael Schaub reviewed Tupelo Hassman's gods with a little g. Alexis Burling reviewed Hassman's novel for the San Francisco Chronicle.
Board member Carolyn Kellogg reviewed Téa Obreht's Inland for the Los Angeles Times.
Board member Mark Athitakis wrote about Howard Norman's new novel, The Ghost Clause, for the Los Angeles Review of Books.
Kathleen Rooney reviewed Amanda Goldblatt's Hard Mouth for the Chicago Tribune.
Also for the Chicago Tribune, Julia M. Klein reviewed Sarah Valentine's memoir When I Was White.
Jacob Cline reviewed Gretchen McCulloch's Because Internet: Understanding the New Rules of Language for the Atlantic.
Sarah McCraw Crow reviewed Because Internet for Bookpage, where she also reviewed the novels Marilou is Everywhere by Sarah Elaine Smith and The Gifted School by Bruce Holsinger.
Natalia Hotlzman reviewed A Girl Returned by Donatella Di Pietrantonio, translated by Ann Goldstein, for the Minneapolis Star Tribune.
Tobias Carroll reviewed Kimberly King Parsons's Black Light at the Texas Observer and interviewed Cecelia Watson about her book Semicolon at Longreads.
Kathleen Rooney reviewed Trisha Low's Socialist Realism for the Chicago Review of Books.
Peggy Kurkowski reviewed Michael Patrick Lynch's Know-It-All Society: Truth and Arrogance in Political Culture, at Open Letters Review, where she also reviewed Assad or We Burn the Country by Sam Dahger in July.
Anne Charles reviewed Sara Stridsberg's Valerie, or, The Faculty of Dreams at the Lambda Literary Review.
Jane Ciabattari interviewed Susan Straight, author of the new memoir In the Country of Women, at LitHub/BookMarks.
Tara Cheesman reviewed Anthony Horowitz' meta mystery The Sentence Is Death for the Los Angeles Review of Books.
Theodore Kinni reviewed Robert Wilson's Barnum: An American Life for strategy+business.
Michelle Newby Lancaster reviewed Rule of Capture by Christopher Brown for Lone Star Literary Life.
K. L. Romo reviewed the YA novel Lizze by Dawn Ius for Washington Independent Review of Books.
Also for the Washington Independent Review of Books, Robert Allen Papinchak reviewed Richard Russo's novel Chances Are….
Lanie Tankard reviewed Dottoressa: An American Doctor in Rome by Susan Levenstein, MD, for the Woven Tale Press.
Terese Svoboda reviewed of Stephanie Strickland's poetry collection How the Universe is Made for Tarpaulin Sky.
More from our members:
Svoboda's eighth book of poetry, Theatrix: Play Poems will be published by Anhinga Press in 2021.
Publisher's Weekly called Meg Waite Clayton's forthcoming The Last Train to London "standout historical fiction"; Booklist gave it a star; and it will be on the September Indie Next list. She will also be a fellow at The Writer's Lab woring on her screenplay of the story.
Rayyan Al-Shawaf was interviewed about his novel When All Else Fails.
John Domini was interviewed about his novel The Color Inside of a Melon.
Nicole Rudick wrote about Charles Schulz and Peanuts for the NewYorker online in an essay that will appear in the forthcoming Library of America anthology The Peanuts Papers.
Abby Frucht's book of poetry Maids will be published in 2020 by Matter Press.
Elaine Szewczyk, who started this update with her interview with Flea, also had a humor piece published in McSweeney's.
Photo: Flea, bassist of the Red Hot Chili Peppers, right, with singer Anthony Keidis, left, performing in Amsterdam in 1989. Credit Rob C. Croes via Wikimedia Commons.