In the 31 Books in 30 Days series leading up to the March 14 announcement of the 2018 National Book Critics Circle award winners, NBCC board members review the 31 finalists. Today, NBCC board member Gregg Barrios offers an appreciation of autobiography finalist Rigoberto González's What Drowns the Flowers in Your Mouth: A Memoir of Brotherhood (University of Wisconsin Press).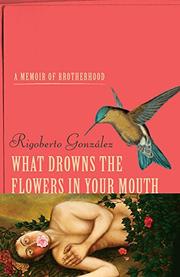 The real-life stories of Mexican and Mexican American immigrants are seldom heard over the anti-Mexican rhetoric on the nightly newscasts and headlines. It isn't often that a memoir brings us their true stories.
In What Drowns the Flowers in Your Mouth, poet and memoirist Rigoberto González offers his personal immigrant testimony – of those Americans born of Mexican parents who live in the borderlands divided by a line, a scar that often festers instead of heals; of the varied reasons why, immigrants cross to this side while others remain – and yet both maintain the deep roots and culture of their homeland.
González grew up on both sides of the southern border. His lyrical voice and bittersweet tale of the struggles, dreams, and bonds of his Mexican immigrant family, his mother's early death, his father's desertion, and the sacrifices and love that bind two brothers living separate lives as grown men – one in Manhattan, the other in Mexico.
His secure academic and cosmopolitan world comes crashing down when his younger brother Alex is kidnapped by a Mexican drug cartel. He is devastated. Why hadn't he protected his brother the only living immediate family he had left in the world?
A flood of memories takes him back to their childhood in the Coachella Valley in California where his family labored as seasonal migrant workers. After their mother died, the father remarries and returns to Mexico – leaving the two boys in the reckless and abusive care of an invective grandparent.
"We had traveled very different paths toward adulthood. As his gay older brother with a long history of failed relationships, I had very little to offer Alex. He was married and had children, I was single. He had returned to Mexico, I had fled to New York. His paradise was sailing out into the open sea; mine was to sink in the whirlpool of the computer screen."
And What Drowns… is also a love song to Mexico and the many ways his love for it has been tested. The third world country's economic and class system in opportunities disparity led the González family to the US. The often-toxic machismo made the sensitive young man feel like an outsider at home. And just as he had reached a level of forgiveness and understanding for his estranged father, he finds the recent struggles with the cartel threatening the one person he loves most.
"The weight of these burdens sent me spiraling into ill health, alcoholism, and suicidal thoughts, yet it was plummeting into the depths of darkness that allowed me to have a fresh perspective about what my homeland had become–a troubled but resilient space that mirrored my own psyche. This clarity helped me see a way out of depression and despair."In a final chapter, González writes of the moment he reconciled and accepted himself, his destiny unconditionally. "I felt I belonged to this private world we called manhood, which wasn't perfect, which was sometimes painful but was my birthright."
His journey is a heroic one. This reader was swept away by the book sterling prose, especially his rich descriptions of the Mexican countryside, the frantic lifestyle in New York City, the beauty of the Sea of Cortez, the California vineyards his family tends and harvests – beautifully attesting a kinship to John Steinbeck who also wrote lovingly about brothers, farmworkers and migrant families.
By turns, poetic, and gritty, this empowering memoir is a sensitive exploration of displacement, loss and discovery. It redefines and reveals the heart and soul of today's immigrants. Bravo!
Gregg Barrios is a playwright, poet, and journalist. A former books editor of The San Antonio Express-News, he is a longtime contributor to the Los Angeles Times and The Texas Observer. His work has also appeared in the New York Times, the Los Angeles Review of Books, El Heraldo de Mexico, Texas Monthly, Film Quarterly, C-SPAN2 Book TV. He is 2013 USC-Annenberg Getty Arts Journalism Fellow and was inducted into the Texas Institute of Letters in 2015. He is a 2018 Yale Fellow.
Reviews:
Lambda Literary
Kirkus Reviews
Los Angeles Times