In this 31 Books in 30 Days series leading up to the March 14, 2019 announcement of the 2018 National Book Critics Circle award winners, NBCC board members review the thirty-one finalists. Today, NBCC board member Charles Finch offers an appreciation of criticism finalist Zadie Smith's Feel Free: Essays (Penguin).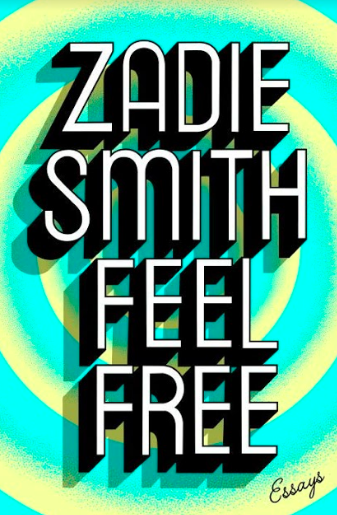 If, as the famous line from the famous book goes, personality is an unbroken series of successful gestures, then perhaps so is great criticism. Feel Free is a collection of essays, reviews, vignettes, and profiles by Zadie Smith, and it might so easily, like other books of its kind, ultimately feel like an arbitrary collocation of unrelated ephemera, a patchwork of unrelated scraps. Or in more cynical terms: a money grab.
But it doesn't! Instead it feels blazing and whole, with the inward gravitational tug of a star. It survives – to quote Robert Lowell – the rainbow of its will.
Why? I wish the answer were interesting, but I think it's simply that Zadie Smith is a better witness of the world than almost anyone else alive, and that no matter where she takes her mind, her mind, not the subject it's addressing, is what remains most powerful there. In Feel Free she fixes in their places J.G. Ballard, among the most elusive of writers (he wrote, alone of his generation in Britain, from "an autonomous hinterland"), Jay-Z, among the most elusive of rappers ("an artist," she points out with tenderness, "as old as his art form"), and camp, among the most elusive of art forms ("Camp begins in lack, in absence. It is the nuclear option of the disenfranchised").
The only coherence here is her.
In some ways, indeed, Smith may have more of the qualities we associate with a great critic than with a great novelist. (David Foster Wallace was similar.) For instance, she's always cutting back against the most inflated or grandiose version of whatever she's just said. Standing with her mother and a friend, she laments the loss of a local library, "and the cultural vandalism we felt it represented. Or, if you take the opposite view, we stood around pointlessly…Luddite, fiscally ignorant liberals…complaining about the inevitable." I revere critics who find the truth elusive in this way, because there seems to be so much more truth in that uncertainty – if this makes sense – than in any specific claim about the truth.
In the foreword of Feel Free, Smith is conscious that she is releasing a book full of Obama-era work into this new and extremely different post-Obama world, a place of daily disorientation, daily fear. So, she says, "I offer these essays – to be used, changed, dismantled, destroyed or ignored as necessary!"
The offer is both emblematic of Smith's careful, second-guessing intellect, and at the same time superfluous. The restless curiosity of Feel Free never comes at the expense of its identity, and it certainly never dates her work. Indeed, the state of doubt in which we find ourselves at this gruesome moment of history is the one from which she – moving between worlds privileged and unprivileged, bookish and otherwise, European and American – has been writing all along. Do you want to interpret Smith's worldly inquisitiveness as a rebellion, avant la lettre, against the parochialism of Trump and Brexit and red hats and walls? Feel free.
Charles Finch, a board member of the NBCC, is a critic and a novelist who regularly writes for The New York Times and Slate. His newest book is The Vanishing Man.
Reviews