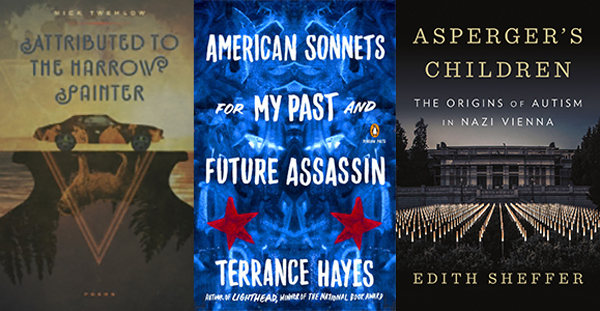 Former NBCC board member Mark Athitakis interviewed Lydia Millet for the Barnes & Noble Review and Rebecca Makkai for Kirkus Reviews.
Michelle Bailat-Jones reviewed Katja Petrowskaja's Maybe Esther (tr. Shelley Frisch) for Necessary Fiction. She also interviewed Frisch about the book's translation for Necessary Fiction's series, Translation Notes.
Jenny Bhatt reviewed Arif Anwar's debut novel, The Storm, for Pop Matters. Her review of William Trevor's posthumously-published short story collection, Last Stories, also appears at PopMatters.
Celia Bland's latest poetry collection, Cherokee Road Kill, was reviewed by William Doreski in the current print issue of Rain Taxi,​ ​and by Cassie Pruyn in Blackbird, the poetry magazine of Virginia Commonwealth University
Hamilton Cain's review of Carl Zimmer's She Has Her Mother's Laugh ran in the Minneapolis Star-Tribune.
Tobias Carroll wrote about Nikhil Singh's Taty Went West at Tor.com and new/newly-reissued books by Bethany C. Morrow, Michael Cisco, and Kathy Acker.
Board Member and VP/Online Jane Ciabattari talked to Cara Black about five books that reveal different sides of Paris, from Marguerite Duras' The Lover to Eloise. She also spoke with A.M. Homes about five short story collections, including NBCC fiction finalists Jayne Anne Phillips' Black Tickets and two collections by NBCC Sandrof award winner Joyce Carol Oates.
Katharine Coldiron wrote about the similarities between the novels of Sean Penn and Amanda McKittrick Ros for the Millions.
Board member and VP Membership Anjali Enjeti reviewed Zora Neale Hurston's Barracoon for the Atlanta Journal-Constitution.
Kelly Flynn's review of Tatiana Ryckman's I Don't Think of You (Until I Do) appears at Your Impossible Voice: Her own new flash fiction ("Determinants") at Maudlin House.
Joan Frank reviewed Rebecca Makkai's The Great Believers for the San Francisco Chronicle.
Priscilla Gilman reviewed Rachel Cusk's Kudos for the Boston Globe.
Board member Walton Muyumba reviewed Terrance Hayes' American Sonnets for My Past and Future Assasin for the Los Angeles Times.
David Nilsen's interview with Nick Twemlow regarding his poetry collection Attributed to the Harrow Painter has been published by Full Stop.
Robert Allen Papinchak reviewed Lauren Groff's Florida for the National Book Review.
Joe Peschel wrote about Carlo Rovelli's The Order of Time in The Washington Post.
Lanie Tankard's review of the novel Wait, Blink: A Perfect Picture of Inner Life by Norwegian author Gunnhild Øyehaug appears in the July issue of World Literature Today.
For the Los Angeles Times, NBCC president Kate Tuttle reviewed Asperger's Children: The Origins of Autism in Nazi Vienna, a book that closely examines the history of the psychiatrist Hans Asperger, who has been a hero to neurodiversity advocates but who, author Edith Sheffer contends, also sent children to die during the Nazi era.
Your reviews seed this roundup; please send items, including new about your new publications and recent honors, to NBCCCritics@gmail.com. Make sure to send links that do not require a subscription or username and password.