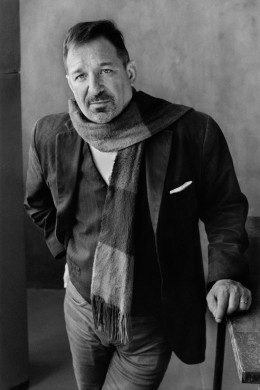 Reminder: NBCC Balakian award submissions from members are due December 17. The award for excellence in book criticism includes a $1,000 cash prize funded by former NBCC board member Gregg Barrios.
NBCC members: Check your in-boxes for ballots for this year's John Leonard award for best first book in any genre. For a look at some of the books under consideration, check out our blog series curated by VP/Newswire Kerri Arsenault.
Former NBCC president and current board member Tom Beer writes about Joan Silber's Improvement for Newsday.
NBCC board member Anjali Enjeti reviews Kevin Young's Bunk for the Atlanta Journal Constitution.
Poet, memoirist, and former NBCC board member David Biespiel (left, photographed by Marion Ettlinger) speaks in Lit Hub's "Secrets of the Book Critics" column."
NBCC board member Walton Muyumba reviews Hanif Abdurraqui's So They Can't Kill Us All for the Chicago Tribune.
Former NBCC president and current VP/Online Jane Ciabattari's Lit Hub column includes books by Susan Sontag, Helen Benedict, and Julie Lythcott-Haims.
NBCC emerging critic Paul Gleason publishes a long Joan Didion essay in The Point.
Alexander Chee's remembrance and eulogy for his mentor, former NBCC board member Kit Reed, in the Los Angeles Times.
Hamilton Cain reviews Richard Lloyd Parry's Ghosts of the Tsunami for the Minneapolis Star-Tribune and Reza Aslan's God: A Human History for the Barnes & Noble Review.
Joan Frank reviews Louise Marburg's The Truth About Me for the San Francisco Chronicle.
For the Washington Post, Mike Lindgren takes on "the somewhat whimsical assignment of reviewing an amusing, if essentially slight, book about umbrellas. That's right, umbrellas."
For The Adroit Journal, David Nilsen reviews Rosalie Moffett's poetry collection June in Eden.
David Cooper reviews North Station by Bae Shuah for the New York Journal of Books.
Michael Magras reviews multiple NBCC fiction finalist Jeffrey Eugenides' first story collection, Fresh Complaint, for the Pittsburgh Post-Gazette.
NBCC members note: Your reviews seed this roundup; please send items, including news about your new publications and recent honors, to NBCCCritics@gmail.com. With reviews, please include title of book and author, as well as name of publication. Make sure to send links that do not require a subscription or username and password.​ We love dedicated URLs. We do not love hyperlinks.