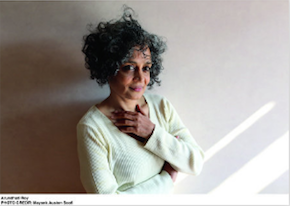 Reviews and interviews:
This week on Lit Hub, Jane Ciabattari, NBCC VP/Online, focused on the new Arundhati Roy and Catherine Lacey novels, an anthology edited by Ayelet Waldman and Michael Chabon called "Kingdom of Olives and Ash," and more.She also captures the Bay Area Book Festival in four acts.
NBCC board member Mary Ann Gwinn interviews Sherman Alexie for The Seattle Times about his new memoir, "You Don't Have to Say You Love Me."
NBCC board member Colette Bancroft reviews Roxane Gay's memoir "Hunger" and Arundati Roy's "The Ministry of Utmost Happiness for the Tampa Bay Times.
NBCC board member Tom Beer reviews Arundhati Roy's "The Ministry of Utmost Happiness" for Newsday.
NBCC board member Anjali Enjeti reviews Scott Gould's "Strangers to Temptation" for the Atlanta Journal Constitution, and Arundhati Roy's "The Ministry of Utmost Happiness" and Camille T. Dungy's "Guidebook to Relative Strangers: Journeys into Race, Motherhood, and History" for the Star Tribune.
Former NBCC board member Mark Athitakis reviews Don Lee's "Lonesome Lies Before Us" for the Washington Post.
Rayyan Al-Shawaf reviews Arundhati Roy's "The Ministry of Utmost Happiness" for San Antonio Express-News.
Karen Long reviews Roxane Gay's "Hunger" for Newsday.
Joan Silverman reviews Ann Beattie's "The Accomplished Guest" for the Portland Press Herald.
Carol Iacofano reviews Joseph Finder's "The Switch," Scott Turow's "Testimony" and Ben Coes' "Trap the Devil" for WBUR, as well as Elizabeth Strout's "Anything is Possible" for WBUR.
Lanie Tankard reviews "The Tower of the Antilles" by Achy Obejas for The Woven Tale Press.
Laverne Frith reviews Charles Simic's "Scribbled in the Dark" for the New York Journal of Books.
V. Joshua Adams reviews "First Thought: Conversations with Allen Ginsberg," edited by Michael Schumaker for PopMatters.
Dianne Scharper reviews "All the Rivers" by Dorit Rabinyan for The Weekly Standard.
Maureen Corrigan reviews Maile Meloy's "Do Not Be Alarmed" for NPR.
Carl Rollyson reviews Mary V. Dearborn's "Ernest Hemingway: A Biography" for the San Francisco Chronicle.
For Slate, Ismail Muhammad reviews Teju Cole's book of photography, "Blind Spot."
For The Millions, David Nilsen reviews "Priestdaddy" by Patricia Lockwood.
Meg Waite Clayton reviews "Caught in the Revolution: Petrograd, Russia, 1917 – A World on the Edge," by Helen Rapport for the San Francisco Chronicle.
Marcie Geffner interviews author Lee Daniel Kravetz about his book, "Strange Contagion."
And in other exciting booknews:
Author of the NBCC-award winning "The Lost," Daniel Mendelsohn, has a forthcoming memoir, "An Odyssey: A Father, a Son, and an Epic" that will be published in September.
Critic Maureen Corrigan was the featured critic in Ploughshares, "The Readers Series."
NBCC award-winning author Leanne Shapton's new book, "Was She Pretty," was reviewed in Pop Matters.
Your reviews seed this roundup. Please send items, including news about your new publications and recent honors, to NBCCCritics@gmail.com. Make sure to send links that do not require a subscription or username and password. Please include your name, the publication, a description of your article, and a URL. We love URLs. We do not love hyperlinks.