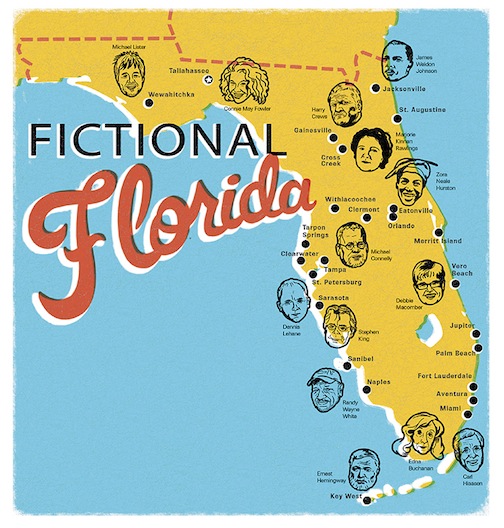 Florida might be regarded as Hemingway country, but in the Tampa Bay Times, NBCC board member Colette Bancroft comes up with a look at the more than 80 writers from The Sunshine State who root their stories there, and is a reminder that before there Edna Buchanan and Carl Hiaasen, there was Marjorie Rawlings and Zora Neale Hurston.
The Voting Rights Act was enacted 50 years ago this past week, and NBCC board member and criticism committee chair Walton Muyumba considers that historic moment and its legacy in his Dallas Morning News review. He writes: "Ari Berman's Give Us the Ballot measures the Voting Rights Act of 1965's effect on American democracy. Though major political figures populate the book, its protagonists are Sections 2 and 5 of the Voting Rights Act, the strongest defenses of the franchise in American law. Berman details how these powerful measures have functioned over the past half-century and how conservative politicians and jurists have stanched their effects."
In her new weekly "review of the reviews" for the Lit Hub, former NBCC president, current vice president/online Jane Ciabattari notes the "Five Books Making News This Week," which includes the fifth volume in NBCC award finalist William Vollmann's massive "Seven Dreams" cycle. She also recognized a renaissance of interest in the work of the legendary Clarice Lispector in the form of a series of newly translated Lispector works edited by NBCC Biography finalist and former board member Benjamin Moser, and spotlights a novelist on the newly-released Man Booker longlist as well as several new books exploring the darker side of our digital lives.
And for her BBC.com Between the Lines column, Jane selects 10 Books to Read in August, which includes a collection from NBCC fiction finalist Adam Johnson, as well as Dinty Moore's Dear Mister Essay Writer Guy and Otessa Moshfegh's Eileen.
One debut novel received a great deal of critical attention recently. On NPR, NBCC member Maureen Corrigan reviewed Dragonfish, a debut novel by Vu Tran. The headline promised a "Noir Vision of an American Dream Gone Rancid" and Corrigan called it a "haunting literary novel."NBCC member Gerald Bartell praises Dragonfish in the pages of the San Francisco Chronicle.
NBCC member Terry Hong Interviews Vu Tran about Dragonfish for Bloom.
For Library Journal, Hong reviewed Haruki Mukami's Wind/Pinball and, in the same issue, J.M. Lee's The Investigation, and for Bookslut, Hong interviews Stacey Lee about her debut Under a Painted Sky.
Amitav Ghosh's novel Flood of Fire, the last book in his trilogy, was considered by multiple NBCC members. Terry Hong reviews the novel for Christian Science Monitor. Past Balakian winner and current board member Katherine Powers reviews the Ghosh novel in the Chicago Tribune and writes: "Flood of Fire' is, for my money, the best of the three volumes: It adds colorful threads to the plot, weaving them into the existing story and tying them off in a most satisfactory way. Further, the novel provides highly dramatic depictions of key land and sea battles of the First Opium War. Beyond that, it presents a savvy account of the influence of the opium lobby on British foreign policy and the mental contortions of the 'Apostles of Liberty' who identified the diabolical trade, so destructive of the people of both India and China, with freedom, commercial righteousness and religious enlightenment — all virtuously bestowed with guns and gunboats."
NBCC member Natalie Bakopolous reviewed Annie Liontas's Let Me Explain You for the San Francisco Chronicle. She concludes her review with a punch: "As such, the stakes are urgent, emotionally and dramatically, and I often felt my heart rising into my throat or my stomach lurching as though I'd been kicked by a goat. Let me explain you something: This is what I want from fiction, a story that is, and makes me feel, very much alive."
NBCC member Erika Dreifus offers a Q&A with poet Major Jackson on the occasion of the publication of his fourth collection, Roll Deep. Erika also dove deeply into what appealed to her–and what concerned her — in the content of World Literature Today's "New Hebrew Writing" feature.
NBCC member David Cooper reviews The Sound of Our Steps by Ronit Matalon in the New York Journal of Books.
NBCC member Mike Lindgren reviews Michael Dirda's book Browsings in the Washington Post.
NBCC member Cifford Garstang reviews Red Dirt by Joe Samuel Starnes in BestNewFiction.
NBCC member Gregory J. Wilkin reviews The Prank: The Best of Young Chekhov for the New York Journal of Books and notes: "This slender volume of early Chekhov translations by Maria Bloshteyn…could as easily have been titled Go Steal A Watchfob."
NBCC member Julia M. Klein reviews Caroline Heller's Reading Claudius for the Boston Globe and Alex Kershaw's House of Spies for the Chicago Tribune: "Were it not for love, much of the story that Alex Kershaw relates so powerfully in Avenue of Spies: A True Story of Terror, Espionage, and One American Family's Heroic Resistance in Nazi-Occupied Paris would not have transpired."
This week NBCC member Karl Wolff writes about California Crazy and Beyond: Roadside Vernacular Architecture by Jim Heimann, for his ongoing essay series, "American Odd" for the Chicago Center for Literature and Photography and also" On Being Human: Critical looks at books and movies that examine the question of humanity," for the Chicago Center for Literature and Photography.
For the Cleveland Plain Dealer, NBCC member Daniel Dyer begins his review of Matthew Battles new book, Palimpsest: A History of the Written Word this way: "Penmanship class met daily during my upper elementary school years. My classmates and I were suffering our rough passage from printing to cursive writing aboard the good ship Zaner-Bloser, the publisher that supplied our workbooks as well of certificates for achievement. (I got one!)"
In her review for the San Jose Mercury News, NBCC member Roberta Alexander looks into recent mysteries with strong male sleuths.
For the National Catholic Reporter, NBCC member Diane Scharper reviews Jon Krakauer's Missoula. She regards the book unpolished but still a must read. She writes: "One wonders how today's college students will react to Krakauer's brutal account of sexual assault and, more importantly, whether it will inspire any change."
Former Balakian winner and past board member and long-time Sandrof committee chair, Steven G. Kellman reviews Shirley Jackson's Let Me Tell You for the Dallas Morning News.
Your reviews, news and recommendations help seed these roundups: If you're an NBCC member with a review you'd like considered for inclusion, please email nbcccritics@gmail.com. Make sure to send links that do not require a subscription or username and password.