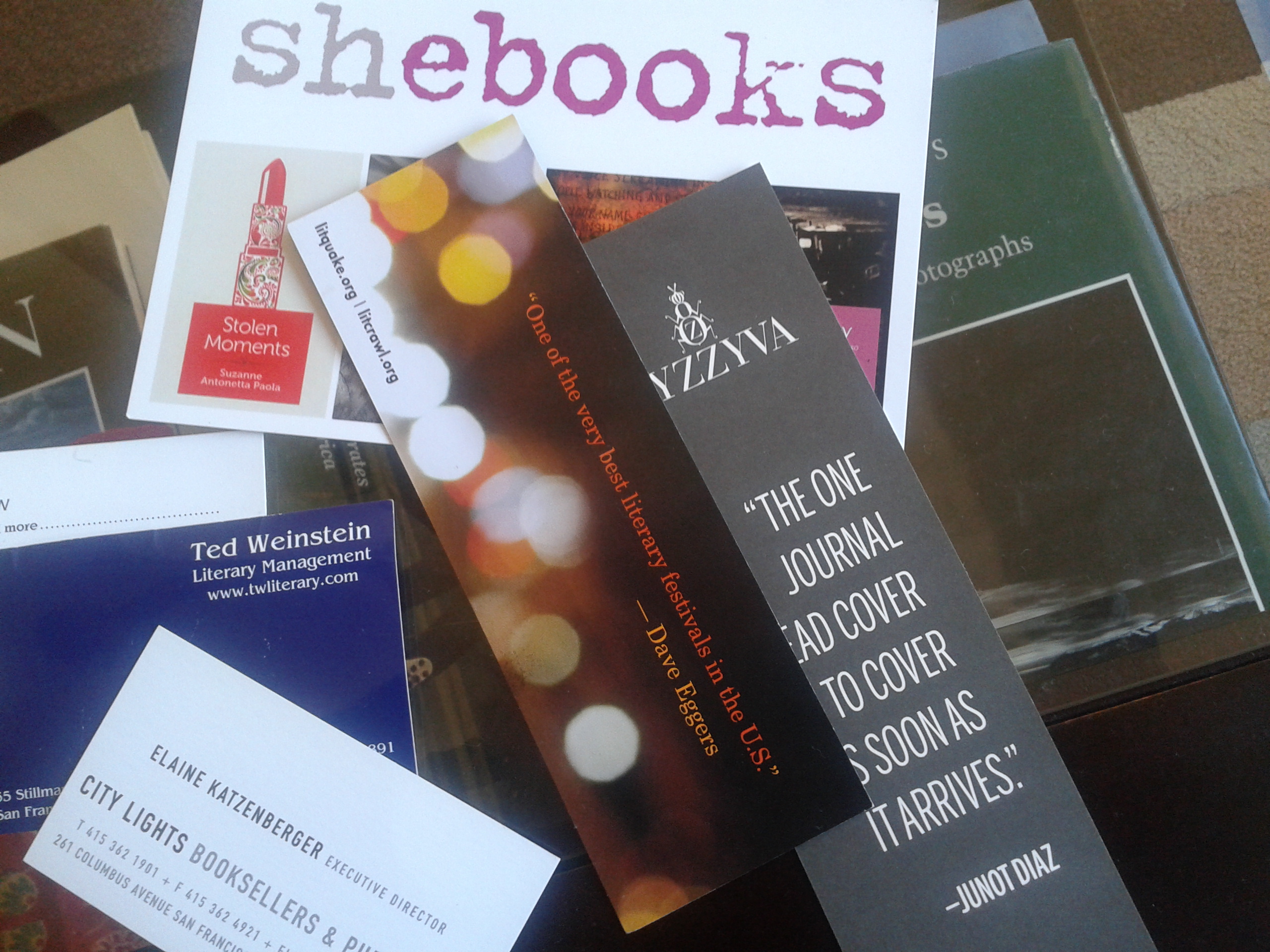 Glasses were raised in San Francisco last Thursday night at the fourth annual National Book Critics Circle party co hosted with Zyzzyva magazine. There were lots of NBCC award honorees, board members and members on hand, and special guests from the San Francisco Writers Grotto.
Adam Johnson, Katrina Dodson, Anthony Marra, Adam Jay Morris.
Adam Johnson, Anthony Marra, and Helene Wecker made gracious impromptu speeches after NBCC VP/Online Jane Ciabattari led the crowd in toasts for their NBCC honors.
Adam Johnson
Adam Johnson's "The Orphan Master's Son" was a finalist for the NBCC fiction award, and went on to win the Pulitzer. Johnson noted the special qualities of the NBCC, including its high passion and low budget.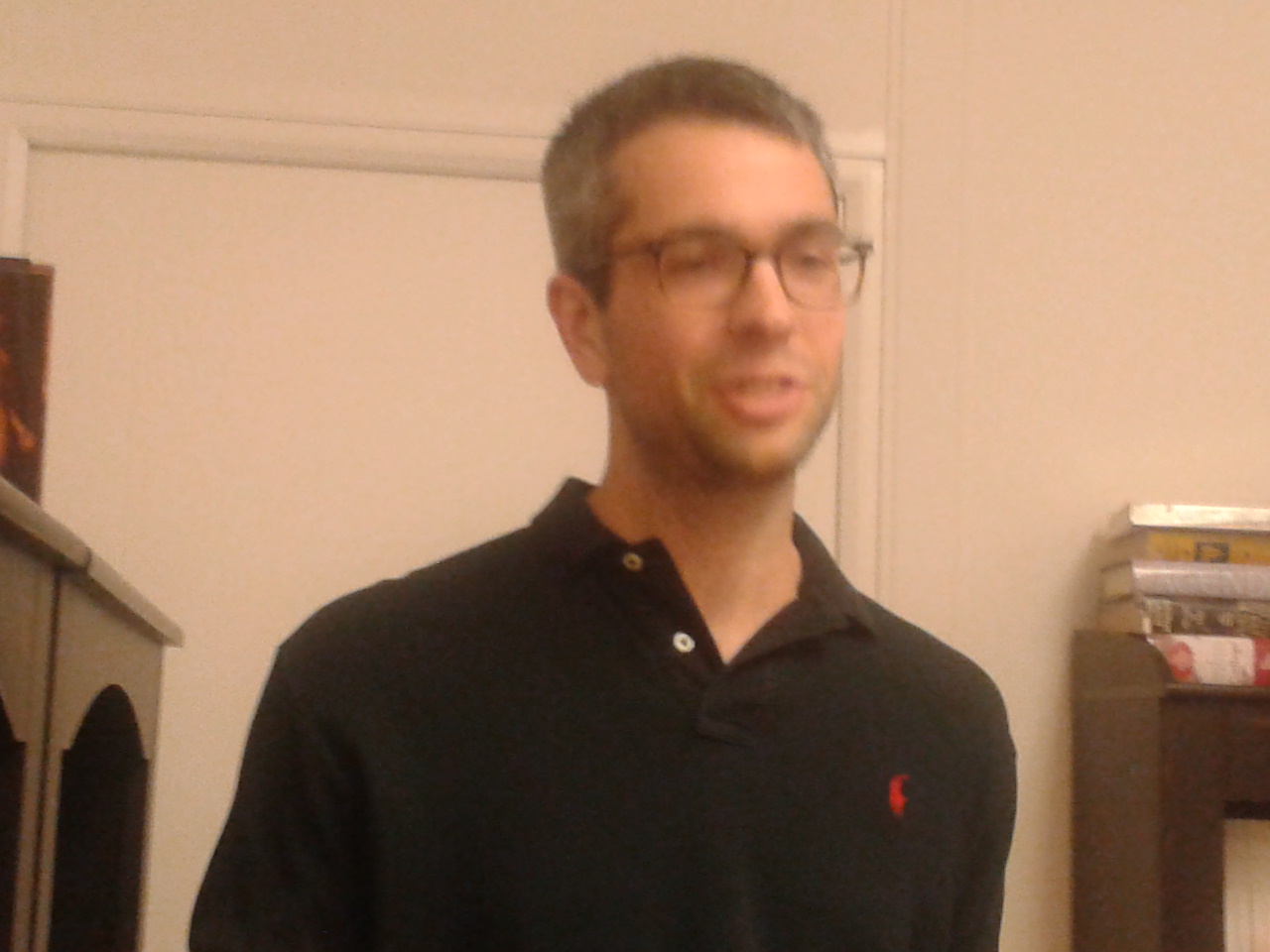 Anthony Marra
Anthony Marra's "A Constellation of Vital Phenomona" won the initial NBCC John Leonard award for best first book. He said he was reading John Leonard's criticism with growing appreciation.
Helene Wecker, Oscar Villalon
Helene Wecker's "The Golem and the Jinni " was a finalist for the Leonard award. She noted how grateful she was for honors early in her writing career for a book based on imaginary characters.
New board member Tess Taylor, back in the Bay Area after a year of bouncing around promoting her poetry book, The Forage House, noted the huge literary community in the Bay Area. (The Oxford American ran this interview about her book in May.)
After toasts, there was talk of childbirth (Helene Wecker is due in late July; Adam Johnson is the father of three, all born by Cesarean). And teaching (Johnson and Marra are both on the Stanford faculty). And awards. Wecker, a finalist for a Nebula award, described the Nebula award trophy, with embedded precious stones and glitter. Marra has a framed NBCC John Leonard certificate. Johnson's Pulitzer is a crystal piece the size of a paperweight.
Zyzzyva editor Laura Cogan and managing editor Oscar Villalon showed off their new space in San Francisco's historic Mechanics Library building. They moved in just after celebrating the magazine's 100th issue with a literary evening anchored by Michael Krasny, Daniel Handler, Erika Recordon, Po Bronson, and Robert Hass.
Hearing a ringing phone in the editors' office, Adam Johnson picked up and confirmed a lunch reservation for Cogan.
There was talk of bookmarks: Do we really need them? Well, yes, when they say, "The one journal I read cover to cover as soon as it arrives–Junot Diaz," like Zyzzyva's do. But often the alternative is a torn post-it slathered with words (or, in Johnson's case, toddler drool).
The City Lights folks–Paul Yamazaki, Elaine Katzenberger, Stacey Lewis, Peter Maravelis (editor of Akashic's San Francisco Noir anthologies), with wife Julie Lindow–were feeling good about the 50th-anniversary release of Frank O'Hara's landmark Lunch Poems. The NBCC honored City Lights founder Lawrence Ferlinghetti with its Sandrof award for lifetime achievement a few years back.
Also in the crowd:
Memoirist Laura Fraser, co-founder of Shebooks, a new Bay Area-based publishing company for short ebooks by and for women. (Shebooks, which has attracted Silicon Valley angel investors, has published 46 new offerings since January, driving the number of short ebooks published in the first quarter of 2014 up by 22%.) Also on hand: Shebooks editor Frances Lefkowitz.
Laura Fraser, Maria Robinson
Barbara Graham, Hugh Delehanty, Mark Ciabattari
Barbara Graham, author most recently of a new Shebooks memoir, Camp Paradox, and husband Hugh Delehanty, who wrote Eleven Rings, with Bulls coach Phil Jackson, who chatted with Mark Ciabattari about the last stages of writing his fourth novel. (Also new from Shebooks: Jane Ciabattari's California Tales: Three Short Stories.)
Berkeley prof and novelist Ryan Sloan, a co host of the Babylon Salon quarterly reading series.
Bay Area literary maven Regan McMahon, Senior Editor, Books at Common Sense Media.
Julia Callahan of Rare Bird Books.
Linda Simon, longtime Skidmore professor and author of "The Biography of Alice B. Toklas," "Thornton Wilder: His World," "Genuine Reality: A Life of William James,"
and "The Critical Reception of Henry James."
Grant Faulkner, who edits 100 Word Story and executive directs NaNoWriMo (he met Twitter buddy Michael David Lukas, East Bay novelist, for the first time). Grant's wife Heather Mackey was celebrating her book birthday.
Elizabeth Rosner, Ted Weinstein
Elizabeth Rosner, whose new novel "Electric City" is due out in October, and literary agent Ted Weinstein.
Regina Marler, author of Bloomsbury Pie: The Making of the Bloomsbury Boom, and the editor of Selected Letters of Vanessa Bell, frequent contributor to the NYTBR and the TLS.
Alison Owings, author of three oral-history based books, including Indian Voices: Listening to Native Americans.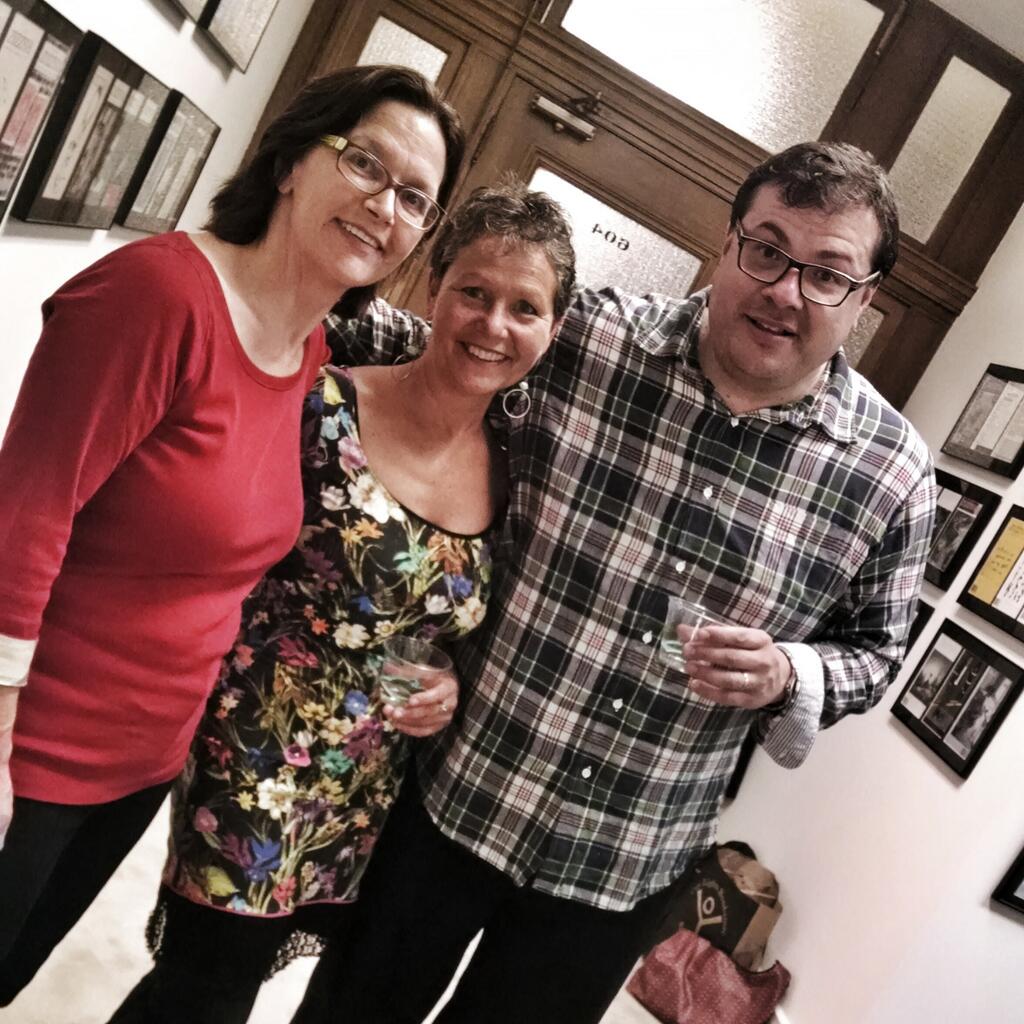 Frances Dinkelspiel, Elizabeth Rosner, Oscar Villalon
Frances Dinkelspiel, author of Towers of Gold and co-founder of Berkeleyside.
San Francisco Chronicle book columnist Mike Berry.
Stephanie Losee, managing editor of Dell.
Julia Flynn Siler, author of Lost Kingdom and The House of Mondavi.
Yael Goldstein Love, novelist, critic, and, co-founder of Rooster, a mobile reading service for literary fiction. (She's finishing up a new novel – The After – about a failed slave uprising in Virginia in 1807.)
Joan Frank, Bob Duxbery
Author and book critic Joan Frank, who just wrote an insightful essay about book readings for the Authors Guild Newsletter, was down from Sonoma County with her husband, playwright Bob Duxbury.
Cherilyn Parsons, who was enthusiastic about the upcoming June 2015 Bay Area Book Festival in Berkeley (she's the hard-working founder).
Lindsey Crittenden, author of The Water Will Hold You.
Katrina Dodson, Adam Jay Morris
UC Berkeley Ph.D. candidate Katrina Dodson is in midst of translating short stories by Clarice Lispector for a New Directions collection coming out in 2015 (her editor: NBCC finalist and former NBCC board member Ben Moser). She wasn't the only one in the crowd raving about the scenic views from the windows of New Directions headquarters in NYC and its legendary editor, Barbara Epler. Dodson also translated the work of Cristhiano Aguiar for the Young Brazilian Novelists issue of Granta, edited by former NBCC president John Freeman. (Both Lispector and Aguiar are included in this roundup of Brazilian writers.)
Wine from Wine and Spirits magazine, enjoyed by all!