Yes, folks, it's yet another Long Tail entry from the latest round of NBCC Reads. This time, we've got a twofer from Brooke Allen, a widely published critic and the author of Moral Minority: Our Skeptical Founding Fathers. She chose the following two titles as a partial skeleton key to American political life: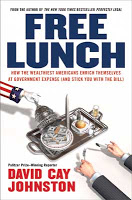 Free Lunch: How the Wealthiest Americans Enrich Themselves at Government Expense (and Stick You With the Bill) by David Cay Johnston. This is a very detailed and comprehensible explanation of how the supposed "deregulation" initiated by Reagan enabled lobbyists, politicians and corporations to rig "free enterprise" in their favor. Johnston gives many examples of taxpayer subsidies that basically exempt many businesses from competition and give their executives free rides. This is a very, very important book that shows how our economy really works behind the scenes, and reveals unsavory truths about how our hard-earned tax dollars are spent.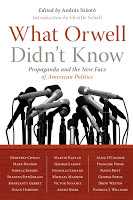 What Orwell Didn't Know: Propaganda and the New Face of American Politics, ed. Andras Szanto, with an introduction by Orville Schell. This book came about when a group of Journalism School deans came together to try to understand why the press has failed America so badly over the course of the last decade. Looking back at George Orwell's classic essay, "Politics and the English Language," they reflected on what has changed since Orwell wrote and what has not. In twenty-first century America we are subjected to an Orwellian level of propaganda even in our mainstream press, which manipulated by spin-doctors who use new discoveries about how the human brain works. What Orwell Didn't Know contains essays by journalists like Nicholas Lemann, cognitive scientists like George Lakoff, journalism professors like Orville Schell, and many other experts on the subject. Very enlightening for anyone seeking to understand contemporary media.
——-