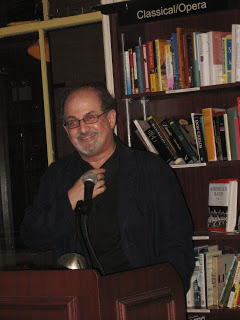 Salman Rushdie, author of the recently minted "The Enchantress of Florence," winner of the Best of the Booker for "Midnight's Children," founder of PEN's World Voices Festival, and ally of book critics and the NBCC, is guest editor for "Best American Short Stories 2008," due out this month. Rushdie will discuss his picks as Symphony Space launches the fall series of its Selected Shorts series October 1. Meanwhile, he answered a couple of questions.
Q. Short shorts or long shorts? Has the trend toward microstories, Twitter stories, shown up in your evaluations? Do you have a preference yourself?
A. I'm not a big fan of microstories myself. There are a few great &##8220;very short stories"—like Kleist's "The Earthquake in Chile"—but most are disappointing.
Q. What do the themes in this year's best stories show about American culture today?
A. There's clearly an interest in domestic subjects, religious subjects, and, most mysteriously, in the game of golf. But there were enough wilder, more imaginative fictions to satisfy my taste for that kind of thing.