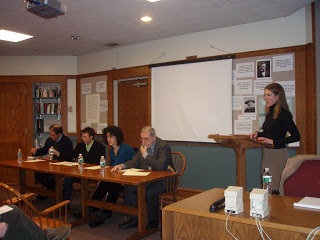 It's fitting that the NBCC Good Reads Panel in Philadelphia needed a chalk board. That's because we held our event, where we talked about everything from the New York Times vs. the New York Review of Books to newspapers vs. blogs to online used bookstores vs. brick and mortar used bookstores, at Friends Select, a Quaker school in the heart of Philadelphia.
Why did we need a chalkboard? Because every panelist (and many of those gathered in the audience), shared their favorite book blogs, some of which have unwieldy link names. This wasn't a big surprise with three committed bloggers on the panel (Frank Wilson, formerly of the Philadelphia Inquirer and still of Books Inq., Daisy Fried, former NBCC finalist and blogger for The Poetry Foundation, and me, who blogs about her book a week project, and two blog fans rounding out the panelists group (authors Ben Yagoda and Kermit Roosevelt).
Wilson's recent departure from the Inquirer was fodder for our conversation, too. He has seen book coverage in the Inky downshift dramatically, which he wrote about on his blog as part of his farewell. But perhaps the most interesting part of the evening is when the panelists talked about their own good reads—what books they thought had been overlooked by newspapers or blogs, or had been forgotten about over time.
Here's what our panelists recommended:
Ben Yagoda: Bill Bryson's The Life and Times of the Thunderbolt Kid. Yagoda is working on a book about memoir, and sited Bryson's book about growing up in middle America as an example of a great memoir where nothing tragic happened to the author. He also pointed out that it was a much better seller in England than in the US.
Kermit Roosevelt: Peter Irons, Justice At War, because it offers a lot of insight into the current struggles within the executive branch about anti-terror policies, and about the similar struggles in the Justice Department over the Japanese-American internment in World War II.
Daisy Fried: Cathy Park Hong's Dance Dance Revolution, which is a linked series of poems in several voices."Very entertaining, linguistically delightful, full of surprises," she says.
Frank Wilson: Christian Wiman's Ambition and Survival: Becoming a Poet, which is a series of essays, both about poetry and Wiman's personal history. Wilson praised the power of the essays and suggested that you could skip around but to save the last essay for the very end.
Me: Andy Merrifield's The Wisdom of Donkeys. It's a very slow, wonderfully written book about, of all things, donkeys. I picked it up because I thought the title was funny and didn't inspect to find such an introspective, beautiful book.
Special thanks to Joseph Fox Bookshop and Friends Select for sponsoring the event.
—Jen A. Miller