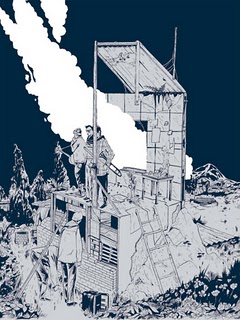 This week, the NBCC launched a Best Recommended List, drawn from the votes of our members and over a hundred former finalists and winners of our award. (For more on that scroll down to the list). One of the member voters was Martin Riker — here's what he had to say about his vote.
I'm currently reviewing the story collection MINOR ROBBERIES by Deb Olin Unferth, which recently came out as one of three books in a boxset from McSweeney's, along with short-shorts by Dave Eggers and Sarah Manguso. John Freeman blogged about this boxset a few weeks back, remarking on what a great marketing idea it is, placing Unferth's relatively unknown work (this is her first book publication) alongside Eggers, and I agree with that, but I'm also worried about the downside: that the book won't get attention by itself, for how it individually succeeds and fails. I'm finding MINOR ROBBERIES to be as original and excellent as any stand-alone story collection I've read this year. And unlike some of the other pieces in the boxset, Unferth's stories are full stories: they aren't really "shorts," in the sense of intentionally truncated; they're just short, in the sense of not-long. At any rate, I won't write another review of the book here. The point is that it's a subtle, provocative debut collection. I hope the boxset marketing finds it a wide readership, but I also hope it gets some attention on its own terms.
Martin Riker is associate director of Dalkey Archive Press and editor for the Press's critical publications The Review of Contemporary Fiction and CONTEXT: A Forum for Literary Arts and Culture.