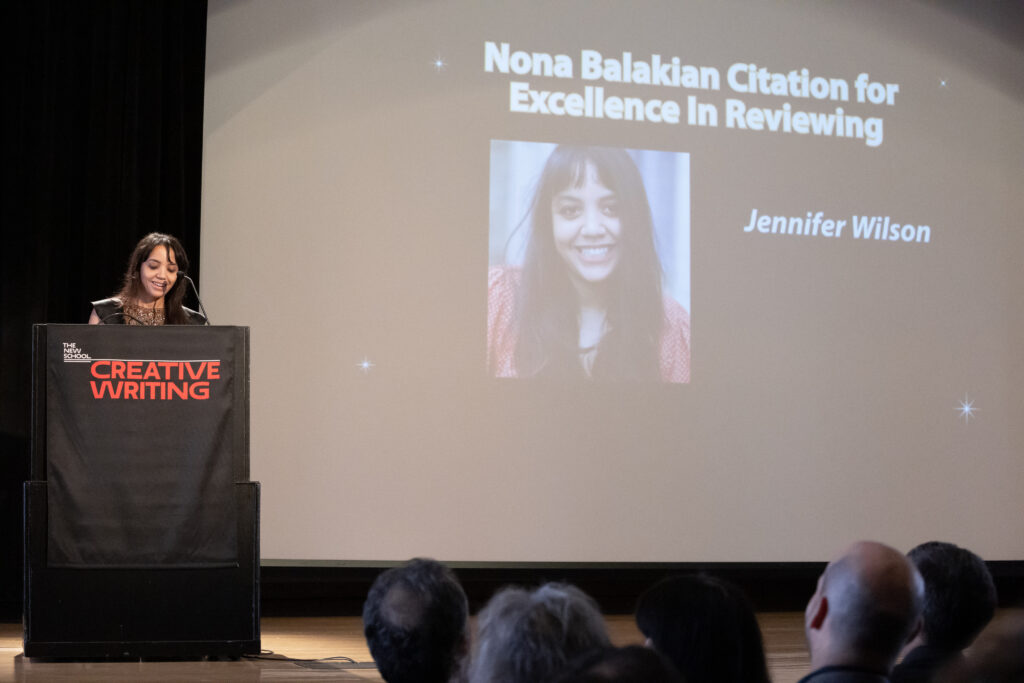 Members, we're excited to announce that submissions for the Nona Balakian Citation for Excellence in Reviewing opened yesterday! We award this $1,000 prize every year to recognize outstanding work by a member of the NBCC. You can find out more about the citation here. (And if you know of someone who you think deserves this award and isn't an NBCC member, please encourage them to join!)
Member Reviews/Essays
Betsy Groban wrote about the Tell It Slant Poetry Festival at the Emily Dickinson Museum for The Boston Globe.
Souli Boutis reviewed two translations of Pier Paolo Pasolini's Boys Alive and Theorem for The Rumpus.
Kitty Kelley reviewed Charlotte Gray's Passionate Mothers, Powerful Sons: The Lives of Jennie Jerome Churchill and Sara Delano Rooseveltfor the Washington Independent Review of Books.
Jesus Francisco Sierra reviewed The Tribe: Portraits of Cuba by Carlos Manuel Alvarez in the Fall 2023 print issue of Rain Taxi.
Hamilton Cain reviewed Emily Wilson's new translation of The Iliadfor The Boston Globe.
Former NBCC board member Marion Winik wrote about a trip to the Delaware beach in her column for Baltimore Fishbowl. And for Kirkus Reviews, she wrote two pieces about audiobook memoirs.
Richard Scott Larson reviewed Kyle Dillon Hertz's The Lookback Window for Slant.
Nicole Graev Lipson reviewed Touched Out: Motherhood. Misogyny, Consent, and Control by Amanda Montei for The Boston Globe.
George Yatchisin reviewed Not Too Late: Changing the Climate Story from Despair to Possibility, edited by Rebecca Solnit and Thelma Young Lutunatabua, for the California Review of Books.
Diane Josefowicz reviewed House of Caravans by Shilpi Suneja for West Trade Review.
Carol Iaciofano Aucoin reviewed Nathan Hill's Wellness for WBUR's Arts & Culture.
Julia M. Klein reviewed Martin Baron's Collision of Power and Adam Nagourney's The Times for the Los Angeles Times.
Jake Casella Brookins reviewed The Circumference of the World by Lavie Tidhar for the Chicago Review of Books.
Jim Swearingen reviewed Democracy Awakening: Notes on the State of America by Heather Scott Richardson for The National Book Review.
Tobias Carroll wrote about September books in translation for Words Without Borders and reviewed Karen Lord's The Blue, Beautiful Worldfor Tor.com.
Brendan Driscoll wrote about Chloe Aridjis' Dialogue with a Somnambulistfor The Millions.
Amelia Ada has a review essay in the latest issue of West Branch, in which she discusses recent work by poets John Keene, Jesse Nathan, and Rachel James. She also raises broader questions about her practice of reviewing, such as: What exactly is this review trying to accomplish?
Carl Hoffman wrote about Jonathan Raban's career and his final book, Father and Son, for The Washington Post.
Nell Beram reviewed three books for Shelf Awareness: The "Canary" Murder Case by S.S. Van Dine; What About Men?: A Feminist Answers the Question by Caitlin Moran; and The World According to Joan Didion by Evelyn McDonnell.
Audrey Shipp reviewed Shane McCrae's Pulling the Chariot of the Sun: A Memoir of a Kidnappingfor Crayon.
Jay Gabler reviewed Whalefall by Daniel Kraus for The Tangential and wrote about the release event for Shawna Weaver's Climate Grief: From Coping to Resilience and Action for the Duluth News Tribune.
Robert Rubsam reviewed Junichiro Tanizaki's The Siren's Lament, translated by Bryan Karetnyk, for The Washington Post.
Member Interviews
Betsy Groban interviewed picture book creator Jon Klassen for The Boston Globe.
Grant Faulkner talked to Ghassan Zeineddine on the Write-minded podcast about his short story collection, Dearborn, as well as some of his process, including research and spending serious time with subjects who sometimes play roles in stories years down the road.
Former NBCC board member Marion Winik talked to Benjamin Dean about his debut YA novel, The King Is Dead, for Kirkus Reviews.
Gayle Feldman interviewed former longtime head of Macmillan John Sargent on his memoir, Turning Pages: The Adventures and Misadventures of a Publisher, for The Bookseller.
Tiffany Troy was interviewed by Mary Jo Bang about her debut poetry collection, Dominus, for the Poetry Society of America website.
Tobias Carroll talked with Andy Summers about his new book of photos, A Series of Glances, for InsideHook.
Paul Wilner interviewed Christian Kiefer about his latest novel, The Heart of it All, for the Nob Hill Gazette.
Elaine Szewczyk profiled Christy Lefteri, author of the bestseller The Beekeeper of Aleppo, for Publishers Weekly. Lefteri's new novel, The Book of Life, out this fall, is set in Greece and addresses the impact of climate change.
Member News
Former NBCC board member David Biespiel's thirteenth book, and first novel, A Self-Portrait in the Year of the High Commission on Love, will be published by SFA Press on Oct. 24, 2023.
NBCC lifetime member Xujun Eberlein's personal essay, "Ms. Daylily," was selected for and appears in The Best American Essays 2023, edited by Vivian Gornick and Robert Atwan. The essay was first published in The Iowa Review.
An abridged version of Leanne Phillips' short story "Trees," which was the grand prize winner in ScreenCraft's 2023 Cinematic Short Story Competition, was published in New American Studies Journal.
Merve Emre, a winner of the Nona Balakian Citation for Excellence in Reviewing, gave a lecture on the function of criticism at the present time at the Hamsun Hall at Gyldendal Norsk Forlag in Oslo.