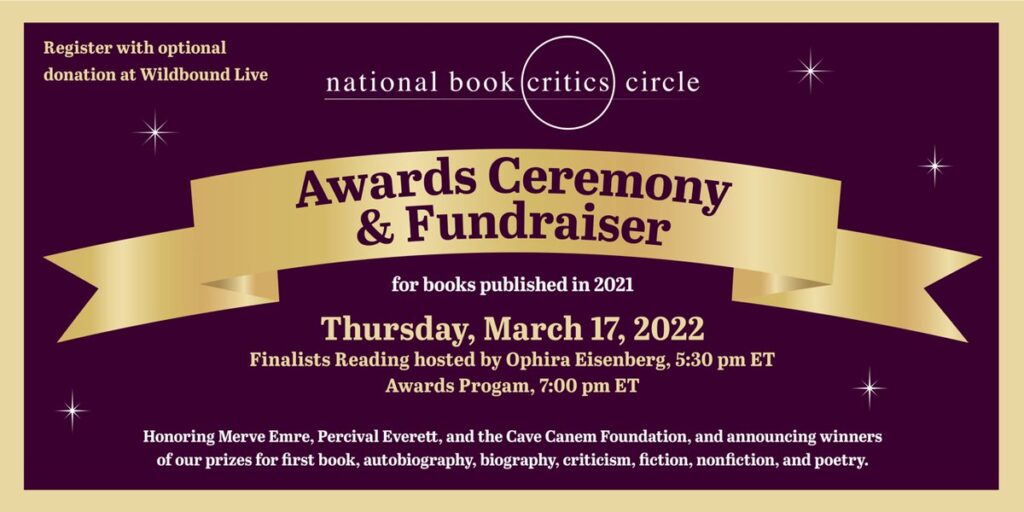 Members and friends, our annual NBCC Awards ceremony is almost here! We hope you'll all join us this Thursday, March 17 for our biggest evening of the year. Things kick off at 5:30 pm Eastern with a finalists reading hosted by Ophira Eisenberg, followed by our ceremony at 7:00 pm Eastern. You can register with an optional donation here.
Also, mark your calendars for our AWP22 Philadelphia event featuring NBCC President David Varno in conversation with John Leonard Prize winners Raven Leilani, Carmen Maria Machado, and Kirstin Valdez Quade. They'll focus on launching a literary career, inspiration and research for their work, the influence of the Leonard and other awards, evolving forms, the unique challenges of writing in these times, the imaginative process that shapes their work. It's taking place on Friday, March 25, from 3:20 pm to 4:35 pm Eastern, and you can register for the conference here.
Member Reviews/Essays
NBCC board member May-lee Chai reviewed Lan Samantha Chang's The Family Chao for the Minneapolis Star Tribune.
Marianne Szegedy-Maszak reviewed Florence Williams' Heartbreak: A Personal and Scientific Journey for The Washington Post.
Jason Berry reviewed Imani Perry's South Toward America and Chris Thomas King's The Blues: The Authentic Narrative of My Music and Culture for The Daily Beast.
Kathleen Rooney reviewed Ted Kooser and Connie Wanek's Marshmallow Clouds for the Minneapolis Star Tribune.
Iris Jamahl Dunkle reviewed Doireann Ní Ghríofa's A Ghost in the Throat, an NBCC Award finalist, for the Colorado Review.
Eric Liebetrau wrote about 10 new nonfiction books from around the world for Kirkus Reviews.
Dan Kubis reviewed Neema Avashia's Another Appalachia for the Pittsburgh Post-Gazette.
Lifetime NBCC member Fran Hawthorne reviewed Allegra Hyde's Eleutheria for the New York Journal of Books.
Anne Charles reviewed Days of Afrekete by Asali Solomon for The Gay & Lesbian Review.
Rhoda Feng reviewed Leigh Cowart's Hurts So Good for the Los Angeles Review of Books and the play The Chinese Lady, written by Lloyd Suh and directed by Ralph B. Peña at the Public Theater, for 4Columns.
Kevin Blankinship wrote about the Islamic animal fables of Kalila and Dimna for Aeon Magazine, including the new translation for Library of Arabic Literature by Michael Fishbein and James Montgomery.
Former NBCC board member Steven G. Kellman, a winner of the Nona Balakian Citation for Excellence in Reviewing, reviewed Azar Nafisi's Read Dangerously: The Subversive Power of Literature in Troubled Times for The American Scholar.
NBCC Vice President/Fundraising Anita Felicelli reviewed Bethany Morrow's Cherish Farrah and the other for Sindya Bhanoo's Seeking Fortune Elsewhere for Alta.
Linda Hitchcock reviewed Elise Hooper's Angels of the Pacific for BookTrib.
Martha Anne Toll reviewed Namrata Poddar's Border Less for NPR.
Former NBCC board member Mary Ann Gwinn wrote about 12 essential books on Ukraine, Russia, and Vladimir Putin for the Los Angeles Times.
Cory Oldweiler reviewed Kristina Gorcheva-Newberry's The Orchard for the Minneapolis Star Tribune.
Dean Rader explores his potential involvement in the triple murder of missionary Graham Staines and his two sons in India in 1999 in the new issue of Zyzzyva.
Kristen Martin reviewed Ella Baxter's New Animal for the Los Angeles Times.
Clea Simon reviewed Lee Kravetz's The Last Confessions of Sylvia P. for the Boston Globe.
John Domini reviewed Allegra Hyde's Eleutheria for the Los Angeles Times.
Lauren LeBlanc reviewed Susan Straight's Mecca for the Boston Globe.
Michael Bobelian reviewed Jeffrey Frank's The Trials of Harry S. Truman: The Extraordinary Presidency of an Ordinary Man, 1945-1953 for The Washington Post.
Member Interviews
Erik Gleibermann interviewed Kwame Dawes and Chris Abani about the African Poetry Book Fund for World Literature Today.
Former NBCC board member Mary Ann Gwinn interviewed author Erik Larson about his book The Splendid and the Vile, just out in paperback, at Town Hall Seattle.
NBCC Vice President/Events and Fiction Chair Jane Ciabattari's Literary Hub interview with Lee Kravetz covers The Bell Jar, 1950s psychiatry, and the confessional poets.
Member News
NBCC Emerging Critics Fellow and board member Mandana Chaffa will be leading a free, virtual roundtable conversation with independent publishers—Coach House Books, Split/Lip Press and Sundress Publications—at SMOL Fair on Monday, March 21, at 7:30 pm Eastern. Find more information and register here.
Julie R. Enszer's new edited collection OutWrite: The Speeches that Shaped LGBTQ Literary Culture is publishing on March 18 from Rutgers University Press.
NBCC board member May-lee Chai has a new collection of short stories, Tomorrow in Shanghai and Other Stories (Blair), coming out August 30. Anyone who'd like a review copy, please email your request for an ARC or e-galley to the publicist Kelsie Roper, publicity@blairpub.com.
Erik Gleibermann will teach the magazine writing course From Pitch to Print for Stanford Continuing Studies this spring. The course will focus on writing book reviews, as well as profiles, narratives, and investigative journalism.
SEND US YOUR STUFF: NBCC members: Send us your stuff! Your work may be highlighted in this roundup; please send links to new reviews, features and other literary pieces, or tell us about awards, honors or new and forthcoming books, by dropping a line to NBCCcritics@gmail.com. Be sure to include the link to your work.