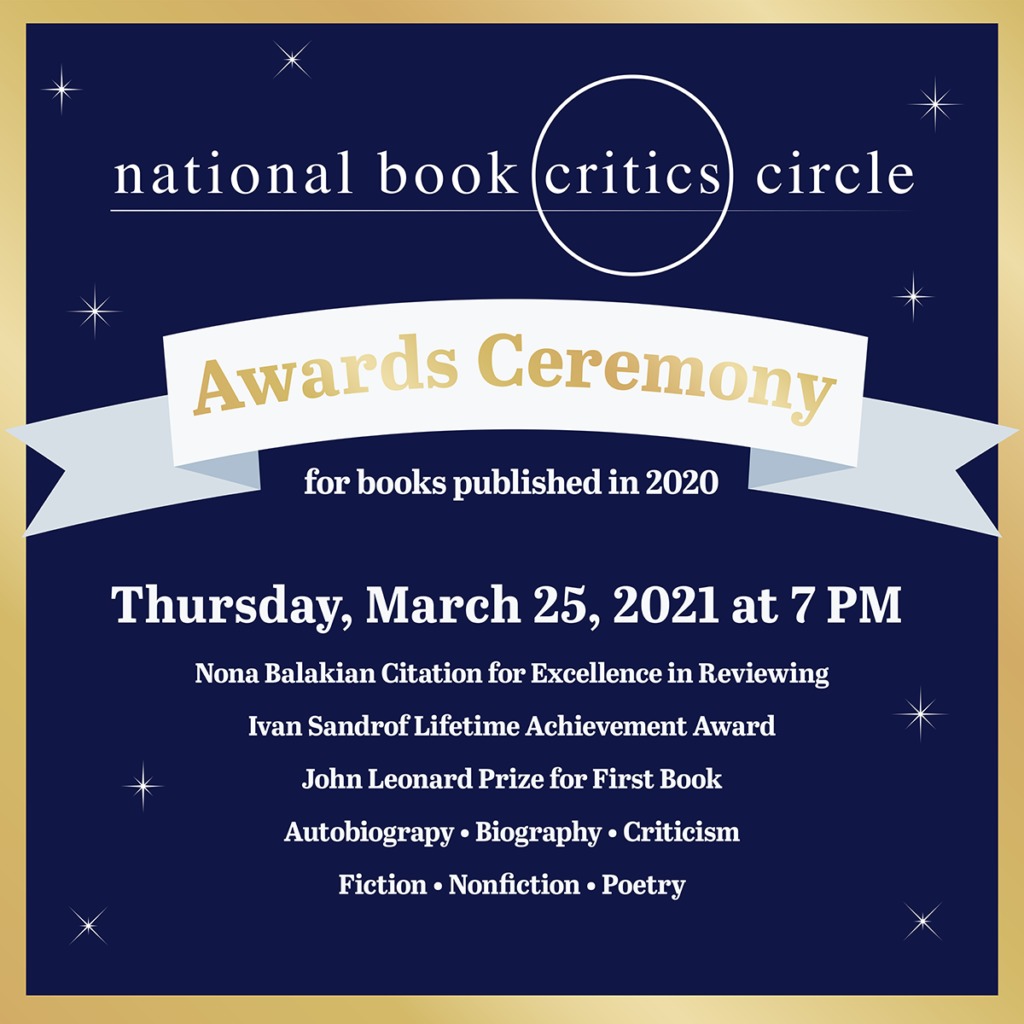 This weekend, our board voted on the recipients of the 2020 National Book Critics Circle Awards! We'll be revealing the winners at our virtual ceremony this Thursday, March 25. We'll be kicking it off with a finalists' reading at 5:30 pm Eastern, and the ceremony itself will begin at 7:00 pm Eastern. You can register for the event here. We hope to see you there!
Member Reviews/Essays
Joan Frank reviewed Sara Davis's The Scapegoat for The Washington Post.
Clifford Garstang reviewed Darrin Doyle's The Big Baby Crime Spree for the Southern Review of Books.
Jake Cline reviewed Kevin Brockmeier's The Ghost Variations for The Washington Post.
In The Brooklyn Rail, John Domini reviewed Hoda Barakat's novel Voices of the Lost, translated from the Arabic by Marilyn Booth.
Martha Anne Toll reviewed Marguerite Duras's debut novel, The Impudent Ones, just translated into English by Kelsey L. Haskett, for NPR, and Morowa Yejidé's Creatures of Passage for The Washington Post.
Eric Liebetrau wrote about two new books about college basketball for Kirkus Reviews.
Hamilton Cain wrote an appreciation of Marilynne Robinson's Gilead novels, the new Oprah Book Club picks, for O, the Oprah Magazine.
Jim Schley reviewed Kerrin McCadden's American Wake for Seven Days.
Jeremy Lybarger wrote about Yours Presently: The Selected Letters of John Wieners for The Nation.
NBCC member Tony Miksanek reviewed Brian Alexander's The Hospital: Life, Death, and Dollars in a Small American Town for Booklist. It was featured as the "Review of the Day."
NBCC Vice President/Online Michael Schaub reviewed Glenn Frankel's Shooting Midnight Cowboy for NPR.
Member Interviews
For Literary Hub, NBCC Vice President/Awards & Events Jane Ciabattari talked to Patricia Engel about the shifting identities of diaspora life, and spoke with Imbolo Mbue about oil companies, daring women and men who lead social justice movements, and how she structured her new novel.
Former NBCC President Tom Beer interviewed Imbolo Mbue about her new novel, How Beautiful We Were, for Kirkus Reviews.
Lisa Peet interviewed Robert Gipe for Bloom.
Rebecca Morgan Frank interviewed poet Annie Kim about Eros, Unbroken, for The Florida Review.
Former NBCC board member Mary Ann Gwinn interviewed Naomi Klein about her new book for young people, How to Change Everything, for Kirkus Reviews.
NBCC Vice President/Secretary Colette Bancroft interviewed Carl Hiaasen, who just retired from writing his Miami Herald column for 35 years.
Eric Liebetrau interviewed comedian Jo Koy about his book Mixed Plate for Kirkus Reviews.
Tobias Carroll spoke with Joshua Mohr about his new memoir for the Los Angeles Times.
Susan Henderson, a lifetime member of the NBCC, interviewed Marcia Butler for The National Book Review. Last month, she received her sixth Pushcart nomination, this one from the Pushcart board of directors.
Member News, Etc.
You can view the NBCC featured reading at AWP21, "Finding Home," with NBCC Award winners Edwidge Danticat and Sarah M. Broom, moderated by NBCC Vice President/Treasurer Marion Winik and hosted by NBCC Vice President/Awards and Events Jane Ciabattari, here.
NBCC board member Rod Davis tackled the elusive question of "What is Texas Noir?" for CrimeReads. This is the answer he came up with, helped along by a blue-chip cluster of Texas authors.
Randall Mann's new collection of poems, A Better Life, will be published on April 6 from Persea Books.
"A Blaze of Stars," a short story by Patricia Schultheis, was included in This Is What America Looks Like, an anthology published by Washington Writers' Publishing House.
Hélène Cardona's AWP 2021 translation panel, "Translating the Untranslatable: A Reading of International Experimental Poetry," went live on March 3, and is available to watch until April 3. Hélène presented her translations Birnam Wood/El Bosque de Birnam (José Manuel Cardona, Salmon Poetry), Beyond Elsewhere (Gabriel Arnou-Laujeac, White Pine Press), and The Abduction by Maram Al-Masri.

Oprah Winfrey selected Marilynne Robinson's Gilead novels for her book club — two of those novels, Gilead and Lila, won the National Book Critics Circle Award for fiction.